We drive our little Fiat 500 through the woods down a gravelly road just a few minutes from the small hill town of Radda in Chianti. One side of the track is lined by a fence, behind which a few dozen furry goats briefly stop their plant-munching to watch us drive through the iron gate. A few large white dogs blend into the herd, and they also watch us, intently – these are the beautiful, fiercely protective (and potentially deadly) Maremmano dogs, bred to protect their flock at all costs. Luckily for us, these particular dogs are accustomed to visitors on their property, so we greet them with a friendly and hopefully unthreatening "Hi, doggos!"
We've arrived at the Chianti Cashmere goat farm, the home of Nora Kravis and her 130 cashmere goats, situated among the trees above one of Chianti's most picturesque valleys.
Walking up to her hand-made knits shop, we hear the voices of two American couples who were visiting; they were "oooh-ing and aaah-ing" at the baby-soft scarves and gloves and blankets weaved by hand from the fine cashmere combed from these goats. Nora employs several local professional hand-knitters to create these exquisite cashmere products on display in her shop – each one is unique, a piece of wearable art.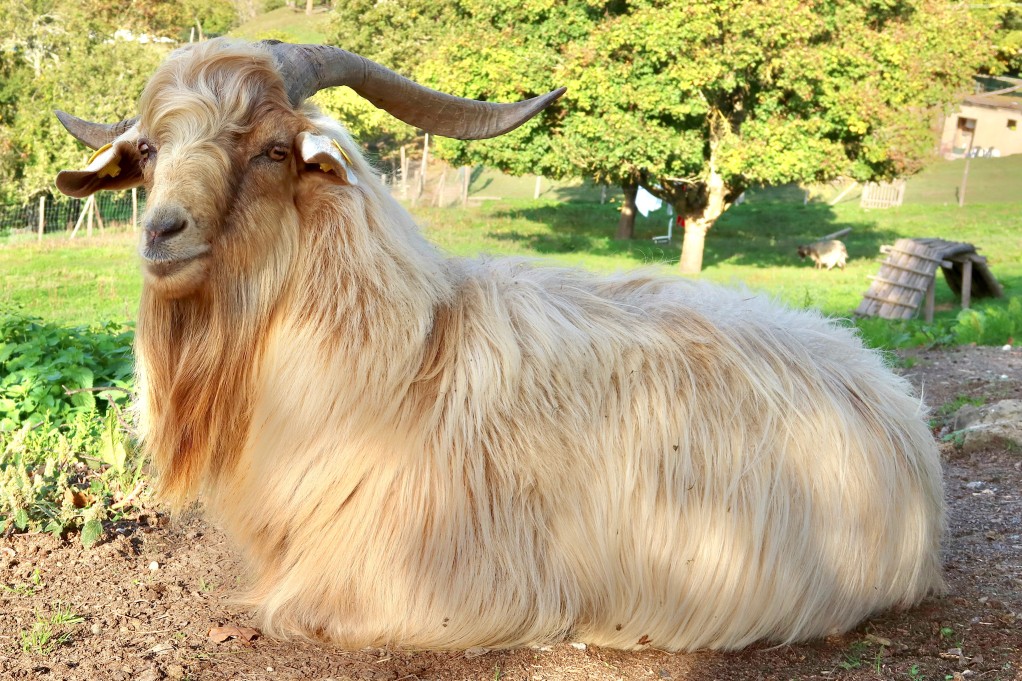 Nora, an American who moved to Italy in 1972, has a unique approach to her goat farming: the animals feed on the surrounding hillsides in uncultivated areas, clearing unwanted shrubbery and making room for more productive agriculture. Her animals are combed for weeks every year, producing the highly prized and incredibly soft cashmere wool which is then cleaned and spun into thread to make the high-quality goods sold on-site and worldwide.
"The Chianti area has changed drastically since I came here 50 years ago," she says, waving an arm across the valley. "It was entirely rural. There was just one hotel and one restaurant in Radda, the still small but now-bustling tourist borgo on the hill above us. That hillside vineyard there used to be regular farmland, plowed by white oxen."
Shortly after moving to Italy in her 20s, Nora studied veterinary medicine in Pisa. Through a series of serendipitous events and gradual acquisitions of property and animals, she came to operate and run one of the most highly-regarded cashmere farms in the world. "It's a lot to keep up with, the changing methods in the care and breeding of these animals," she said; but Nora is up to the task. She keeps these animals healthy and productive, and her goats are known globally as prize-winning specimens and quality breeding stock. "Since they're raised for their cashmere, rather than meat or milk, they can live quite long lives and stay productive. See that one?" She pointed to one female goat. "She's about 16 years old, and she just had a baby last season."
Ecological sustainability is key to Nora's production here – and not just for the sake of the goats. It's a "wildlife-friendly" farm, which means sharing the land with the local fauna – including the foxes, wolves, and the like that may occasionally claim a goat or two. In fact, the carefully managed grazing has the result of improving the land for all of its two- and four-legged residents.
"Shepherd for a Day"
In addition to her fantastic shop and the occasional lunch featuring local foodstuffs, Nora offers an immersive experience for visitors who want to make a day of it with "Pastore per un giorno,"in which visitors lead a flock of goats through this timeless fairytale valley, accompanied by Nora and several of her 12 dogs, to graze in fields and woodlands on the adjacent hillsides. This is the best way to escape Chianti's sanitized tourist spots and get a feel for real life in this iconic landscape, as well as to learn all about Nora's unique and fascinating niche in the midst of it (and for a visit to a nearby winery for a quick tasting breaks up the day's walk!).
Because of her devotion to local ecology and conservation, Nora has recently developed yet another offering at her farm: eco-printing. Visitors gather leaves from local flora, unique to Chianti, and imprint them on bolts of fabric with a special imprinting method – a scarf, a table runner, a throw blanket. The result is a "handmade-by-you" piece of fine fabric, a keepsake for generations.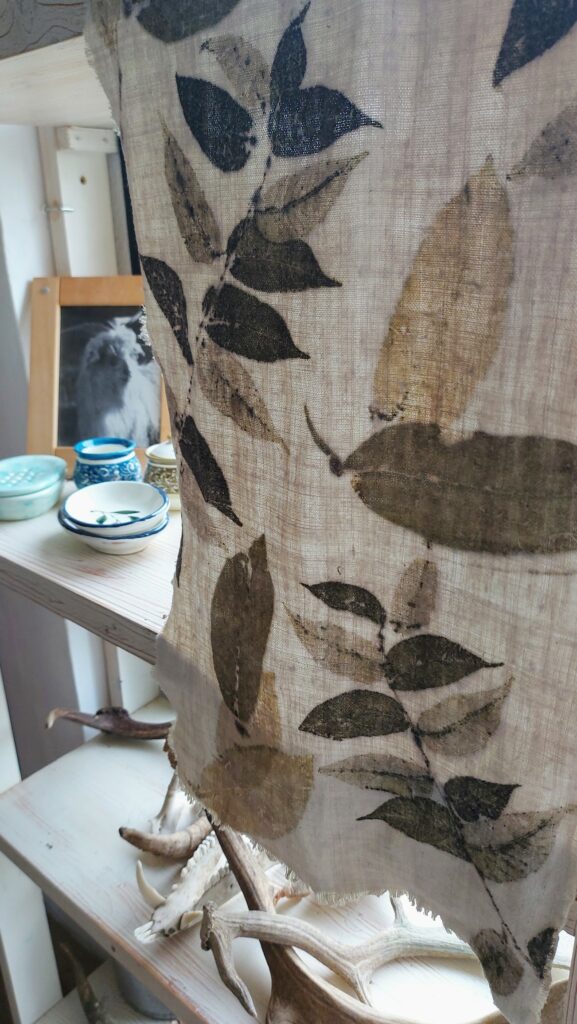 A visit to Chianti Cashmere is a one-of-a-kind experience – whether for the expertly-made cashmere products, the perfect lunches, the immersive interactions with the animals, or just the incredible and inspiring Chianti landscape.
If you go: Open by reservation only.
Make inquiries here: www.chianticashmere.com
Also, shop online – worldwide shipping.
About the authors: Zeneba & Matt moved from the U.S. to Italy in 2019, where they live and work as performing musicians. They are also authors of four award-winning travel guidebooks, and as Little Roads Europe, they craft itineraries for travelers who want to visit small towns and enjoy authentic experiences in Italy and Ireland. www.littleroadseurope.com