There was a time, in the last few years, when finding a seat to eat authentic Italian pizza or stopping for gelato required days of planning and scheduling. Because, across all the Bay Area, from Marin to the South Bay, from San Francisco to Oakland and Alameda, Italian businesses that are successful and well known have grown in number. Customers just loved high quality food, alongside impeccable service and the unique experience.
At least until March 2020, when the pandemic broke and everyone, both on the business and the customer's sides, had to quickly pivot to address the emergency. Customers started relying on at-home deliveries for the food they love; on the other hand, after a few weeks during which everyone was forced to close their doors, business owners started thinking of new ways to sell their products and accommodate customers' needs.
Our new article of the series dives into how the Covid-19 pandemic forced entrepreneurs to change, while pushing to stay resilient and embracing new revenue models.
It's a beautiful, sunny day in San Francisco and the weather is just perfect to taste some Italian gelato. California though has just announced stricter rules for non-essential businesses. We met with Guido Mastropaolo and Patrizia Pasqualetti from GIOGelati outside their store in Union Street. Guido opened this gelateria a few years ago, with the goal of serving the authentic Italian gelato and making each flavor in-house from scratch with all-natural, farm-fresh ingredients. "We started the year strong, also following our opening in San Ramon at the end of 2019 and a number of events in the making," Guido, GIOGelati CEO, recalls. "Running an Italian gelateria, for the way we know it, goes beyond what you sell at the store. Our business model includes a number of revenue streams: the stores of course, as well as delivery service, event catering, restaurant and grocery supply, and partnerships with big companies. Unfortunately Covid forced us to stop half of these activities and to put all our energy into deliveries, which grew and allowed us to make some cash, also thanks to Mayor Breed who helped to keep fees for businesses low. In the last three months, we've been also focusing on our partnerships with restaurants and groceries." Guido and his team managed to keep the business alive in a time when many small business owners had to completely shut down. However, they also decided to go beyond what we call the "survival mode." "We launched GIOClub, a membership program to get your favorite gelato flavors on a regular basis, monthly or weekly, at home. We found out that these customers like this option so much that they actually keep their subscription active even if they come and visit us at the store. GIOClub is allowing us to keep going, at a time when we had to make decisions on how to cut or minimize costs and lay some employees off."
Patrizia, the pastry chef specialized in gelato making, has been crucial for the growth of GIOGelati. Not only does she come from a long family tradition of artisanal gelato makers in Orvieto, but she is also very eager to promote the authentic tradition of gelato making. That's why the gelato made by GIOGelati has become that kind of unique and high quality product that you can find mainly at high-end groceries around the city. "The partnership with this type of groceries has been extremely important in the last few months. We offer a fresh product that our suppliers like to offer because clients fall in love with it and come back to get more."
Groceries and memberships did not compensate for the overall costs and losses, however they helped Guido and the team keep the business up and running while bringing a smile around the community. "If you want to make everyone happy, don't be a leader, sell ice cream, Steve Jobs used to say. I believe we embrace this motto every time customers come to our store. We want to give the same joy of great times during this difficult year. It's almost mandatory for us to make people happy and we will never stop doing it."
The big lesson for Guido and his team is that a crisis like this can help reinvent yourself and your business, because you can't help but look for new ideas and offerings. "You'll make mistakes when you try something new, however teamwork, resilience, and creativity can really make a difference. Your business will come out stronger when the storm is over".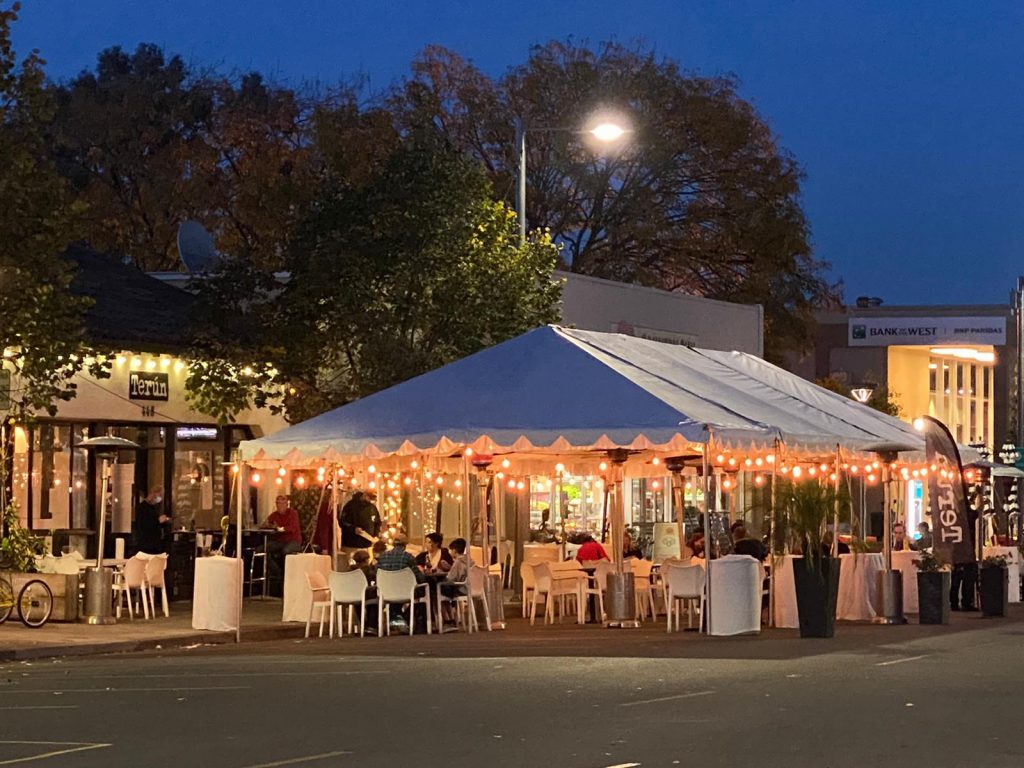 Maico Campilongo, the entrepreneur and founder of Terun and Italico restaurants in Palo Alto, has shared a few words of wisdom that restore hope and optimism for the future. Maico gets emotional while he starts sharing his experience as being a business owner during a pandemic. The emergency has surely hit his business, but it has also had a big impact on the Terun-Italico family, on the employees who have been working hard to make these two places among the most favorite and successful in the entire Bay Area.
"Back in March, we immediately closed one of our restaurants, Italico, and kept only the pizza delivery service from Terun. It's interesting how, right now, we have two similar businesses that are on different tracks. One of them – Terun – is going well, on the other hand, the sister restaurant, Italico, is somehow surviving but just because we were able to negotiate the lease. Between 60% and 70% of the businesses here in the area have closed and we are very lucky to be still working."
The Terun team has been in business since 2006 and this has been one of the most difficult times Maico can remember. Since the Campilongo brothers, Maico and Franco, moved to the US and opened their restaurant with Chef Kristyan, they have been working hard to make their brand recognized and awarded across the Bay. Being in charge of the management, Maico immediately had to come up with some ideas and give his employees some support. "Instead of running a fundraising campaign, Maico says, we decided to offer gift cards that could allow us to keep some cash flow. We also got some money from the government to cover lease and paychecks and we decided to sell many of our wine bottles half price, with the ultimate goal to cover remaining costs."
When shelter-in-place orders became less restrictive and the city approved a plan to have pedestrian-only streets, Terun found itself in the perfect spot. "We are lucky to have our restaurant on California avenue because that allows outdoor seating. This seems to be the plan until at least May 2021 or maybe beyond." Unfortunately local orders keep changing on a weekly basis and, after an initial plan of reopening indoor seating at 25%, the surge of the virus in some counties pushed local governments to retrieve the plan and allow only outdoor seating again. "We have arranged an outdoor setup of 1000 sq feet with 40 seats. We will be able to replace the number of indoor seating with this beautiful space, at least for Terun. We still struggle to find a solution for Italico though."
Maico and his team's goal is to keep not only the business but also the spirit up. That's why they now offer live music performances on Tuesdays (Terun) and Thursdays (Italico). "Our mission has become to stay resilient and don't give up. Sometimes we think it'd be easier to close the business altogether, however it's crucial to stay positive and hopeful and wait for this moment to pass. We know we are doing the right thing every time our customers come to say "Grazie" at the end of their dinner. We are here to offer them a table under the stars and help forget about this pandemic, even if it's just for a couple of hours."