Public fountains have a long history in Italy. They date back to the Roman period when many were built as part of the city infrastructure. The Romans were master architects and engineers, and many of the monumental fountains we see in Rome, including the Trevi Fountain, were built thanks to water transport systems they had created.
However, the true development of public fountains took place during the Renaissance, when there was a great interest in urban architecture and decoration. It was during this period that some of the most famous Italian fountains were built, such as the already-mentioned Trevi Fountain in Rome and the Neptune Fountain in Bologna. Over the centuries, public fountains became increasingly important to local communities, providing an essential source of drinking water at a time when running water was not yet available in many homes. Crucially, they also turned into places for locals to meet, socialize, and exchange news.
The ones I'd like to focus on today, are those tower-like, old-fashioned ones that Romans call Nasoni.
Nasoni, or "large noses," are the one-of-a-kind, traditional fountains found all across Rome. They get their name from the way their spout sticks out like a long nose. Nasoni have become more than just a recognizable trademark of Rome, they are an integral part of Italian tradition, even though they are not called "Nasoni" everywhere!
In 1874, as part of an effort to provide Rome's residents with potable water, the first Nasoni were installed: it was a time when the city was dealing with multiple cholera and typhoid outbreaks because of the poor quality of its water, so Nasoni were built to supply residents with an endless supply of pure water at no cost. The original Nasoni were cylindrical in shape and made of cast iron, but they changed in style and structure over time: for instance, the Nasoni of today range from the traditional cylindrical shape to more unique and artistic styles, and they are made in stainless steel.
An integral part of the city's history, Nasoni do more than merely provide residents with drinkable water: they are a symbol of Rome, and the Romans are quite proud of them. Not only they are handy to refill water bottles when you are on the go, but they also have some pretty ingenious features, like the hole in their spout that reduces the likelihood of water pooling and overflowing. They also have a dog-friendly design, with a shallow basin beneath the spout to allow our four-legged friends to have a drink.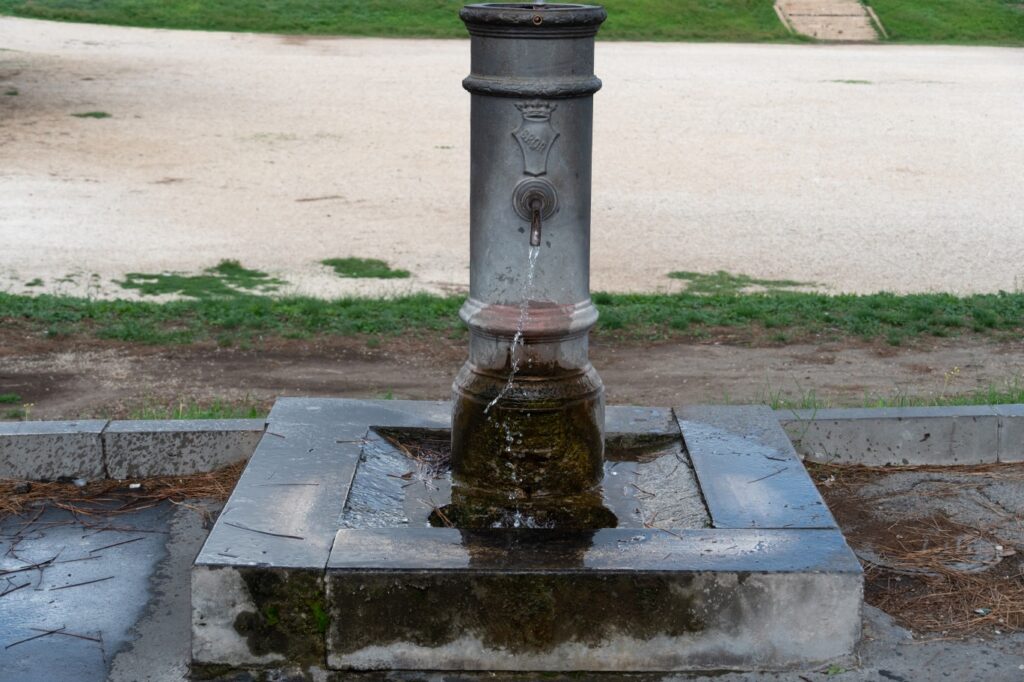 While Nasoni are an interesting cultural phenomenon of our capital, they are far from being confined to it. Actually, you're likely to find a beautiful and functional street fountain like Nasoni pretty much everywhere in Italy, from the largest city to the tiniest village. Public fountains in Italy date back to ancient times, when the Romans adorned their cities with beautiful water features, which were both functional because they provided drinking water to people, and symbolic because they often wanted to show the wealth of those who had them built.
Fountains like Nasoni were a familiar sight in my hometown. I have fond memories of drinking from them during the hot summer months while playing outside with my friends. The water was always refreshingly cool, and we would take turns pressing the switch to let the water flow for each other. The fountains in my village were made of cast iron, just like Nasoni, with an ornate top that, to the eyes of a child, resembled the roof of a castle. What made them even more special was that they were all the same, and they had the village's coat of arms carved into them. They were painted brown, which gave them a unique character, and it was interesting to see how they had different colors in different villages not far from mine.