"In the end, this play is about personal, cultural, and generational change. More specifically, it is about the courage to change."
Italian-Canadian actress, playwright, producer, and voice-over artist Dina Morrone is thrilled to present the new play she has written and produced, Moose on the Loose, a comedy about an Italian family and a Canadian moose.
What is this play about? And why is a moose on the loose? "When a loose moose wanders into town holding a Molson Canadian beer and gets stuck in the Polish neighbor's camper trailer, four generations of an Italian-Canadian immigrant family soon realize the moose isn't the only one who is stuck, displaced, and confused." She explains.
Directed by Peter Flood, the play will open on April 14th at Theatre West in Los Angeles and will run until May 21st. "I saw the moose on the loose as a perfect metaphor for displaced people. The moose is displaced. Indigenous people are displaced. Immigrants in a new land feel displaced. And the children born to immigrant parents feel confused and displaced and don't know where they fit in. And sometimes you can't go home once you've made the big move because when you do go back, everything has changed for you, not just the place but your state of mind. And so, where do you belong, and who gets to decide where you belong?" concludes the actress, who was born in Thunder Bay, a remote northern Ontario city situated on the northwestern tip of Lake Superior.
Dina, when did you start writing Moose on the Loose, and how did it come along?
In 2010, I was on the telephone with my mother, Angelina, who speaks broken English with a thick Italian accent. We were discussing earthquakes, mudslides, and raging fires in LA. My mother said, "Well, we don't have to worry about any of those natural disasters up here in northern Ontario. It's cold, and we have a lot of snow, the most that can happen is that a moose wanders out of the bush." I thought she was being funny. She said that a few days prior, a large moose had wandered out of the bush from across the street and strayed into her Polish neighbor's backyard, where it got stuck in a small camper trailer. The situation caused quite a commotion in the neighborhood, and it was a big news story. My father said the moose was in the wrong place and didn't belong in the city. I argued that the moose was in the right place and that we were in the wrong place. And that man moved into these remote places, built homes on land once populated by nature, wildlife, and indigenous people, and pushed large forest animals out of their natural habitat. And so, when a moose wanders into our neck of the woods, it's doing so because it was once home. And yet now, the moose is made to feel like it's in the wrong place.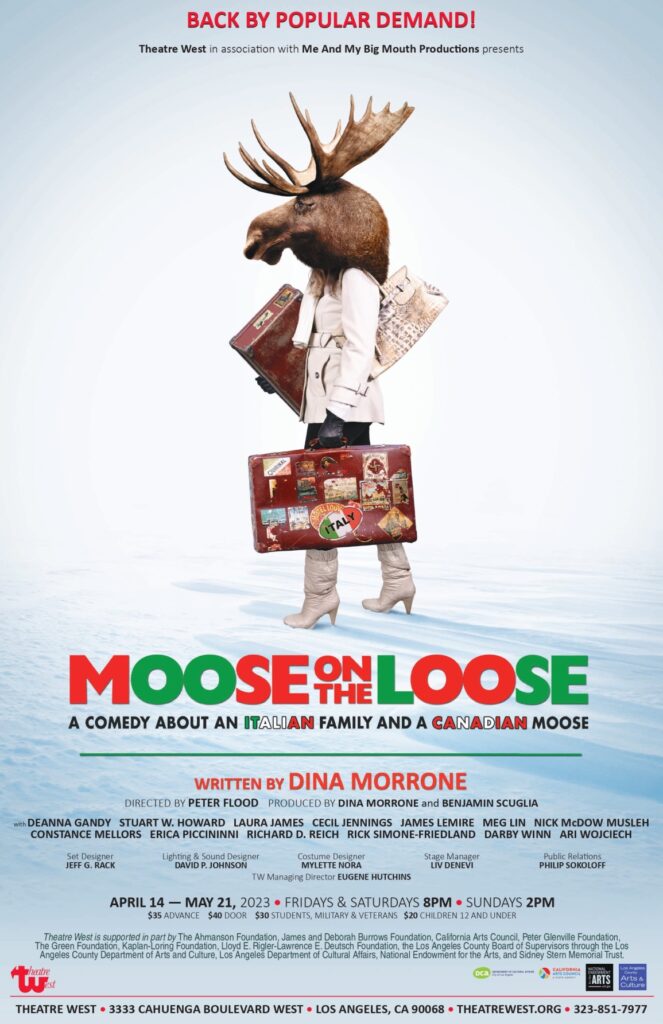 How did your upbringing influence it, and how much of your life can we find in it?
This play is not autobiographical. But clearly, there is a lot of me and my family, and many similarities. But ultimately, the play is about all the immigrant families I knew growing up in my small town. It's their story as much as it is mine. I grew up first-generation Canadian to Italian parents who were only supposed to stay in Canada for up to five years. That was the plan. But sometimes, your plans don't always turn out as you had hoped. So anyway, I grew up in Canada, and all my friend's parents spoke with very thick accents, whether they were Italian, German, Croatian, French, Scottish, etc. And all my friends spoke another language. It was beautiful to hear all these languages and accents. So even though we were different culturally, we had very similar experiences. With regards to how much of my life we can find in the play, well, the character Gina is sort of based on me.
The show is an ensemble of 12 actors, while The Italian in Me is a solo show. How was it different for you to write a one-character show as opposed to a 12-person play?
When I first started writing this play, I thought,' hmmm… how can I make this a solo show and play all the characters?' I love doing solo shows! But as I continued working on it, I thought, 'oh no, this is too funny. I need to add all the actors playing these roles and watch the dynamics of the story unfold.' I am a storyteller and love to share. With a play, I have to rely on other people to deliver my words, and in a solo show, it's all about me and the characters in my head, playing them the way I choose to play them. It's a lot more stressful for me to watch my plays than for me to be up on stage performing my solo shows.
In one of the reviews, I read that it is like an Italian version of My Big Fat Wedding. Do you agree with that, and if so, why?
I am flattered by that comment and comparison by that reviewer. Yes, my play is about family and cultural differences among generations. It is about traditions and customs that don't feel relevant to the kids born in America, and yet the grandparents and parents are trying to hold on to them tightly. But there is no big fat Greek wedding in my play. And there isn't an Italian one either. But yes, family, love, and laughter are all there.
What should the audience expect from the show? What message would you like for people to take away from it?
The audience can expect to have a good time. To laugh and even to be moved. It's a show the whole family can see. And it's a show most of us can relate to because it's about 'la famiglia.' I have chosen to write what I know and make it an Italian family, but I have had people from all different ethnicities come up to me and tell me this is their story, too.
A man walking out of the theater after having seen the show told me this was his story. I asked where he was from in Italy. He said, "No, I am from Iran, this is just like my experience."