On December 3rd and 4th, the holiday season started at Museo Italo Americano with the Mercatino di Natale, now at its 10th edition. Inspired by Christmas markets in Northern Italy and throughout most of Europe, the two-day event, organized by the Museo Italo Americano, recalls the warm atmosphere of Christmas and features artisanal food, unique handmade jewelry, Italian fashion and accessories, art objects, and several craft items, all made by Italian artisans.
Between Saturday and Sunday, on an unusually rainy weekend, the Museo's doors opened to more than two thousand people from the whole Bay Area. Located in the Fort Mason area, the Museo is now hosting ContemporArte, an exhibition featuring a selection of seldom-seen works by Italian-born artists from its Permanent Collection, dating from the 1960s to the early 2000s. Visitors caught a glimpse of the art, while tasting authentic Italian food and running holiday shopping.
On Sunday, around lunchtime, the panel Celebrating Italian Traditions and Innovation in the Bay Area, followed by a tasting of Italian wines and cheeses, was presented by members of the Comites Paola Tonelli, President of Commissione Comunità e Tradizioni Italiane, and Sonia Alioto, President of Commissione Impresa e Turismo.
This year's edition featured around 25 vendors, showcasing Made in Italy products. For those who love traditional sweet treats, Angels Food Chocolate and its founder, Elena Gumina, attracted many visitors thanks to their chocolate salami, usually found in some of the most upscale confectionery shops in Italy. On the same note, Juju is Baking welcomed people in love with all Sicilian desserts. Born as a necessity, Giusy's interest in gluten free products turned into passion mixed with creativity and joy. She bakes sugar-free as well as vegan custom-design cakes: her creations for the Mercatino included gluten-free pasta di mandorle cookies, which went sold out in no time, as well as other Christmas-themed cookies packaged in beautifully decorated boxes. Many stopped at the market looking for special food, like focaccia and brioches made by Poesia Café, or the authentic gelato of Gio Gelati.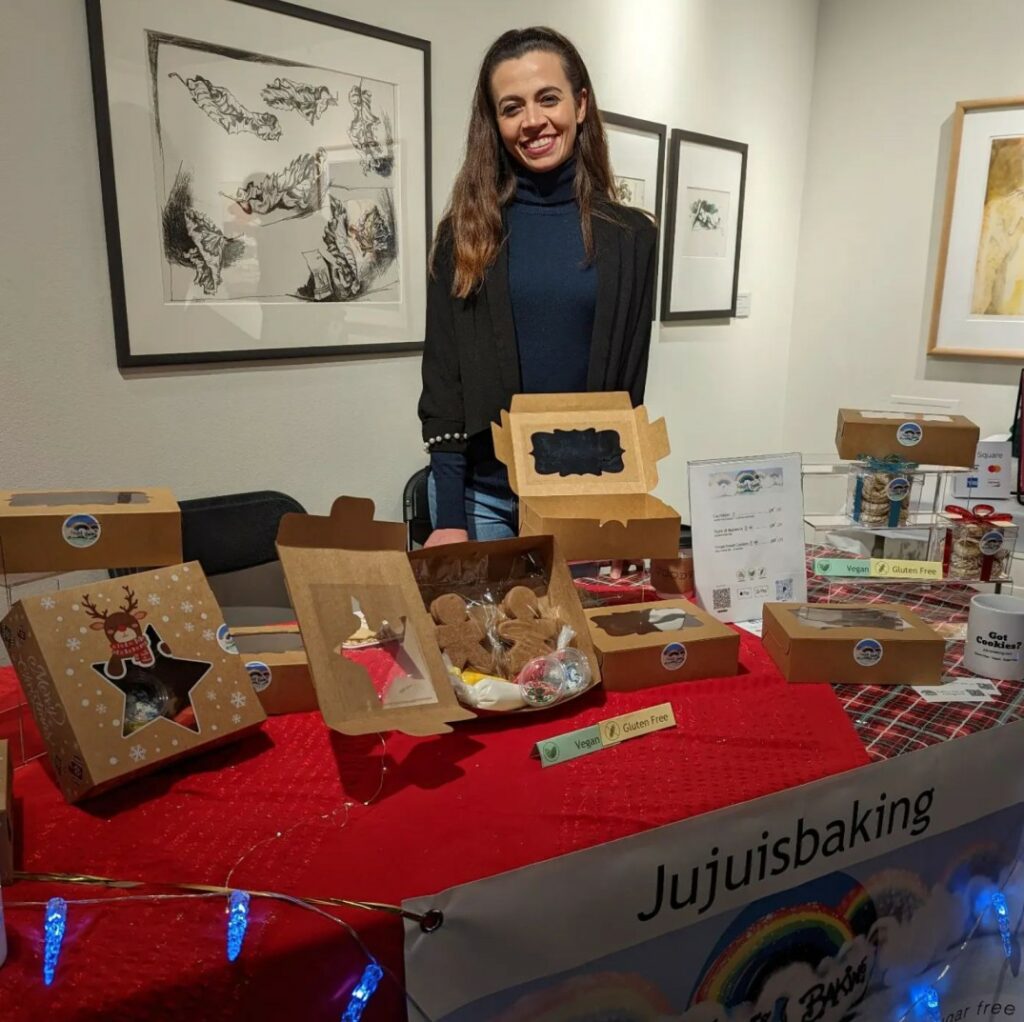 True Delicious is also another example of how Italian products with a strong family legacy can be successful in America when tradition and great ingredients are part of the recipe. Antonio Russo started the company because of his experience in the kitchen with his Italian family. His dad, a professional pastry chef with 50+ years of experience and part of the Italian Federation of Pastry Chefs, taught him everything about how to use recipes handed down through generations. Antonio started True Delicious with traditional almond biscotti, using one of those family recipes. While his products remain faithful to tradition, Antonio proudly adapts them to the American taste: think pumpkin spice biscotti with glaze and pepitas biscotti, made with dried cranberries.
Kids are also big protagonists of Christmas markets: always looking for something Santa is about to bring or something to start playing with immediately, products for the youngest are very popular. It is not by accident that Marta Rigalza has been joining the Mercatino di Natale since the very first edition. Marta is originally from Genoa, however she lived in the Bay Area for many years. During this time, she has become a sort of an artist, handknitting kids' sweaters in many colors and for all preferences. Marta has never missed a Mercatino edition: although she left the Bay Area and went back to Italy, many customers asked her to come back and bring these special sweaters and dresses. In fact, while she opened an Etsy shop, customers love to see Marta and buy her products in person.
Other stands included Natascia Raffio's creations. Born in Rome, Natascia experiments with a wide range of techniques from drawing to painting until she reaches the third dimension by modeling characters using different sculptural techniques including 3D modeling. In 2017, she presented her solo show, Rococò Nightmare, at the Core Gallery in Rome. Her little sculptures remind pop surrealist aesthetics. Natascia told us that she had done "all kinds of work until she started creating some flamboyant brooches; they had a great response from the public and, for years, I supported myself by creating them. I dedicate them to all those who were always a little out of place."
For Alessandra Cassar, Professor of economics at the University of San Francisco, the Mercatino di Natale is the moment when she takes her academic hat off and puts on her apron. As a member of the Forchette Tricolori, Alessandra is part of a group of Italian and Italian American women who spend the week before the Mercatino cooking all the great food you can find at their once-a-year pop-up café.
Alessandra, can you tell us a bit more about how this idea came up?
About 10 years ago, Leonora Di Mauro founded the Facebook group DIVE, Donne Italiane che Vivono all'Estero. Soon after, we created the Forchette Tricolori, a cooking club that meets every other month to cook together and have a great time. One of the ideas of our Forchette club, together with DIVE, was to organize a Mercatino di Natale, similar to the Italian Christmas markets that happen around Italy in December. We found many enthusiasts and, through the generous hospitality of the Museo Italo Americano, we have been doing it ever since.
You were the group that initiated the Mercatino. What was the initial goal?
The initial goal was, and still is, to bring the Italian community together around the holidays.
The Mercatino attracts two thousand people in a single weekend. What's the secret recipe for its success?
I think it is the warm hospitality, the friendships of old friends, and the openness to new friends. Plus the delicious food and beautiful handmade products.
What's the most fun part of it?
For us, it is the Café Forchette. We start planning what to cook and what to offer two months in advance and we have a great time working together for two days. Then, as per our bylaws, all the profit goes to our own enjoyment. Usually dinner at a restaurant with a Michelin star.
How does the group stay engaged during the year? Which activities do you run? We meet several times a year for dinners, but we stay in regular contact through our Facebook page. We are a really nice group of friends and the time we spend together is always very special.