Holidays are all about sharing and making memories if you ask me. Sharing, because we end up spending a lot of time in the company of our family, definitely more than the rest of the year, and that means sharing space, time, and tasks, especially around the kitchen. Making memories because when you're in good company, that always happens. But sharing and making memories is pleasant even when it happens at community level and, in this, L'Italo-Americano can help.
For many, the spirituality of Christmas, the root itself of the festivities, is sometimes lost in the sea of presents, turkeys, and frosted cookies filling our homes this time of the year. But for Italians and Italian-Americans it often isn't so, perhaps because that, too, is such a large part of our own family history and cultural heritage: midnight mass, Gesù Bambino, the Holy Family traveling to Bethlehem, the Nativity scene. And then, there is the food, of course.
Food always represented an important cultural signifier for Italians of Italy and of America, but perhaps more importantly, it was the way the first immigrants kept their ancestral home close, the way they fought homesickness. Through food, communities were created, relationships cemented and, in later decades, heritage was passed on. At Christmastime, food is all that and more, because spiritual symbolism takes center stage, too, as it happens, for instance, when we eat fish on Christmas Eve, a day traditionally considered a giorno di magro – when meat is forbidden.
Why do I mention spirituality and food? Because they are the leitmotiv of your Christmas memories. For this year's festivities, we've asked you, our readers, to look back at your childhood Christmases and tell us about the earliest memories that connected you to Italy. Many beautiful images emerged: images of serenity, of warmth, of full kitchens, tombola games, and grandmothers making cappelletti. But also memories of chilly nights walking to midnight mass, of prayers in Latin and awe in front of the mystery that Christmas, for the faithful, represents.
Norma Courrier's early Christmas memories sum up pretty well, I think, the way seasonal celebrations went – and go – in Italian-American households: "A few days before Christmas, we'd be sitting around the table making cappelletti. Then, midnight Mass, baked fish on Christmas Eve (if there was extra money a broiled lobster, but it didn't happen too often) and cappelletti in brodo, a typical first course on Christmas Day, followed by a roasted capon." Indeed, cappelletti in brodo made an appearance on Giovanna Ferrucci's family table too and, as a matter of fact, on mine. Just like Norma said, my grandmother would start making cappelletti by hand a few days before Christmas, under my careful supervision, of course. It really didn't matter I could barely reach the table with my hands and I wasn't really helping, there was always a spoonful of delicious filling for me when I asked.
Fresh-pasta-making featured heavily also in Marion Ferrante Martin's memories:"I remember little grandma making ravioli for Christmas dinner…she would roll a table-full of dough through the broom handle, and set that aside. Then, she'd roll out more dough on the table again, put her scoops of cheese, and cover with the dough wrapped around the broom handle. Then, she'd cut the ravioli with a pizza cutter. Then all us girls would use a fork to pinch the edges…there were hundreds of these pillows! She would sprinkle them with cornmeal and put them aside for cooking. Oh my goodness, such a meal…" There is truly something about grandmas' ingenuity when it comes to cooking: what an excellent idea to use a broom handle to roll out the dough. But what ability you'd need to do it. Marion's memories highlight another special thing about Italian and Italian-American Christmases: cooking together, and especially, involving the children in the process. How often did we participate in complex culinary procedures with our parents or grandparents? How often were we given small, simple tasks – mine was beating the eggs with those little manual mixers with a handle and a wheel – while our grandmothers skillfully prepared dishes good enough to be served in a Michelin-starred restaurant?
Another common trait of your Italian Christmas memories was fish, as Lino DiSalvo reminisces: " I'm 4 or 5 years old, the basement smells like fried fish, as we all do thanks to Nonna and Zia's cooking. About 35 of us would stay up Christmas Eve night until the clock struck midnight: time for our gifts!" Baccalà was a must in many families, as Miranda Scalise tells us: in hers, it was cooked "al forno" on Christmas day. However, the dish could cause some problems around the table, especially if there were children, as its saltiness and texture were often not appreciated by the wee ones, as Lou Marciano, 97 years of age and World War Two veteran, wrote in an article published in The Rhode Island Wave, which his daughter Deb sent us: "Baccalà only stayed a few years on our menu because, as the children entered the circle of love, their likes and dislikes were considered: baccalà was not a favorite." I must have been a strange child, because I loved baccalà with potatoes and olives, as my grandma would cook it – albeit not for Christmas: we were more of a hen or capon family. Then again, there wasn't much I wouldn't eat, really.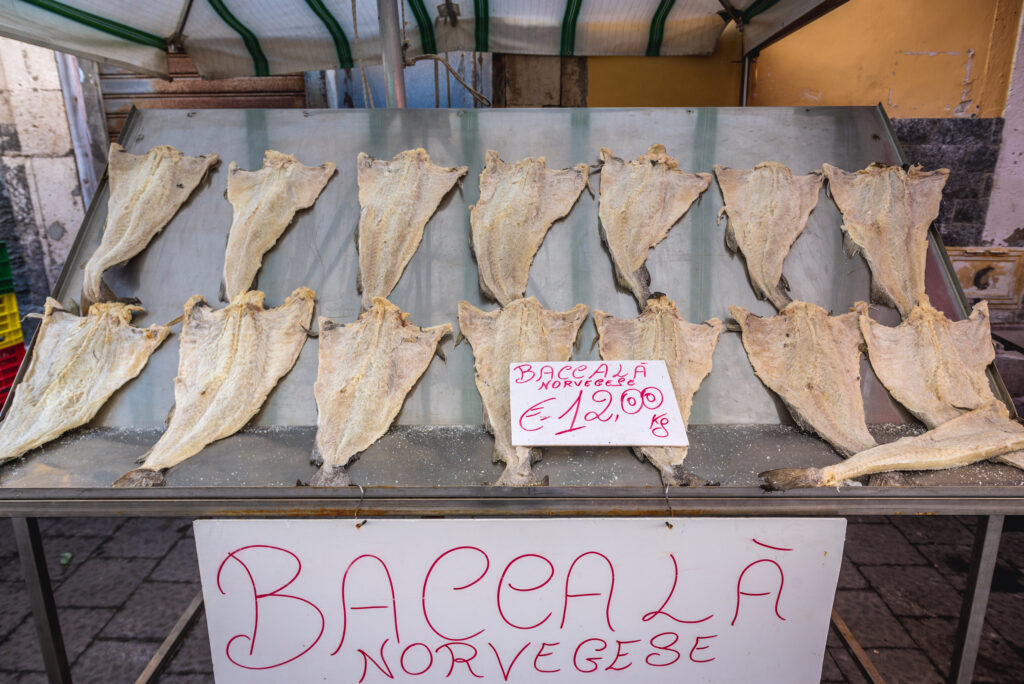 Lou also brought up something I remember my grandmother would tell me about the first Christmases after she got married to grandpa: Christmas menu battles. Grandpa wanted risotto and hen because that's what his mother made, grandma wanted cappelletti in brodo and capon because that was the tradition in her family. It was, just like Lou said, a matter of "give and take." Eventually, my grandparents settled, as it often happens, on a compromise: cappelletti in brodo and hen.
Of course, it wouldn't be an Italian-American Christmas (Eve) without the Feast of the Seven Fishes which, however, wasn't a hit with our reader ExNYer, who said it was "A big deal in my family, but I didn't eat fish so it was challenging for me."
And what would you do after a hefty Italian Christmas meal? You played tombola, as Maria L. Mergola tells us, "I remember playing tombola… ambo, terno, quaterno, cinquina… the numbers said in Italian." Some of you have, in fact, memories of Christmases in Italy, and they, too involve tombola games, just like those of Cajetano5, who spent his childhood in beautiful Gaeta. There, he "Would look forward to playing tombola on Christmas and New Year's Eve. Our markers would be remnants from our meal such as broken shells from various nuts and tangerine peels. The numbers were also called in a distinct way – Natale would mean 25. Santa Lucia would mean 13. We would learn about the saints as we played."
The beautiful memories of Candi Miller merge together the two great themes of our Christmases, food, and spirituality, in the form of dinners at grandmas and traditional presepe. Candi remembers how her grandparents made "Homemade ravioli for Christmas dinner, with a big salad, bread and a platter of fried chicken, " and then "All the family got together at their home the next day to eat and exchange gifts." But perhaps the memories of her father and his presepe are the most beautiful. She continues: "My Dad was first-generation American. He always bought a large tree that we decorated but he did 'the floor' underneath the tree himself. He had figures from Italy, a manger scene was the centerpiece, and he made 'hills' out of boxes and covered them with cotton snow. He had houses and churches he arranged on these hills. We kids loved 'the floor' and played with it. Our Christmases were absolutely wonderful and loud and fun – Candi concludes – I miss all of them so much, but I am so grateful for these memories."
The Nativity is one of Carmela Bonanno Dalton's fondest memories, too: "Every Christmas season,  my mother would set up her nativity scene which we'd brought from Italy, and she'd pick up her book of novenas (written in Italian) and start reading the Christmas novenas each night until Christmas." The Christmas novena is such a traditional, old-fashioned form of worship, one that has almost disappeared in modern Italy. But once upon a time, it was not only a moment of worship and meditation but also a gathering of families and friends, who shared a meaningful time of prayer together.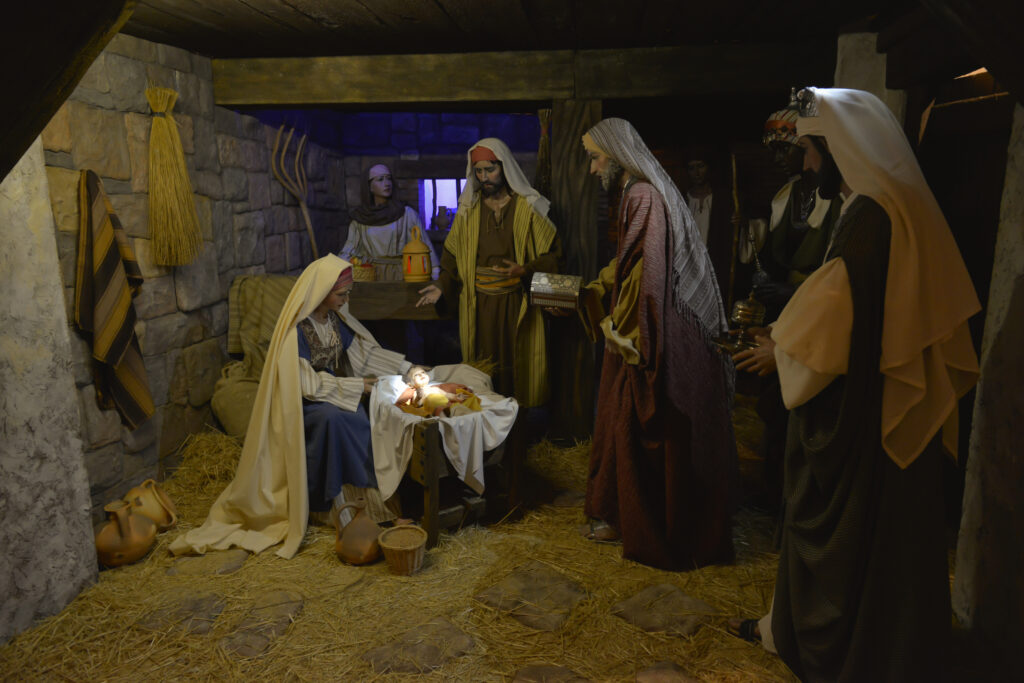 And then, of course, there is midnight mass: "My first midnight mass, which I consciously remember, was on Christmas Eve/Day when I was 5 and, though I was sleepy, I came wide-awake upon entering St. Christopher's church. It had to have taken a week to prepare the altar and nave with golden fixtures and lace coverings. Mass was still in Latin, which just added to the air of profound mystery," Anthony Dee Varrone remembers. Midnight mass is, indeed, an incredible experience when you were a child: being allowed to stay up late was so surreal, and rushing home to be in bed quickly lest Gesù Bambino didn't stop with your presents was the norm, too. The fairy lights around the presepe and on the tree would be left on so that He could see where he put all the presents…
What struck me the most while collecting your words was their familiarity. It was how much your memories of Italian-Americans resembled mine, a woman born and bred in Italy: the loving presence of our grandparents, the lavish meals, of course, the respected, cherished presence of faith in a festivity that should be about spirituality and unity, but has sadly become a consumeristic festival. In this, it seems, we Italians of Italy and of America are a bit old-fashioned, and in typical Italian style, we want traditions to be respected, we want them to be beautiful, meaningful. We want them to last forever.