Driven by the compelling need to make our planet sustainable, Italian engineer Mario Carandente has always been motivated to take on a leadership role to achieve sustainable transformation in urban mobility.
After graduating from the University Federico II in Naples in 2012, Mario moved to the United Kingdom where he obtained a Ph.D. sponsored by Jaguar Land Rover. Thanks to it the young man, who grew up in the capital of Campania, Naples, became head engineer of design and engineering for high-performance automakers at McLaren Automotive.
In 2021, Mario moved with his wife and daughter to Boston, MA, where he embarked on a new adventure, but where his goal remained the same: focusing on sustainable innovations in the automotive and mobility space.
Mario, how did your career in this industry begin?
I started my journey in the automotive industry back in 2012 when I was awarded a scholarship from Jaguar Land Rover and the EPSRC in the UK for a Ph.D. in mechanical and automotive engineering. With my research, I have contributed to the development of sustainable lightweight materials which helped reduce the weight of a vehicle's architecture, contributing to significant improvements in fuel efficiency and CO2 emissions. My Ph.D. inspired my career in the automotive industry and, since then, I had the opportunity to influence and lead the design and engineering of iconic automobiles both at Jaguar Land Rover and McLaren. Examples of my work are the Jaguar XE and F-Type, Range Rover, and several McLaren including GT, 720S, Speedtail, Elva, and Artura.
How did this field change over the years?
Since I started, the automotive industry changed drastically. An automotive company is now a technology company more than a manufacturing company. It's all about the level of tech they can deploy, whether it's advanced connectivity, electric platforms, or autonomous mobility. Expectations are continually changing, too. Extras that were considered luxuries even 10 years ago are now standard.
What's the biggest change that needs to be addressed?
Automakers need to quickly adapt to this highly competitive environment. Many EV disruptors are entering the market with innovative products. It's vital, therefore, for many companies to re-think their product development and R&D strategies to introduce new technologies to the market faster and cost-efficiently. All automakers are learning how to implement agile product development practices, which enable the integration of hardware and software because cars are becoming more connected to their surrounding ecosystem.
What is the thing you brought into this field you are more proud of?
This is where my experience at McLaren becomes very relevant. Legacy OEMs can learn a lot from supercar manufacturers. They know how to differentiate in a very competitive environment where performance, quality, and innovation are key to the customers. For example, with McLaren Artura I have been working on the development of one of the best-performing hybrid supercars available on the market. The 3.0-liter engine makes up 577 horsepower working in conjunction with an electric motor that contributes up to 94 horsepower. In addition, the car has about 20 miles of range with its electric motor. This is perfect when driving in urban areas.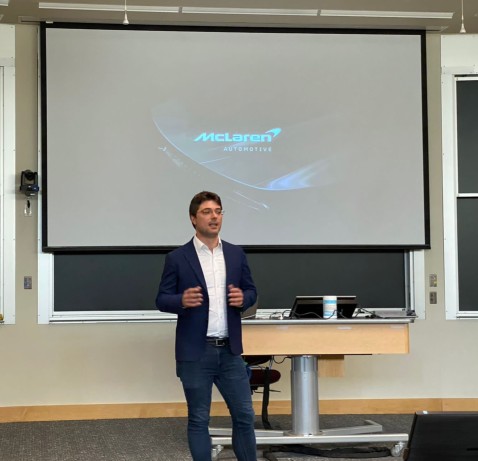 What's the biggest challenge, in your opinion?
I am still debating whether fully electric vehicles will be the solution in all contexts. Batteries have so many problems that need to be solved before this technology can be scaled to mass production. The complexity of the supply chain is a big issue, too, and infrastructures need to provide enough charging stations and electric capacity. In my opinion, we will see multiple solutions depending on the specific cases. For example, the use of hydrogen for airplanes and heavy-duty trucks is becoming a compelling solution. In addition, we also need to consider the CO2 generated during the manufacturing process and along the supply chain. Sustainable and recyclable materials, made with low-energy manufacturing processes will become a priority for automakers if they want to meet their emission targets.
The Fullbright Entrepreneurship Award allowed you to enroll in a Sloan Fellows MBA at MIT focusing on the technological and infrastructural innovations in the future of mobility and transportation. What is motivating you?
After an incredible experience at McLaren, where I was directing sports car design, I decided to take a break and go back to studying. I realized that beyond the engineering aspect, an essential feature for every business leader is the ability to analyze the business itself and dictate new strategic visions. This is especially true in the automotive sector, which is experiencing a period of considerable "destruction." Doing an MBA was always my goal and studying at MIT is the dream of every engineer. The MBA allowed me to learn new notions of business and finance but, above all, to meet many international managers from whom I learned new leadership perspectives. My next role is in management consulting, focusing on the mobility sector. In this role, I will have the opportunity to work with many organizations that provide innovative solutions for electrification, autonomous driving, connectivity, and renewable energy.
What is your hope for the future?
I am very excited to see what comes next and be part of the imminent automotive revolution that will lead our planet toward net zero emissions.