The Leonardo da Vincy Society celebrated the 4th edition of its Awards on December 2nd in San Francisco. Twelve awards and two Emeritus Awards later, the organization is stronger than ever, thanks to the work of its Board members who showed a lot of resilience and strength, especially during the pandemic. The founding of the Leonardo Awards, on the occasion of the 500th anniversary of the artist's death, took place under Consul General Lorenzo Ortona and Scientific Attaché Massimo Maresca, however the legacy lives on thanks to Consul General, Sergio Strozzi, who has shown big support and involvement since its appointment in 2021.
This year's edition was held at The Commonwealth Club of California, in its venue on Embarcadero street in San Francisco. In the gorgeous Taube Family Auditorium, Martin Kemp, the world-renowned Leonardo scholar and Emeritus Professor of Oxford University, presented a webinar lecture of his latest research on the science of optics and the absence of perspective in Leonardo's artistic creations. Deborah Loft, Professor Emerita of Art History, gave an overview of Leonardo's masterpieces – especially of the Mona Lisa and the various interpretations of her myth in centuries following her creation.
We talked to Carla Priola Anisman, President of The Leonardo da Vinci Society, who opened the Awards ceremony.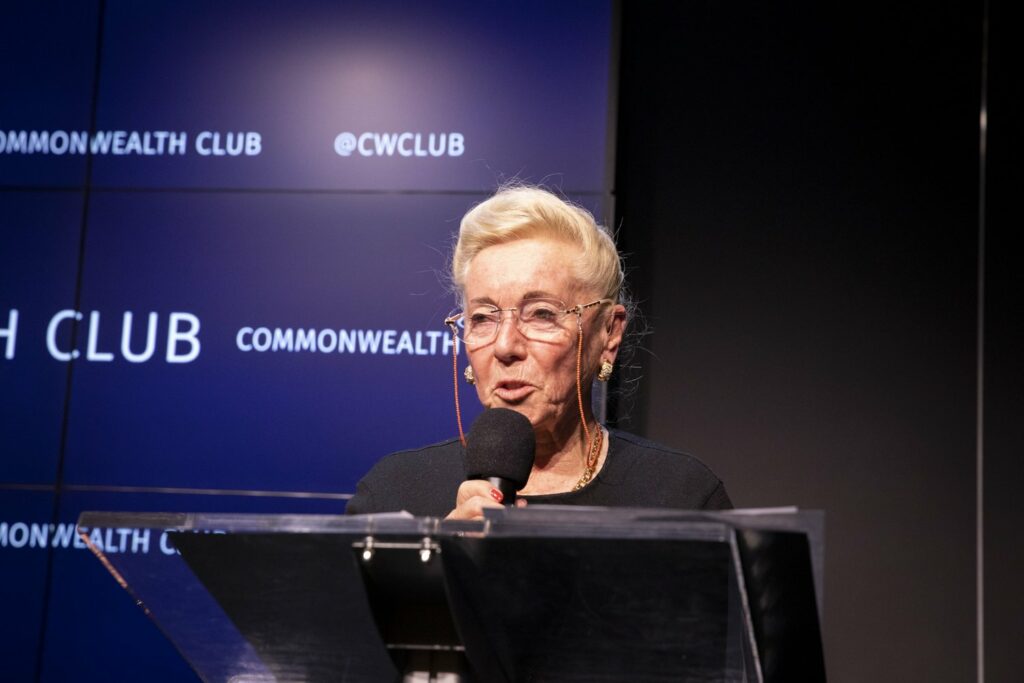 Carla, how did the collaboration with Commonwealth club come to life?
Humanities West has been a collaborator of The Leonardo da Vinci Society for a long time, with previous Director Patricia Lundberg. In 2019, on the occasion of the 500th anniversary of Leonardo's death, Humanities West joined our organization and the Italian Cultural Institute in a presentation of seventeen cultural programs that took place all over the Bay Area at the Commonwealth Club, at Stanford University, Berkeley University, and at the Museo Italo Americano. Humanities West has now a new Director, George Hammond, who moved all his activities at the Commonwealth Club.
What's your favorite part of this annual event?
I love seeing the winners smiling or crying of joy and it's an honor to see the pride of parents or partners or relatives. It is such a warm experience to know that we can reward someone that has been working so hard for a long time. It's the moment of recognition of their achievements that really moves me.
It has been a great year for the Leonardo da Vinci Society.
We had a memorable year. The pandemic slowed down and we were able to meet in person again. We used Zoom with our international writers, like Dacia Maraini, who spoke about Film Director Pier Paolo Pasolini. We invited Director Mark Pedri at SFIAC to present his film, Dear Sirs, on Italian Immigration. We presented the story of Edoardo Mortara with Prof. Carey Perloff; The Life and Legend of Catterina Vizzani by Prof. Clorinda Donato; La Straniera by Claudia Durastanti. We had an event on Giorgio Perlasca with a recognition, collected by his son, from both Italian Consul General Sergio Strozzi and Israeli Consul General Marco Sermoneta, for saving over 5200+ Jewish people in Hungary in WWII.
Looking at 2023, what should we expect?
We have a great year coming up. The celebration of Alessandro Manzoni and the translation of the Promessi Sposi by Michael Moore; the Honorary Award Spring Gala, to be held at the SFIAC, to Mario Taddei for his humanitarian work. The 100th Anniversary of the San Francisco Opera and its founder Gaetano Merola. And of course, another round of the Leonardo's Awards.
Sendy Caffarra, winner for Life Science, is a Visiting Scholar at Stanford University, School of Medicine. "I investigate how our brain changes as a function of language experience. I use neuroscientific methods to monitor functional and structural properties of our brain and see how they change over time while we learn how to read or while we learn to speak a new language". Sendy won a Marie Curie Global Fellowship and started working at Stanford in January 2020. She came here to carry out a project on neuroplasticity of reading and tested how the brain of young kids changes while they are enrolled in a reading intervention program. After the Marie Curie fellowship, she extended her stay at Stanford to continue working on this topic and to explore the link between structural and functional properties of the brain. "I love to constantly learn from and interact with brilliant colleagues and collaborators. I think that my major drive for doing this work is curiosity and the possibility to wonder about how our brain can learn incredibly complex skills, such as reading." This award keeps that connection with Italy tight: "It made me realize that I should work even more in creating connections between the researchers from Italy and those from the Bay Area."
The Winner for Humanities, Donatella D'Aguanno, studied in Italy and Spain and taught Italian in Spain, Spanish in England, and Italian at the Dante Alighieri Society in Quito, Ecuador. Currently, she is a Ph.D. candidate in Italian at Stanford University under the supervision of Professor Robert Harrison and Professor Sarah Prodan. Her dissertation focuses on the figure of Saint Francis in the Divine Comedy and his legacy in the contemporary world. The passion around this work is key to Donatella's research: "What I love about working on Dante is the fact that I can read his work over and over again, and I always find new interesting, thought-provoking, and inspiring details." The connection with her country is strong, yet difficult: "I have a conflictual relationship with Italy. I am deeply attached to the traditions, and my family, whom I miss every single day. I miss Sicily, my Mediterranean sea, and my delicious Italian and Sicilian food. However, Italy is still a country that did not recognize any of my professional qualities." The award restored some faith in the country Donatella loves unconditionally: "This award means a lot to me, especially because I lost my amazing dad a few months ago after a battle with cancer. Without him, I felt so lost that I was almost giving up on my Ph.D. I have decided to keep working on my dissertation to honor him because he always supported me. This award is dedicated to him."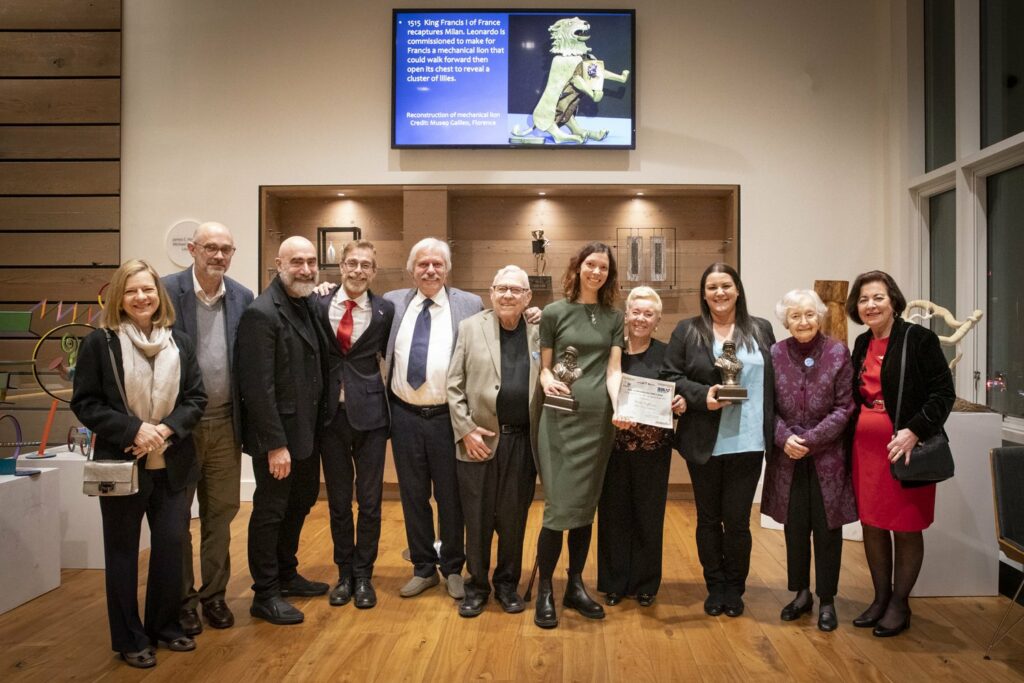 Antonella Palmese, who could not attend the ceremony, won the Award for Engineering, Math,Physics. She is a NASA Einstein Fellow at the University of California, Berkeley. She got her undergraduate degree and Masters from La Sapienza University of Rome, before her Ph.D at University College London and worked on the Dark Energy Survey (DES). She was a Postdoc at the Fermi National Accelerator Laboratory and at the University of Chicago. She is also very enthusiastic about applying machine learning techniques to astronomy, and she is deeply involved in several large galaxy surveys, such as DES and the Dark Energy Spectroscopic Instrument (DESI). Antonella will soon join Carnegie Mellon University as an Assistant Professor.