In Christianity, Lent is the period of forty days that anticipates Easter and corresponds to the forty days spent by Jesus fasting and praying in the desert of Judea, as told by the Gospels. For Catholics, this is traditionally a period of restraining and meditation, often accompanied by days of fasting – usually Fridays.
While our grandparents' generation was likely more observant of the church's requirement to respect Lent, including the overall call to refrain from meat throughout the forty days, we are more relaxed about it today, with most people being non-observant or limiting the application of the ritual fasting to Fridays without meat.
This doesn't mean that the period of Lent isn't celebrated – on the table and in village squares – in special ways, with recipes and events that are typical only of this time of the year. Let us start with food. Traditional Italian Lent food includes anything that is considered "poor," that is, that was once accessible to all, so bread, vegetables (easily available from family orchards) polenta in the North, soups and fish, both fresh and preserved in salt. La Cucina Italiana mentions one fish in particular, herrings – the dried, salted version – which were cheap and tasty and could make a meal with just a piece of bread. A traditional dish of Veneto is, for instance, herrings and polenta, a custom that, legends say, started at the end of the 15th century when Treviso fought back an attack from the Ottomans.
It is not surprising to see that fish appears on Lent tables across the country. Take baccalà and stoccafisso: they are a staple pretty much everywhere. First of all, the difference: baccalà is salted cod, while stoccafisso is air-dried cod. While we are talking of two different preparations, in some regions the names are interchangeable, like in Veneto, where we talk of baccalà alla Vicentina and baccalà mantecato but the fish used is actually stoccafisso. The same happens in Campania or Calabria, where baccalà is often used to name both preparations.
Cappon Magro is what you eat in Liguria during Lent. It's a delicious and very filling dish, which is served cold, made of layers of cod or other types of fish, potatoes, vegetables, and parsley salsa verde (which is made with olive oil, anchovies, garlic, and pinenuts) and a bottom layer of toasted bread or galletta del marinaio, a traditional Ligurian dry biscuit sailors used to bring with them at sea. As you can see by the ingredients, we are talking about a very rich, very complex dish: it may have no meat, but it's far from being an example of cucina povera! In nearby Piemonte, Lent means lasagne gran magro, pasta layered with a sauce made with butter, anchovies, parmesan, and pepper.
Neapolitans likes scammaro for Lent, a sauce made with olives, pine nuts, capers and sultanas, which they use to top pasta or to add flavor to omelets – this last dish is called, as you may imagine, frittata di scammaro. Naples is also a fan of baccalà, which is traditionally battered and fried.
And what about dessert? Can we have dessert during a time of fasting and restraint? Well, while many of us in Italy like to give up sweets and cakes for Lent, in what we traditionally call "fioretto," there are several sweet preparations typical of this period. Genoa is known for its quaresimali, cookies made without fats (no butter, no oil, no egg yolks), the main ingredients of which are pasta di mandorle, sugar, fennel seeds, egg whites, and orange blossoms water. They are then decorated with flavored icing. In Rome, Quaresima means maritozzo,  but not the creamy ones we're used to eating during the rest of the year, but a simpler version, made with honey, pine nuts, and candied fruit.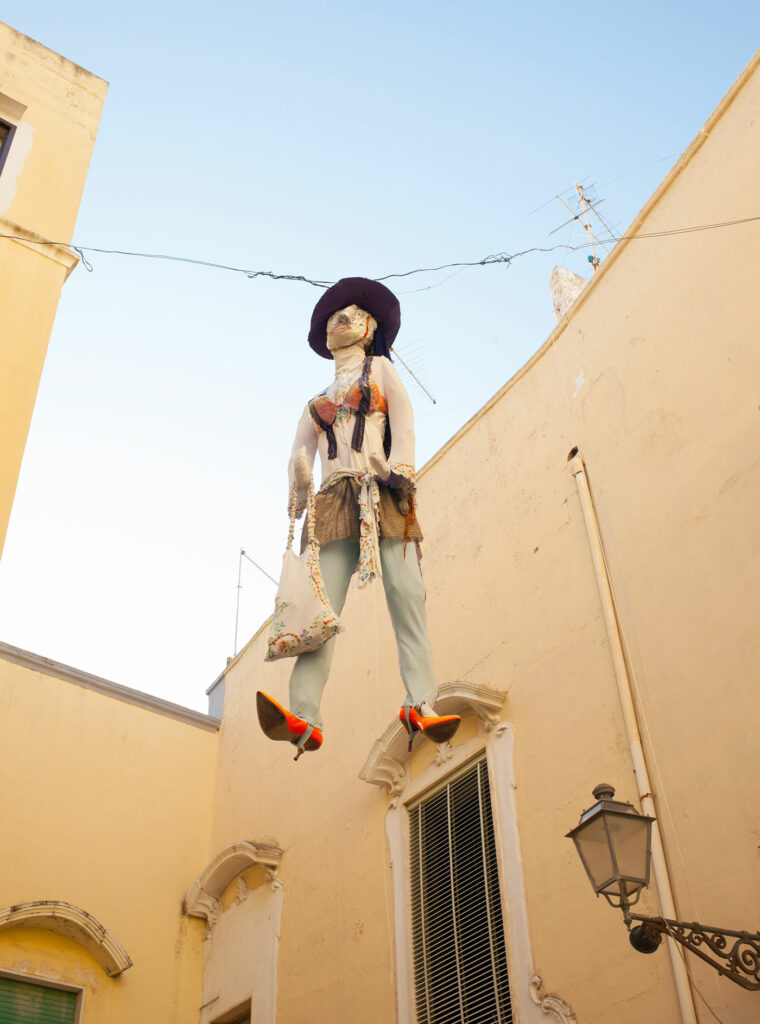 But Lent doesn't show its influence on Italian heritage only in the kitchen. In some areas of the country, there are rituals and customs associated with this time of the year that date back centuries. For instance, in Irsina, in the Matera province of Basilicata, seven black-dressed dolls are placed in public, with one disappearing every Sunday. In Salento (Campania), we find the Caremma, a puppet that holds a thread of yarn in a hand and an orange pierced with seven feathers in the other: each Sunday, a feather is removed, symbolically cleansing humanity from sin.
If you like Italian cinema, and especially if you are a fan of Federico Fellini, then you may remember the opening scene of his Amarcord, where an old-woman-shaped puppet is cut in a half during a celebration and its content – candies, dried flowers, and cookies – is then collected by those present: that's the traditional mid-Lent ritual of the segavecia, or "cut-the-old-lady," a propitiatory rite that wants to symbolize the end of the cold season and the beginning of Spring. The same ritual, albeit in slightly different forms that may involve the burning or "drowning" of the puppet, takes place a bit everywhere in the center and North-East of Italy.
As it is typical of our country, though, every little village, every family even, has special habits for this time of the year, small rituals that may be tied to old family memories or people we loved, but are no longer with us: a treasure of knowledge, history, love, something to share with joy and pass on to the next generation.