In a time of unprecedented global public health challenges, when every sector of our social and economic fabric is at the straining point, it is comforting to realize that our Italian-American community continues to encourage and foster connections with family and friends. Together, we'll get through the hard times. That's the Italian way!
Both Seattle and Spokane have long-standing Italian-American clubs to help preserve these important social connections while maintaining a sense of culture and heritage. Here is a brief look at the two organizations.
The Italian Club of Seattle celebrates its 100th anniversary this year. Although the celebratory dinner had to be postponed from April to October, it's an impressive milestone that should not go unnoticed.
The club was originally called the Italian Commercial Club, created as an organization of Italian immigrants, primarily professionals, who wanted to network and do business together. The idea came up at a holiday party in December 1919 at the Seattle home of Nicola Paolella.
Attending the party that year were some of the most prominent members of the local Italian community: the Italian consul, two doctors, a city councilman, and a judge.  Also on hand were Seattle florist Felix Rosaia and Federico Bassetti, editor and publisher of the popular Italian-language weekly, La Gazzetta Italiana.
Bassetti put a notice in La Gazzetta inviting the Italian community to meet on January 20, 1920, at the Fraternal Hall, located at 4th and Pike Street in the downtown core. Several months later, on April 26, 1920, the club was founded.
For the next decade, meetings were held at various locations around Seattle. Then in 1930, the group banded together with other Italian organizations to purchase the Pacific Telephone Building on 17th Avenue, renaming it Casa Italiana, or Italian House. In 1935, three Italian groups – Italian Commercial Club, Italian-American Council and Italian Athletic Club – merged to form the Italian Club, Inc.
Times were tough in the 1930s, though, and the new organization had trouble making ends meet. Two of its members, Fran Orrico and John DiJulio, came up with the idea of holding a fundraiser on Columbus Day. That was the beginning of the annual Columbus Day banquet; the proceeds from that event were enough to keep the club afloat.
A few years later, the group moved again to 620 Union Street. This time, its members-only dining room quickly became one of the city's most elegant dinner clubs. With upscale decor, a big cocktail lounge and attentive staff, a dinner at the Italian Club was a special event. Its executive chef Costa Lazzaretti, sometimes known as Costanzo Lazzarotto but usually just called Chef Costa, had quite a following. He served as the club's chef until 1945 when left to open his own place in Shoreline, where Bing Crosby would often dine whenever he came to town.
Eventually, the group lost its lease at the Union Street location and for several years meetings were held in hotels, restaurants and school auditoriums. In 1998, under the directorship of Armandino Batali, the Italian Club voted to allow non-Italians to join as members. All that was required was an interest in all things Italian — from food and wine to music, art and history.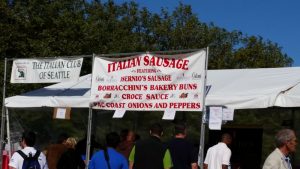 The Italian American Club of Spokane celebrates its 54th anniversary this fall, founded on September 17, 1966. It coalesced into a single group after several lodges affiliated with the Order Sons of Italy in America were disbanded. Spokane's club prides itself on its charitable work, raising funds that can be donated back to the community.
Its popular spaghetti dinner was started in 1968 and held at Gonzaga Prep. The event raises funds each year for a $1,000 college scholarship for a student of Italian descent. Club members start prepping for the dinner about a week in advance. Some years, the happy diners go through about 10,000 meatballs. As expected, everything is homemade.
The club also sponsors an Italian Festival each July that raises funds for different causes. Several years ago, members raised more than $600 to support the earthquake victims of L'Aquila. Members also participate in the annual St. Patrick's Day parade but with a distinctively Italian touch: they tow a float bearing an 11-foot tall replica of the leaning tower of Pisa along the parade route. The display was built in 1993 at a cost of $6,000.
When the Spokane club was formed in 1966, about two-thirds of its members were immigrants or the children of immigrants, and the organization filled an important need in the community. Many Italians had initially come to Eastern Washington in the 1920s and 1930s to work on the railroad. One of these was the Cozza family.
"My father came here in 1947 at age 19, when his father was already here working for the railroad," said Sam Cozza, whose father Pat was one of the club's founding members. "For them, it was more personal, having a tie to friends who had a common bond to the old country. Naturally as time goes on, you get to the second and third generations and it's a little different focus because those people haven't necessarily had the same experience growing up."
In 2016, during the Italian American Club's 50th anniversary celebration, the city of Spokane welcomed a new international sister city – Cagli, located in Italy's Marche district. It was the fourth Italian sister city in Washington State. The others are Seattle and Perugia, Walla Walla and Canara, and Auburn and Mola di Bari.