Food. There might not be anything else that embodies and defines Italian culture and local identity like food. It's something talked about with fiery passion, a daily ritual that is more sacred than routine, a placeholder of cultural expression for the tiniest hamlet and the largest city…it's the heart and soul of Italy. It also might be the answer to reviving Italy's dying villages.
Food is something celebrated daily in Italy. Fresh, seasonal, prepared with passion and love, and always shared with those cared about. If it's a daily liturgy, why would there be any need for a set-apart celebration specific to a particular food item? The reasons are many. However, one stands out – a feasible means of reviving and revitalizing Italy's depopulated villages.
Meet the sagra – a lively, no-frills food festival held yearly celebrating the best of provincial cuisine. To call it a mere festival, however, is almost irreverent. Even the word sagra transcends the earthly, its Latin origin translating to sacred, heavenly. Nigh unto heaven is a good way to describe these feste di paese that highlight the best product or homecooked specialty a village has to offer.
Food is venerated all year long in Italy; how are sagre (plural of sagra) unique? Many sagre have roots in long-ago seasonal harvests or align with honoring a community's patron saint – the focus was very specific and carried out by townspeople for townspeople. Contemporary events focus less on these things, however, and are more an all-out party in honor of an esteemed local food. Put your dressy duds aside, though; these events are energetic, chaotic, down to earth, and are a full immersion into the culture of the community. Not just a feast for the taste buds, sagre are also a full-on feast for the senses. Tables fill the piazza or side streets – the spirited chatter of friends and family fills the air as music blasts from a local band or staticky speakers. Colorful booths offer games, prizes, and handmade goods. There might be a parade or historical re-enactment, and of course… local wine abounds to toast it all. Authentic, simple, joyful – the sagra brings Italy back to the basics of what matters most: family, community, food.
How can a once-a-year celebration of local honey or tortellini or artichokes save a village, though? Prior to World War II, many rural Italian villages worked as agrarian microcosms – self-contained communities that did all right meeting most of their own needs as they faithfully passed the lifestyle on to the next generation. The post-war era was the start of a marked economic and demographic decline, however. Revitalization and industrialization centered on larger cities; agricultural communities saw a slow but steady population drain as younger generations left in search of work. This "rural marginalization" left many villages clinging to life yet facing a juxtaposition of options. Increased tourism positively affects the economy, but at how great a cost to tradition, way of life, and stability? As an old Italian proverb states, "Guests are like a fish; after 3 days they begin to smell." Tourists were for the large cities: small communities were wary of outsiders and fearful of forced change.
Desperate times call for festive measures. The sagra, traditionally a very localized occasion, could easily bring curious outsiders… and their money. While not a new concept, these rural events have grown in number and popularity as a tourist draw, over the past couple of decades. Michele Filippo Fontefrancesco conducted a lengthy study looking at the effects of sagre on rural Italian communities. Irrefutably, a positive correlation was found between sagre, revitalization, and contentment within a village population. In his book, Food Festivals and Local Development in Italy – a Viewpoint from Economic Anthropology (2020), Fontefrancesco's research concluded that, yes, sagre play a star role in revitalizing marginalized villages, yet with the caveat of limited negative factors that can occur with increased tourism, offering "maximum immediate gain and marginalizing the social distance between community and guests" (Fontefrancesco, 2019). According to additional related research (Pasquale, 2019), village economies realized a collective intake of over 900 million euro thanks to the increasing popularity of these food festivals. That's impressive…and lifesaving.
Sagre have great appeal not just to stranieri (foreigners) but to Italians, as well. A related survey conducted by Coldiretti, Italy's main agricultural association, concluded that 4 out of 5 Italians considered sagre held in the summer months as the key reason to visit rural areas, while 6 out of every 10 Italians participated in one. The "device" of the sagra, as Fontefrancesco labels it, also plays a key role in "bringing a community together, creating solidarity among its members," as well as serving as a mechanism to preserve and pass on traditions and customs.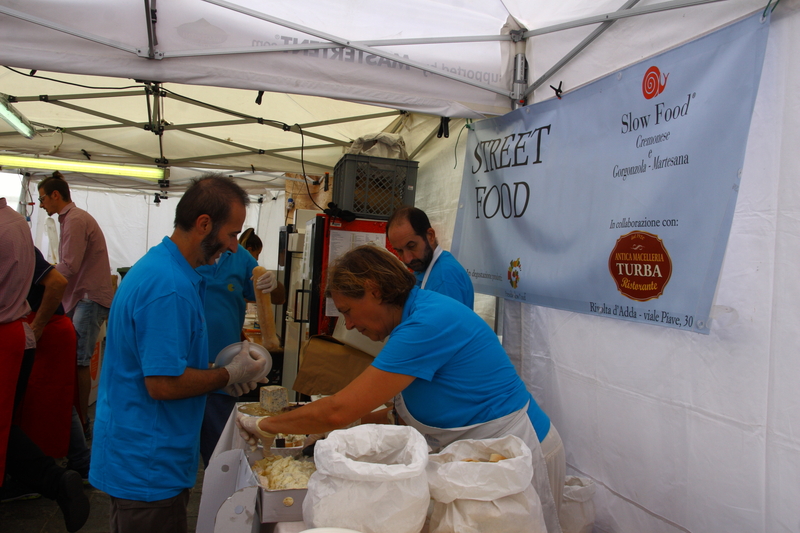 The Umbrian village of Cerreto, population 200, hosts its summer Sagra della Focaccia each August. A collective force of old and young work side by side to set up, cook, prepare, and run a five-day festive event that draws more than 7,000 visitors. Even though it's two days beyond the "smell like a fish" proverb's time limit, Cerreto's citizens don't seem to mind. "This is a rediscovery — the result of people's need to have a more direct relationship with the foods and the cultural traditions of their territory," the Coldiretti report states. With an average of 32,000 sagre held yearly in Italy, the vast majority in small communities, the need is being healthily met.
If you want to experience the purest form of Italian culture, tradition, and gastronomic delights, becoming a "sagra tourist" is the way. Most occur in summer and autumn, the busiest harvest seasons, and the options are vast. Keep an eye peeled for the colorful posters announcing a local sagra for a spur-of-the-moment experience, or plan ahead with a search for what's available when you'll be there.
Sagre alone won't save Italy's dying villages, but they can help. Preservation of culture and community through these food festivals only strengthens the fabric and economy of Italy's villages, and with their ever-increasing popularity, the future is definitely looking brighter…and tastier.