This June, as nearly 7,000 students received diplomas from the University of Washington, two young Italian women were among those who celebrated. 
Valentina Iseppi and Carmela Pappalardo are not just new degree-holders. They are also elite athletes, rowers who have competed on both national and international levels. The pair helped the UW women's rowing team secure national championship titles, and as if that weren't impressive enough, both women trained as part of the Italian national rowing team with an eye on competing in the 2020 Olympic Games. 
Twenty-five-year-old Valentina Iseppi is from Gardone Riviera on the shores of Lake Garda in Lombardy. Her crew mate is Carmela Pappalardo, 26 years old, from Salerno. The two met in 2013 as teenagers when they earned spots on the Italian rowing team. At a world championship meet in 2017, they caught the eye of Yasmin Farooq, who had just become head coach of UW women's rowing.
Both Iseppi and Pappalardo knew another Italian rower, Chiara Ondoli, who was attending UW at the time. Ondoli encouraged the teens to accept Farooq's offer, pointing out that that kind of opportunity is not common in Italy, particularly for women athletes.
Iseppi and Pappalardo arrived in 2016 and took to Seattle right away, excelling in athletics and in their classes. Their language skills were pretty good, too, which they attributed to many hours watching TED talks online. Pappalardo was a communication major and Iseppi followed an economics track.
Both women started rowing as young girls. Iseppi had her first rowing experience at the age of 10 when her family was on vacation at the beach. A coach from a local rowing club asked if she would like to try the sport. What seemed like a fun challenge quickly turned daunting. "I wasn't even able to take one stroke because I was too afraid to fall in the water," she recalled. Vowing never to row again, she changed her mind later that fall when the same rowing club offered free lessons. When some of her friends signed up, she did, too, and had a completely different experience. By the time she was 16, she had won the national championship in her age category in the single.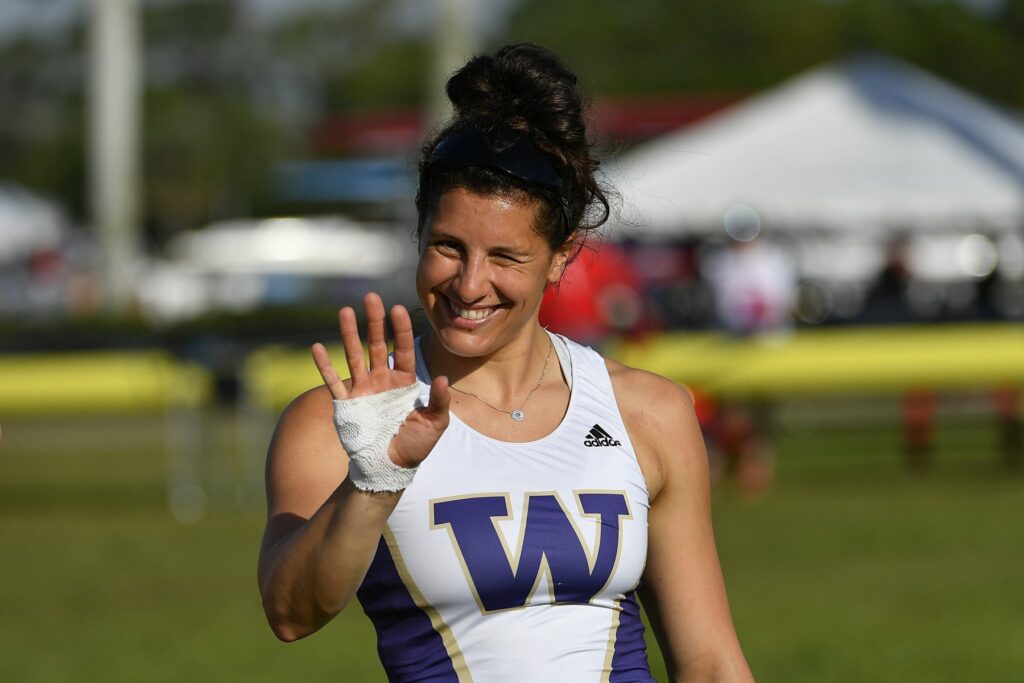 Pappalardo also was exposed to rowing early – her father is a rowing coach. As the only girl on her club's team as a teenager, she got used to being persistent and working hard. She also practices karate and dance.
While at the UW, both rowers participated in the popular Windermere Cup races. Co-hosted by the UW and held the first weekend in May, the event marks the official opening of the local boating season — a tradition at the UW since 1970.
The Windermere Cup is open to international teams which makes for interesting competition. In 2018, the Dutch women's team was invited to race. Although the UW led for most of the way, the
team could not hold the pace and came in last. Despite the loss, Iseppi had positive memories of that day. "We were so competitive that we didn't take into account the idea of losing," she said. "Even though we lost, I have never felt that atmosphere of cohesion and self-belief that we created within our boat and with each other."
After their junior year, Iseppi and Pappalardo took what they thought would be a year off to train for the Olympics with the Italian national team. Because of the pandemic, one year turned into two. (The 2020 Olympic Games were held in Tokyo in summer 2021). Although Pappalardo did not make the cut, Iseppi did, representing Italy during the games in Tokyo where she placed fourth, narrowly missing out on a medal.
With that event behind them, both rowers returned to the UW for their senior year. "I was pretty scared because we had been away for two years," Pappalardo told The Seattle Times recently. "We only knew a few people but from the first moment, I felt so welcome."
Their return as seasoned veterans was a benefit to younger teammates, as well. "A lot of wisdom has been handed down over the years; the seniors and fifth years on this team are really thoughtful leaders," said coach Farooq. "Especially coming off of the isolation of Covid, I see them actively working to engage our freshmen and sophomores."
Before long, Iseppi and Pappalardo were back to their rigorous schedule of academics and athletics. Both women were named to the 2022 Spring Honor Roll by the Pac-12 Conference, an honor reserved for student-athletes who earn a cumulative grade point average of 3.3 or above.
Although Iseppi missed much of the season nursing a torn hamstring tendon, she had healed well enough to take part in several key races this past spring. One was the Pac-12 championships, where the duo helped row their team to a second-place finish overall. At the NCAA Championships Varsity 8+ race in Florida, which the UW women's team had won in 2017 and 2019, the team took a fourth place overall.
With UW diplomas in hand, Iseppi and Pappalardo are back in Italy, training again with the Italian national team. When asked what they would say to young rowers who want to follow in their footsteps, their advice was simple: have fun! Don't take it too seriously.
"Persistence and consistency are going to be key factors if you want to succeed at rowing," Iseppi added. "Give yourself time to improve and don't get discouraged if you don't see results right away."