Chiodo is the Italian word for "nail." While historians and archaeologists believe the first nail-like tools were used by the Homo Sapiens and the great Egyptians knew them, too, the first archaeology-attested signs of their use belong to Roman times and it was them, our ancient, sandal-clad ancestors, who made this now ubiquitous object mainstream. It was the Romans who began producing nails in large quantities, to be employed especially in construction. 
Curiously, Roman nails had strong ties with the army, for more than one reason. It was common for legions that were to settle for a relatively long time in newly acquired provinces to have their own blacksmith. The craftsman would set up a workshop in the camp and produce nails to be used, in large part, for the construction of defense buildings. In Britain, the first attestation of the use of nails in the country comes from the archaeological digs of Inchtuthill, in Perthshire, where seven tons of nails left behind by a Roman garrison in 86 AD have been unearthed.
Roman blacksmiths would extract iron ore and make nails by hand; their nails were squared and tapered, with a large head: the bigger nails were used to build wooden defensive stockades around the camp, while smaller ones were best to put together timber roofing.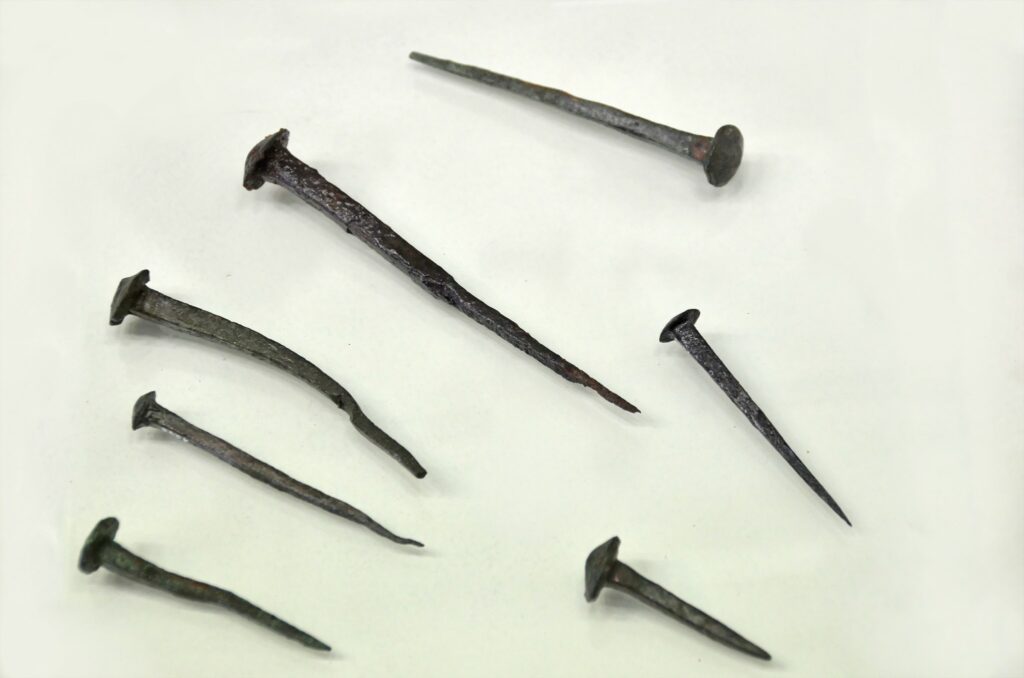 But the ties between nails and the Roman army – and between this tiny tool and our famous ancestors – don't end there: they were also used to make shoes. We are all familiar with the traditional sandals that Roman soldiers used to wear, we've seen them in so many movies! Well, you may not know that, despite looking like sandals, they were more like walking boots, which could be also worn with socks. They were called caligae and consisted of a leather sole, with laces that tied at the center of the foot and at the ankle. Nails served to reinforce the sole throughout, but also to allow soldiers to use their caligae as weapons to kick their enemies with!