Il buon vino fa buon sangue, "good wine makes your blood good:" Italians love to say it while pouring another glass of hearty red, often while dining with friends. But where does this popular expression come from and is there any truth in it?
According to an article published on the wine blog Wine Shop, this proverb is second in popularity, among wine lovers, only to the super-famous Latin in vino veritas, "you'll find truth in wine." And iff you've been tipsy at least once in your life, you know how easy it becomes to speak your mind after a glass or two…
But our buon vino fa buon sangue and in vino veritas have a lot more in common than being about wine: both have pretty ancient roots. It seems that il buon vino fa buon sangue may be a variation of another Latin expression, vinum laetificat cor hominis, or "wine makes the heart of a man happy," which is contained in Psalm 104, 15. Of course, to find those exact words you need to have the Vulgata handy, that is, the Latin version of the Bible, translated from the Greek by Saint Jerome in the 4th century AD. Contrary to what many people believe, the original books of the Bible had been written, very likely, in Aramaic, then translated into Greek and Hebrew. But Latin was the most commonly spoken language in a large chunk of the Empire, where Christianity had become the main religion, so there were Latin versions of the Bible based on translations of the "official" Greek and Hebrew books. The problem was that each translator gave a personal twist to their work, often complicating things when it came to the interpretation of biblical ideas, something that the Pope didn't appreciate. It was, indeed, the Roman church hierarchy to ask Jerome to make an official Latin translation of the Bible, so that the faithful could refer to it univocally. It was named Vulgata, which we can translate roughly as "for the people," because Jerome's work wanted to become the reference book for all Christians. And it certainly did, if you think that all world translations are based on it still today and that the Vulgata remains the official Latin version of the Bible.
Why are we talking about textual history, you may ask, and not about wine? Bear with me, I promise it all makes sense!
The Vulgata enjoyed great popularity among the faithful for many, many centuries and this is important to know, because it was normal people like you and me who took the phrase vinum laetificat cor hominis – which, we saw, comes from the Psalms – out of its biblical context and began using it in their daily lives. They likely agreed with what the ancient Jewish communities who wrote the Psalms believed about wine: that it could have a good effect on your health or, some others say, that drinking it made you happy, and so your heart would be happy, too.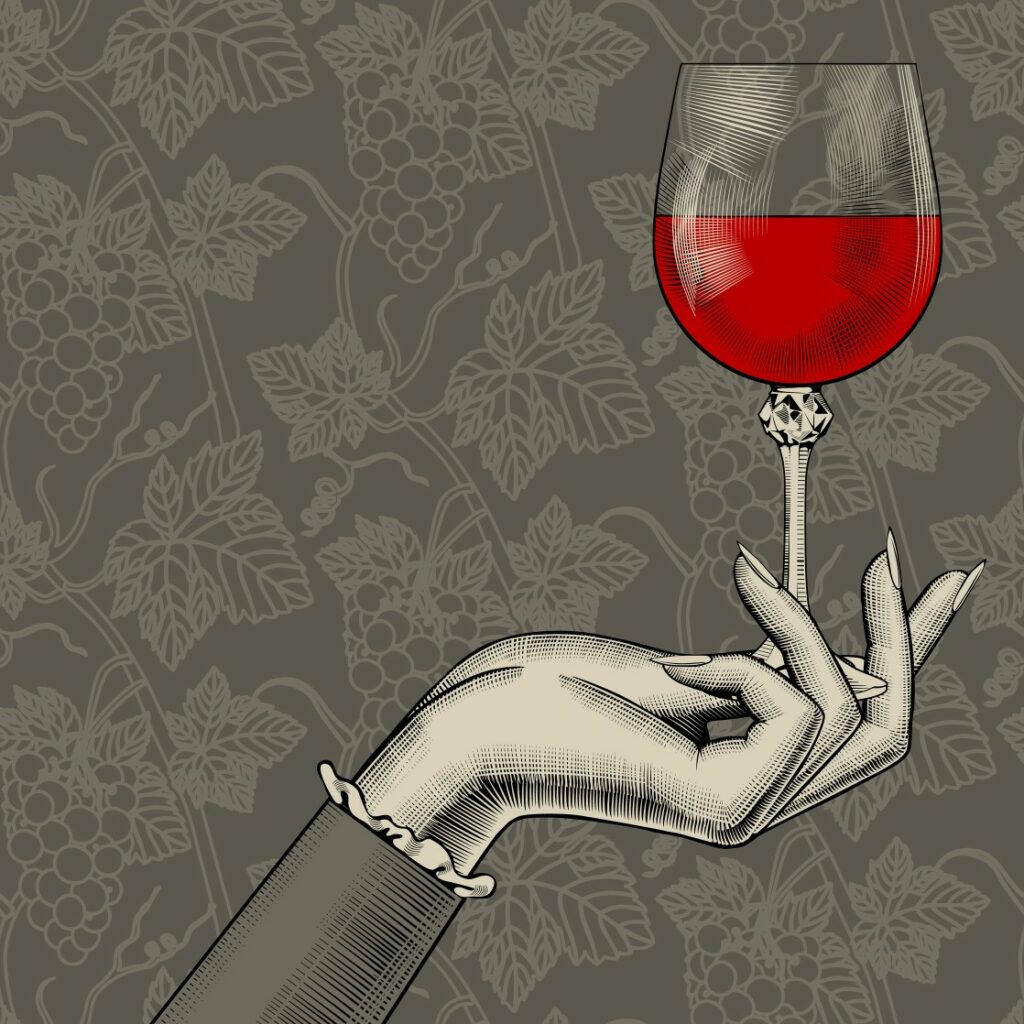 Now, it seems to me that both versions could be true: drinking wine certainly can make you happy, and the Jews, just like the Greeks and the Romans, believed wine had medicinal characteristics, so much so that its consumption was often prescribed by doctors, especially to improve blood circulation and the health of the heart.
It's easy to see, then, how the short step from "wine makes the heart of a man happy" to "good wine makes good blood" happened. And you know what? Our ancestors may have been right all along because research carried out some 20 years ago in England proved that certain components found in grape seeds act as natural vasodilators and benefit both the heart and blood. These substances, called procyanidolic oligomers, are present in large quantities in wine, so you don't need more than a glass a day to ripe their benefits. They are not the same as resveratrol, an equally beneficial substance found in the skin of grapes, which however is found in very little quantities in wine.
So,it seems that il buon vino fa buon sangue for real!