Many believe that scaramanzia is a thing of the South, but nothing is further from the truth. I am from the North-West and I, too, grew up knowing that opening an umbrella inside the house porta sfortuna and that a hat on the bed is nothing short of a catastrophe. My grandparents — and our elderly in general — were pretty adamant these things were a no-no and, while always led by a fairly inquisitive mind, even as a child, I never asked them why. Well, I think it's time to find an answer.
Let's start with our umbrella. Even the Romans used similar objects, more than 2000 years ago, to protected themselves from both rain and sun. Thing is the sun was a divinity for our ancestors, so the idea of opening an umbrella inside a home sounded a bit like trying to shade your abode from the protection of a god.
But there are more explanations.
Tradition tells us that, some centuries later, Medieval priests who were called upon the dying to bestow the Last Rites would symbolically open an umbrella over the head of the sick: as umbrellas weren't used a lot in those days, they began being associated with death, sadness and mourning, hence the desire not to see them open inside your home. There is yet another explanation behind Italy's visceral dislike of open umbrellas indoors and I reckon this is the one our elderly probably knew better: the poorest people would use open umbrellas to cover holes in their roofs and stop the rain from entering their homes, so opening an umbrella inside was believed to attract negativity and poverty on the household. In the 19th century, then, technology made umbrellas open automatically and people began to fear getting hurt by them, especially if they were opened in confined spaces. It seems our dislike for open umbrellas at home, in the end, may have a very prosaic origin, indeed.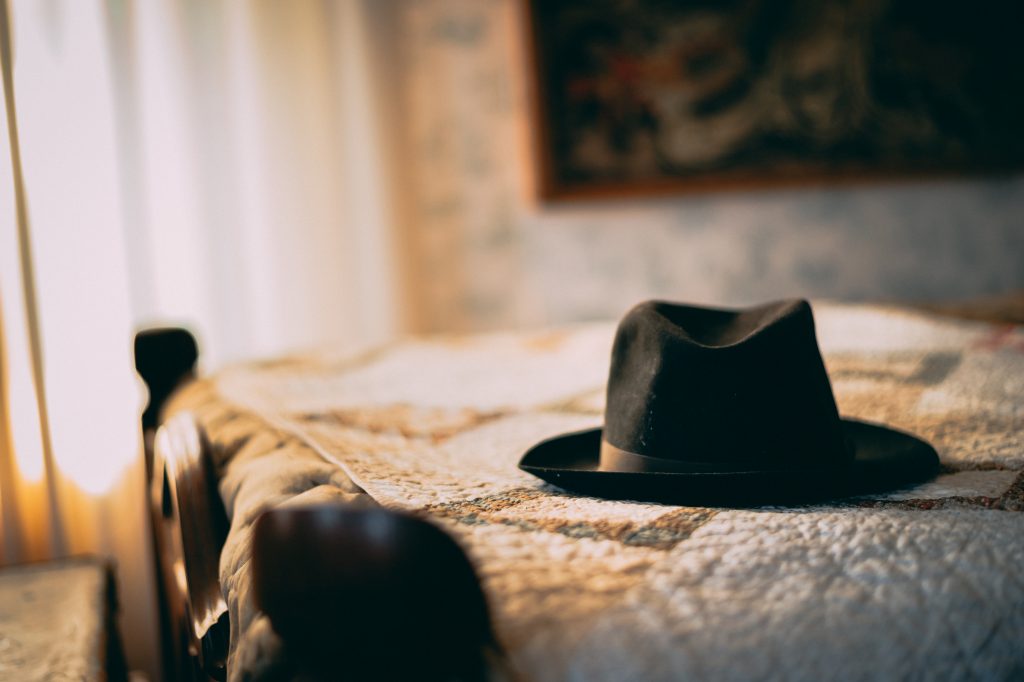 Our ancestral fear of hats on beds is rooted just as deeply in our heritage and mores and it is believed to be associated to two important figures of our old social world: the village doctor and the parish priest. Once upon a time, doctors were called home only when the situation was really serious: their services costed money and many families could not afford them on a regular basis. In other words, if the doc was at the door, it was pretty much sign someone inside was seriously — and often irremediably —- ill. In such emergencies, the doctor often bypassed the hall and kitchen and went directly to the patient's bedroom, placing his hat — let's remember it: gentlemen always wore a hat! — wherever it was handier, even on the bed. And so, the image of a hat on a bed became synonym of severe illness, of death and, by extension, of misfortune. Another version of the same story wants priests in place of doctors: priests, too, were called to someone's home when the Last Rites had to be given and in this case, too, the necessity to rush quickly to the dying's bedside imposed no stops in other areas of house, but the bedroom. And so, their own tricorn would often end up on the bed, yet another ominous symbol of the incumbency of death upon the family.
There is another interesting tale that explains it all, though, one that bring us to the battlefield and the military world: it was, some say, common to place a soldier's helmet on his casket if he died during battle and that's where the idea that a headpiece being place somewhere were a person lies still means sorrow.