We Italians love our beautiful markets, how characteristic and traditional they are and we still consider them central part of our weekly routine. Truth is, markets are common across Europe, from north to south, and we aren't the only nation to have a special bond with them. In medieval times, towns developed around the market square and market day is synonym with vitality, movement and crowded streets, especially in those small, usually sleepy, bucolic villages many of us love.
Markets are far from being an Italian invention, so. Nor are they an Italian prerogative. But —yes, we have a but — Italy can boast the largest market in the whole continent. Funnily enough, I doubt most of us Italians actually know about it.
"Where is this market?" I hear you ask. Well, it isn't in Rome, as some of you may have thought, and it isn't in Milan, a city that knows a thing or two about commerce, business and goods exchange.
No, Europe's largest market is in Turin, Italy's first capital and elegant queen of the Alps.
Of course, every Piemontese knows it, it's the Porta Palazzo market. It develops around Piazza della Repubblica, the largest square in the city, measuring a hefty 51,300 square meters. Its name derives from the ancient Palatine Gate, or Porta Palatina, important archeological evidence of Roman life in the area. It is, in fact, one of the best preserved examples of Roman gates still standing.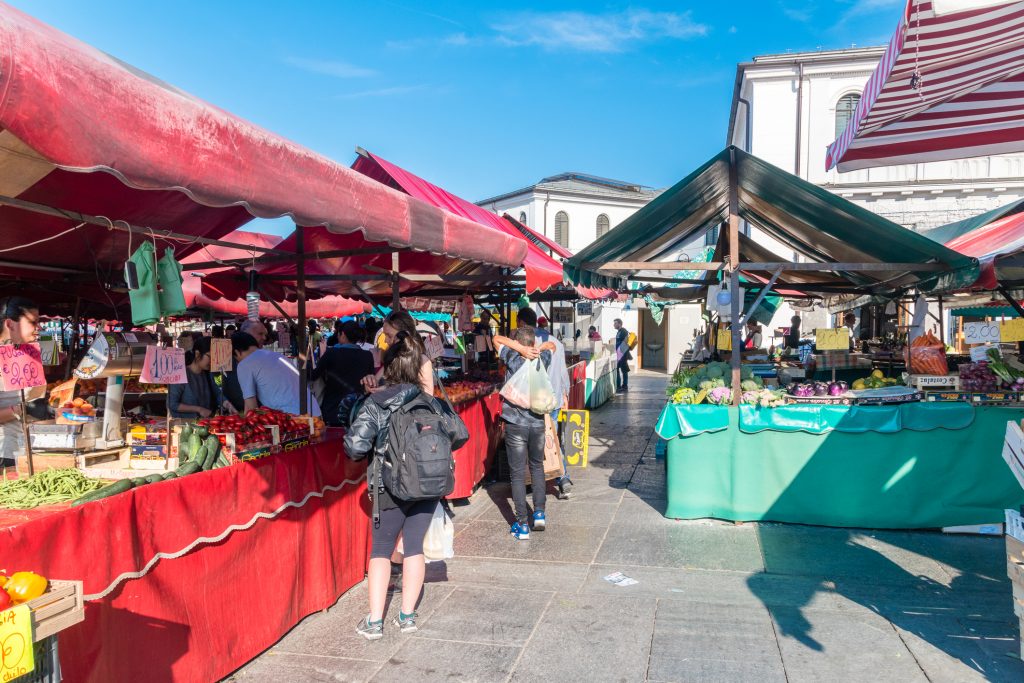 Part of the Porta Palazzo market is dedicated, of course, to local produce: it's your typical farmers' market, where you can find the best, freshest, seasonal ingredients. The rest of the square is divided in sections: from fishmongers to homeware, from food to clothes, you'll find everything at Porta Palazzo.
Within the Porta Palazzo market, you'll find also the Mercato Centrale, which occupies a bit less than a quarter of the square: here, you'll usually get food and clothing, but it's also known for hosting the works of artists and craftsmen from everywhere in the world. Sometimes, the area becomes an open-air stage for theatre performances and shows, too: a continuous discovery and a new surprise everyday.
Not far from Porta Palazzo — so close, in fact, that many just believe they are the same thing — is Turin's own Portobello, Piemonte's personal puces: il Balon. Rigorously pronounced with a "U" ("ba-loon"), as you do in Piedmontese dialect, the Balon market develops in and around Piazza Borgo Dora, a melting pot of people, styles, objects and trends. It's the city's own vintage and bric-a-brac daily appointment, but if you want to get the best out of it, you should definitely visit on a Saturday.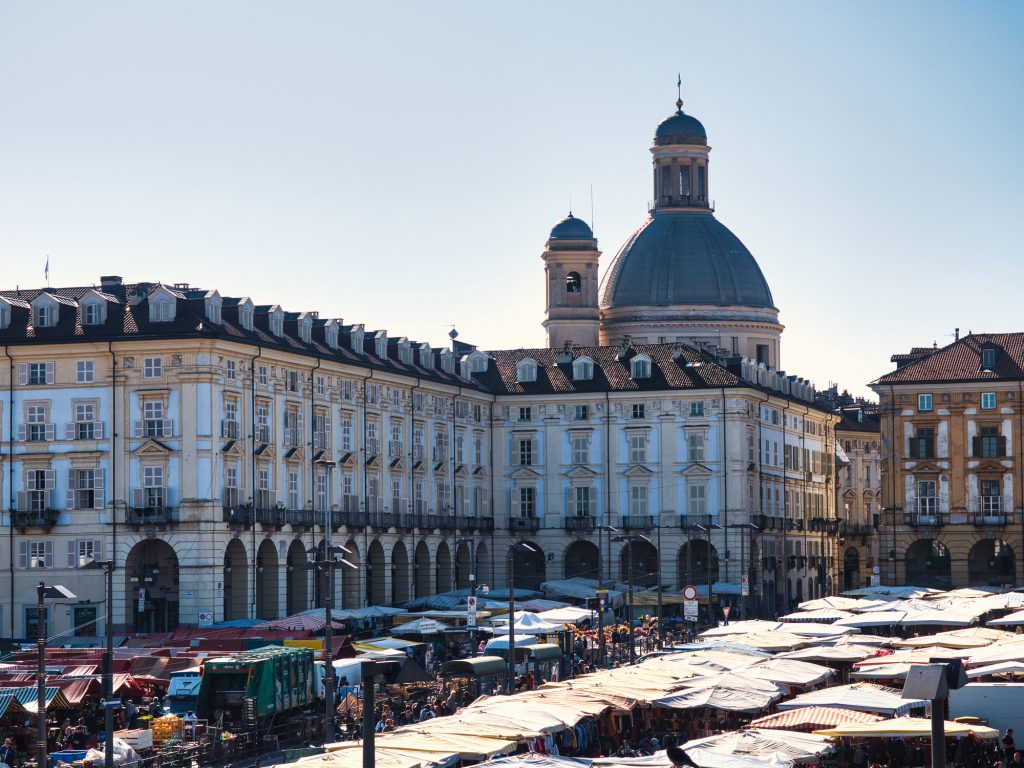 Sources tell us that the area where the Balon market is today was used for commerce already in 1698, when it was home to the local farmers' market. "Balon" means "ball" in dialect, but it's also the name of a famous local sport, pallapugno or pallone elastico, which is very popular in Piemonte and some parts of Liguria. That's why some believe the area was, perhaps sometimes in the 18th century, used to play pallapugno, and that the name stuck. Others think that Piazza Borgo Dora used to slope gently towards the river, creating what was called a valon (a ditch). From "v" to "b" the step is short, as linguists can testify.
Regardless to the origin of their names, the Porta Palazzo market and its cousin, the Balon, are quintessentially Turinese and filled with curious anecdotes for those who have the time to listen. Pity not many know a lot about the latter's history and the former's claim to fame as largest market in Europe. Whenever we'll be able to travel again, if you happen to fly to Piemonte, dedicate a Saturday morning to the exploration of this colorful corner of local history and tradition.