You know Italians are passionate, sometimes even too much. You just need to look at them when it comes to soccer. In the kitchen, if there is something likely to start up a heated discussion around the table – besides soccer, of course – it must be the way you eat your spaghetti (and long pasta in general).
You are probably acquainted with the traditional way to do it, the one made iconic by Alberto Sordi in Un Americano a Roma: stick the fork in the pasta, roll it between your fingers as if you were screwing something, lift the rolled ball of spaghetti to your mouth, enjoy. However, both in Italy and abroad, you may have come across other techniques and, rightly so, you may be wondering if they are used in Italy or not.
Today, we'll try to make some clarity on the subject, and we are going to be very straightforward: the only acceptable way to eat spaghetti, or other long varieties of pasta, is rolling them around your fork. No other piece of cutlery – oh, hi, spoon and knife! – should be used while enjoying a plate of carbonara or amatriciana. This is, at least, what the Galateo, our big book of good manners, says. Let us take, for instance, the habit of using a spoon to roll your spaghetti into, a habit that, in fact, used to be quite common in certain parts of Italy, especially in the South, so much so it was considered even a sign of elegance. Well, according to the Galateo it is a giant no-no, because spoon and fork should never be used together!
The whole "cutting spaghetti with fork and knife" thing, on the other hand, comes from the years of our childhood, when parents would cut long noodles into bite-size morsels, and then serve them to us with a spoon, all to avoid we kids got a spaghetto stuck in our throat and choke. In this context, cutting spaghetti is obviously accepted. On the other hand, an adult reaching for a knife while sitting in front of a plate of fettuccine, spaghetti or tagliatelle is going against the rules of elegance. I still remember the contempt a friend of mine was lovingly showered with when we discovered she cut her pasta with a knife before tucking in.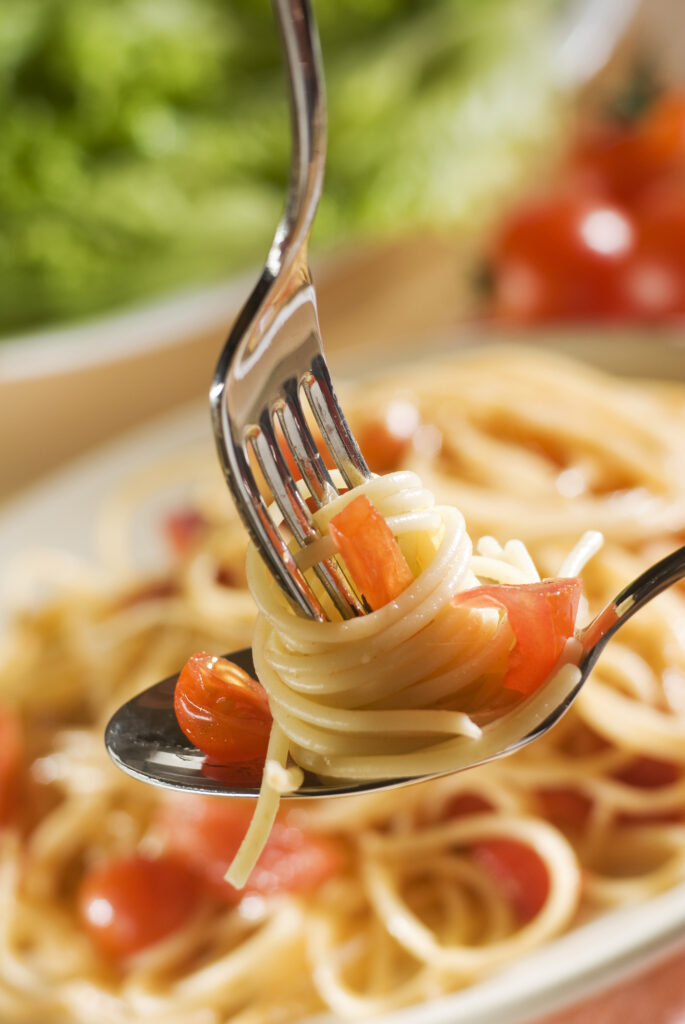 The same considerations should be made for spoons, which, we said already, should never be used for spaghetti. Some people find that rolling their spaghetti in a spoon is more elegant, but there is nothing further from the truth: the only reasonable way to eat spaghetti is by taking a small amount with the fork – something on the line of 4 or 5 spaghetti, an article published online in the Italian version of La Cucina Italiana says – then rolling them tidily, avoiding to have loose spaghetti hanging at the bottom of the fork, and finally bringing them the mouth. For decades, however, rolling your pasta into a spoon, was considered the height of bon-ton: the little spaghetti pile was perfect and you were less likely to be messy or to stain your clothes with sauce. Now we know, however, that we shouldn't do it at all.
If you find rolling that fork properly difficult, the internet and technology may come in your help, because, today, you can find electric, spaghetti-rolling forks for purchase online. They look like something you would use for a prank, but there may be some good options out there if you've settled on getting one.
So, what's our last word of the endless discussion on how to eat spaghetti?
To be honest, we think that the best way to eat spaghetti is whichever way it makes you enjoy them most: for the vast majority of us, admittedly, that's by rolling our forks, but others may prefer to cut them or to help themselves with a spoon. "You do you," we hear, often, say as an encouragement, and the spaghetti issue should be closed using the same expression!