It doesn't matter if you're from the North or the South: a colomba will find its way on your Easter table. This sweet and fragrant "lievitato" is very reminiscent of another traditional Italian cake, panettone, and there are plenty of good reasons we should call the two "siblings."
The same buttery flavor and pillow texture, a penchant for candied peels and sultanas, but also for less traditional, more creative fillings, from chocolate chips to a variety of creams. Estimators, of course, will be quick to point out there are two relevant differences between christmassy panettone and Easter colomba: the shape, of course — with colomba being a tad flatter and reminiscent of a flying dove or a cross — and the sugar glaze, which is compulsory on colomba but not on panettone.
Just like panettone, colomba is a culinary creation made in Lombardia, but we don't have to dig back into medieval history to discover how and why it was invented. In fact, we only need to take a short stroll in time to the 1930s, and enjoy the lights and glam of Milan in those years.
Milan was already the capital of panettone, thanks to, among others, the work and ingenuity of the Motta family, that had the merit to turn a typically Milanese cake into a nationally loved one. Panettone production at the Motta pastry stores was large and required the use of special machines able to mix, knead ad bake large quantities of panettone dough. But what to do with them once the Christmas season was over? Leaving them inactive for 10 months a year seemed like a waste but Dino Villani, Motta's commercial director, had a winning idea: a panettone-like cake for Easter. They called it colomba ("dove") and had the exact same ingredients as panettone: butter, flour, egg, sugar and candied fruit. The only addition, a deliciously crunchy layer of almonds and glaze on top.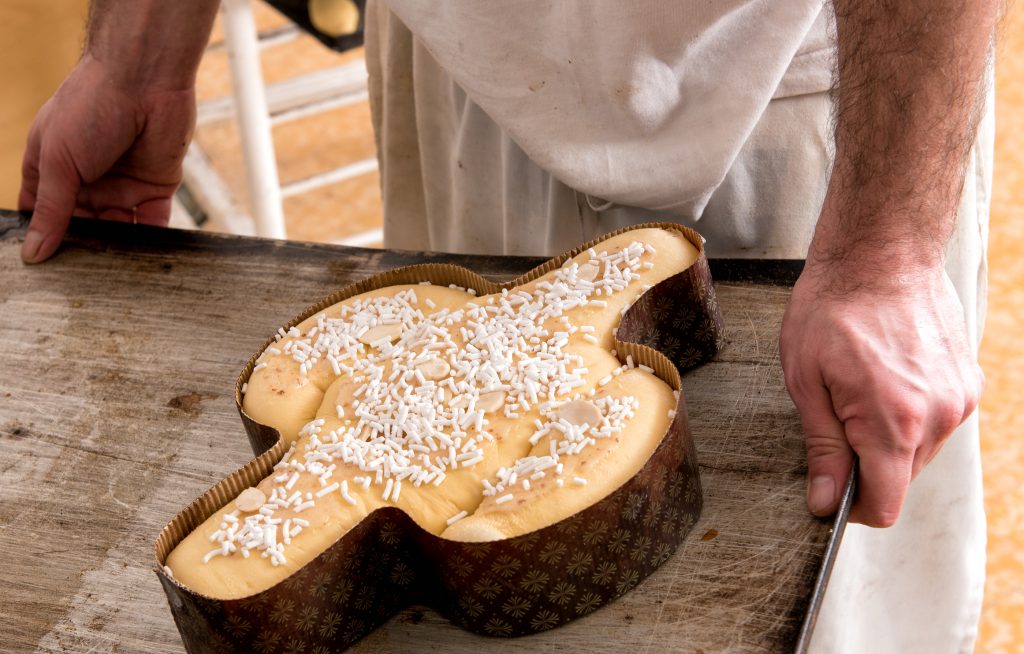 Motta bestowed the responsibility to make colomba popular to Cassandre, famous art deco designer, who also created a perfect slogan: Colomba pasquale Motta, il dolce che sa di primavera ("Motta's Easter colomba: the cake that tastes like spring"). Indeed, Italians do associate Easter also to the beginning of the warm season, with Easter Monday picnics and gatherings representing for many the first "day out" after the cold months of winter. The shape of colomba, just like its name, is of clear Christian inspiration, as the dove is symbol of the Holy Spirit and, more in general, is associated to ideas of Salvation and Hope.
Contrarily to what happens with many popular Italian dishes, we are certain the origins of modern colomba are those reported above. However, some believe the cake may have earlier roots. A legend says that the first colomba was created in the 6th century in Pavia when, after three years of siege, Lombard king Alboin was offered a loaf shaped like a dove as a peace token on Easter Sunday. However, Alboin's "colomba" was much more rustic than ours: it was made only with eggs, flour and yeast.
Interesting is also the story that associates colomba with Saint Colombanus, glorious Irish monk who made of Bobbio his home in the 7th century. Story goes he and his monks were invited to a banquet by Lombard queen Theodelinda, who offered them dozens of sumptuous dishes. The humble monks wanted to refuse the food as a sign of penitence and Colombanus, who was their abbot and understood a refusal to eat could have offended the queen, changed each dish in beautiful bread loaves shaped like doves, which his monks ate with gusto.
There is one last legend we should tell. We're always in the Middle Ages, year 1176. During the battle of Legnano, one of the Milanese leaders saw a few doves resting on his army's flags: surprised and inspired by the animals, he asked his cooks to bake dove-shaped bread for the soldiers, so that they could acquire the birds' nobility and courage.