Italian Community Services (ICS) is a resource for Italian and Italian-American people and families in the Bay Area who are looking for support to live healthy, independent, and productive lives. ICS has been around for over 100 years, evolving over time to meet the changing needs of its community and serve it with compassion, while preserving the Italian language and culture and emphasizing the importance of family, community, education, and goodwill.
ICS gives Italian and Italian-American people in the Bay Area a lot of ways to meet new people and have fun. There are Italian conversation classes, arts and crafts, volunteering, cooking classes, daily access to Rai TV, musical performances, access to books, Italian movies, and karaoke. In addition to these activities, ICS also offers wellness classes for seniors, informational talks, and care coordination for people going from hospitals or rehabilitation centers to their own homes. Supporting seniors in navigating government-sponsored assistance programs, connecting to resources in their communities, and providing assistance to family members are key activities of the organization, too. ICS also offers financial support for those who qualify and venue space for Italian language and culture-themed meetings and events. Last but not least, ICS provides hospital and nursing home visits and food assistance through their own services or Meals on Wheels.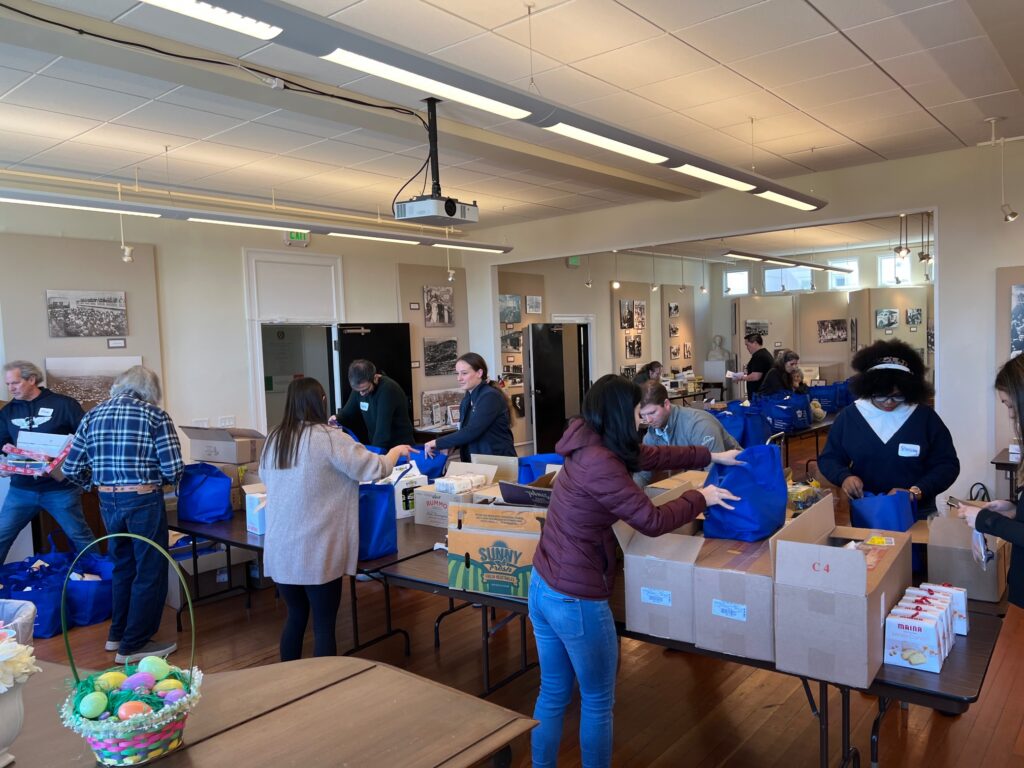 Particularly popular are ICS' weekly luncheons and events at Casa Fugazi, a historic building in North Beach that was created to serve the Italian and Italian-American communities of the Bay Area. Every Wednesday, ICS hosts a free luncheon for the Italian community, and every Thursday, they offer a variety of community activities such as field trips, card games, movie days, and arts and crafts. For those who may not be comfortable attending events in-person, ICS has also launched the Friendline Program, which pairs volunteers with older community members for frequent check-ins and friendly calls.
During the COVID-19 pandemic, ICS began sending care packages containing fresh produce, imported Italian non-perishable goods, activities, recipes, flowers, and information about services to their community members — many of whom were isolated seniors — to spark joy and encourage togetherness during the difficult times. The initiative was successful and very rewarding, so much so that ICS decided to keep it going during special holidays with the help of community partners and dedicated volunteers.
With Easter just around the corner, ICS and its volunteers have been working hard to organize and prepare dedicated care packages for Italian community members at ICS, a large majority of whom are isolated seniors that may not have family members to spend the holidays with. ICS' aim is to give back to its community with a gesture of love and support: the delivery to their home of fresh Italian goods for Easter. On Monday, April 3rd, volunteers assembled over 100 care packages filled with fresh Italian goods and hand-delivered them all throughout the Bay Area to community members. With the help of volunteers from Workday, Inc., Italian Community Services brought a taste of Italy to many immigrants who may not be able to celebrate the holidays with their families.
This year's Easter care packages were filled with a variety of products, including Colomba, Easter chocolates from Italy, fresh vegetables, soup, extra virgin olive oil, and pasta. They were completed with a letter from Executive Director Vyria Paselk Haverhals, Easter cards from Riccio Grant Recipients, and the ICS Community Events Calendar. The John C. Riccio Educational Grant Program of the ICS awards  the Riccio Grant every year to schools and organizations with great Italian language programs and curricula. In fact, the teaching of both Italian and English has been at the heart of many ICS activities throughout its century-long history. Aware of the importance of language for both integration and the rediscovery of one's heritage, ICS has been supporting both the teaching of English to new Italian immigrants and the teaching of Italian to those whose first language is English.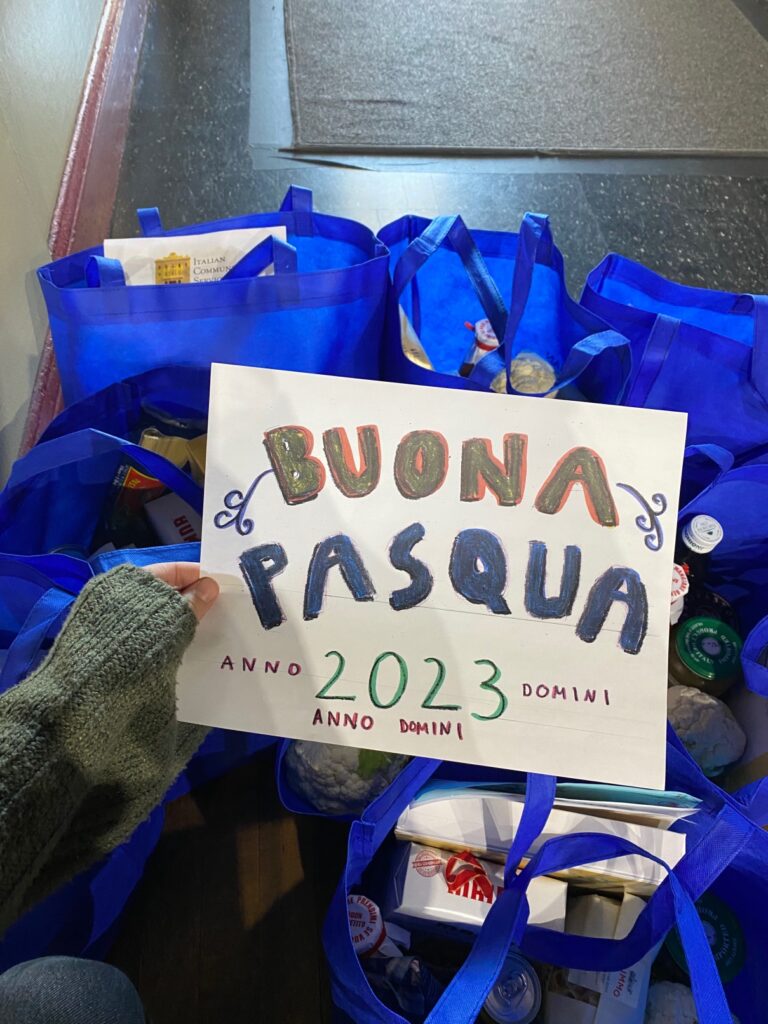 "For over 100 years, ICS has been providing — and will continue to provide — food, education, financial assistance, and cultural connection to the Italian community. These services are vital to ensuring everyone has the proper resources for self-sufficiency, safety, health, and connection to their Italian heritage. It takes a village, and we cannot do it without our generous volunteers, donors, and amici," says Vyria Paselk Haverhals, Executive Director of Italian Community Services.
Indeed, volunteers are important for ICS' work in the Bay Area because they help build connections between the association and its community, as well as between members of the community itself.  People of all ages and backgrounds work with the Italian community, particularly elderly Italians, to strengthen these connections and help them gain a sense of belonging. The ICS volunteering program offers various volunteer opportunities, including serving lunch, organizing social activities, making home visits, and participating in fundraisers. Volunteers are encouraged to share their ideas and contribute to the program's success. If you are interested in becoming an ICS volunteer, you can complete a volunteer application or contact Community Relationship Manager Madison Barton at madison@italiancs.org.