Language is more than just words and phrases, it's the key to understanding a culture.
The Istituto Italiano Scuola (IIS) in San Francisco takes this idea to heart, offering not just language courses but a wide range of cultural experiences: unlike many language schools, IIS emphasizes community-building and delves deeply into Italian literature, providing a holistic experience for students.
We recently sat down with Martina Di Biase, the Executive Director of IIS, to learn more about the school's unique approach. Martina, who took on her role in October 2021, brings a rich academic background to the institute: she completed her undergraduate and Master's degrees at the University of Bologna, majoring in Political Science and Anthropology. During her time there, she started teaching Italian to foreign students, and became a certified DITALS (Italian as a foreign language) teacher in 2007. She furthered her education by earning a Master's degree in Pedagogy and Promotion of the Italian Language and Culture from the University of Venice, Ca' Foscari, in 2017. Over the years, she has taught Italian in a variety of settings, including instructing seminary students in the Vatican, foreign diplomats stationed in Italy, study abroad students, and refugees. In Rome, she founded an Italian language school, managing it for over three years. Dr Di Biase now leads IIS in its mission to offer a comprehensive Italian cultural experience. Join us as we explore what makes IIS stand out in the field of language education.
Tell us something about the Istituto Italiano Scuola (IIS) and how it came to be.
The Istituto Italiano Scuola was founded in the mid-'90s and is a non-profit organization with a mission to promote Italian language and culture in the Bay Area and beyond. We are a fully independent non-profit and finance ourselves through student tuition for Italian courses without receiving any funding from the Italian government. Over the years, we have grown significantly from being a mid-sized school operating solely in San Francisco: thanks to our transition to online learning, we now have students from all over the United States. Today, IIS is a multifaceted institution, and categorizing it simply as a "school" can be a challenge. What we aim to offer to our students, and everyone who participates in our events, is a window into Italy and Italian life that goes beyond the usual stereotypes. We want to bring people closer to the authentic Italian way of life.
What I find very interesting about the Istituto is how the focus is not only on language but also on culture and literature. Can you tell us more?
Literature is undoubtedly one of the distinctive features of the Istituto, and I am personally very proud of it. For example, our courses delve into the works of both classic and contemporary Italian authors. For each novel we read, our instructors provide an in-depth analysis of the social and historical background of the work, unraveling aspects of Italian history and culture. This approach allows our students to embark on a journey through Italy as they explore the depth and diversity of Italian life and society through the pages of these novels. Our literature-enthusiast groups are among the longest-standing components of the IIS, with some members having participated for more than 20 years. Our instructors are highly qualified and guide our readers with great passion and skill. Our literature classes and book clubs set IIS apart from other schools, where advanced-level offerings are usually limited.
Another aspect of the Istituto's courses and events I really like is their focus on socializing. It really looks like you are building up a true community of people sharing the same interests and, sometimes, roots: can you tell us more about it?
Creating a sense of community is one of the main pillars of our strategy and holds significant importance for us. We aim to build a community of individuals connected to Italy through heritage, family history, or simply a passion for Italian culture. We want to extend this opportunity not only to those living in San Francisco but to everyone. One of our most successful in-person events is our aperitivo, an Italian-style evening hosted by us where people can converse in Italian and meet fellow Italophiles. Additionally, we organize online and in-person cineforums, wine tastings, cooking classes, children's activities, and much more. It's worth noting that over the past year, we have started forging partnerships with numerous Italian or Italian-American business owners, offering them visibility among our approximately 500 students and providing our students and instructors with the opportunity to access Italian products at discounted prices.
Let's go back to language learning. You provide a variety of courses, including the Test di Competenza Linguistica CELI, necessary to apply for Italian citizenship. Can you tell us more about your linguistic offerings?
We take pride in offering one of the most comprehensive sets of language courses. We offer nearly 70 courses per term, catering to all levels, from beginners to advanced. Our classes cover various aspects, including grammar, conversation, literature, Italian for travelers, and preparation for citizenship tests. These classes are available both online and in person, with online courses designed to accommodate learners in different US time zones. Additionally, we provide private lessons, including group options, allowing families or friends to arrange Italian classes at specific days and times that suit their schedules.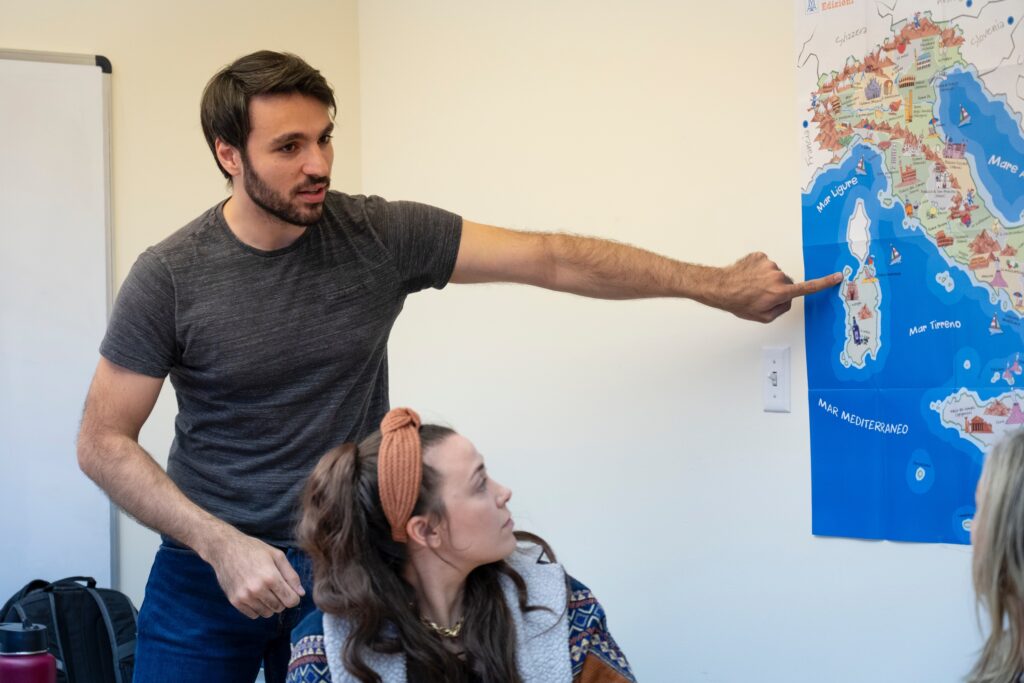 One last question: in all the years you've been active as a language and cultural institute, what's the most meaningful thing a student told you about their time at IIS?
One memorable instance that truly encapsulates the essence of our institute involved a student who shared how their experience at IIS had a profound impact on their language and cultural journey. This student emphasized the exceptional learning environment that our instructors had created, where they felt inspired to not only experiment and make mistakes but also to explore and fully immerse themselves in the Italian language and culture. This, in turn, led to the class becoming the highlight of their week. Such testimonials remind us of the importance of our mission and drive us to continually provide the best resources and experiences to our students, fostering a deep appreciation for Italy and its rich heritage. Having students who feel free to make mistakes without fear is one of the most rewarding aspects of our work, as it encourages growth and genuine learning.
To know more about the Istituto Italiano Scuola and their courses, check their website at:https://sfiis.org/.