Who doesn't dream of traveling the world, lounging on a sun-kissed beach with a drink in hand, taking trips to new and exotic places every day to see the sea, or southern islands, or ancient architecture, and returning every night to a place where the concerns of the world are washed away by the soft crash of waves against the shore outside the window as you fall asleep? For most of us that might only be a dream, but for Giorgio Orofino, this dream has become his livelihood.
Giorgio soon began vacationing in the States during the summer months with his wife and two young children, their son Francesco and their daughter Noemi. As much as the Orofino family enjoyed the sunshine state, the Italian soil never stopped calling them home, and by 1994, Giorgio was organizing trips for Americans to stay in the Orofino family hotels. Two short years later, this desire to share his homeland with others turned into a business endeavor known today as Stay and Visit Italy, Orofino Tours.
After speaking with Giorgio, we learned more about his thriving tourism business, what makes Stay and Visit Italy so unique, and what wonders the beautiful island of Ischia has in store for those who decide to take the tour and join the Orofino adventure.
Out of all the beautiful places in Italy, what drew you to Ischia? What makes it unique?
Ischia is one of the most beautiful and interesting islands in the world where my father built the first hotel (Suisse). It is connected to Vesuvius which heats the ground, creating the most important and beneficial hot springs in the world, curing rheumatism and so many other physical ailments. There are even hot springs in the seawater (Sorgeto).
For those of us who have never been to Ischia, could you paint a picture for us in words?
Ischia is the green island where you never get bored, you can visit the hot parks, take a walk along Mount Epomeo, visit Bourbon Castle, go to one of the island's many beautiful beaches, drink the local wine, eat in one of the many fish-based trattorias or try bucatini with the island's typical rabbit dish, visit the ceramic factories, stroll down the narrow streets looking for the secret stores, etc., or try the basilica of Ischia which is the best in the world.
The whole country is saturated with history and culture, but does Ischia have a unique background of its own?
We are the only ones to bring Americans to Ischia that know Capri well but didn't know Ischia existed until we started our tours. Ischia has a long history and culture, read it here on the website. http://www.isoladischia.net/storia-ischia/la-storia-dell-isola-di-ischia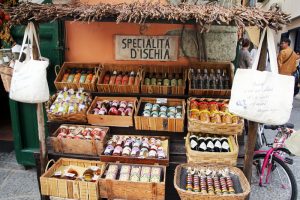 While Ischia is its own treat, what are all the different products/services offered at the Ischia location? What atmosphere are you hoping to create? 
The winning concept of Stay and Visit is "Unpack Once."
The first mistake that tourists make is changing hotels every day, with us it's as if there were on a cruise ship, the hotel stays the same and every day they make day trips to Amalfi, Positano, Sorrento, Capri, returning then to Ischia which is the port and the safe house.
Our resort offers many services: rooms with daily cleaning, restaurants, bars, entertainment for children and adults with evening shows in our amphitheaters, sports, spas, swimming pools, games, etc .
What innovations, if any, have you brought to the business? 
We also offer the best prices in the market, our best competitors costing two or three times as much, since there is no third party between us and our customer. The hotels and restaurants are ours. The competitors have a markup of 40% just for the commission for the travel agency and tour operator, with us the customer goes directly to the source.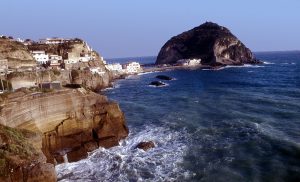 The groups are small and with our excellent guide Debbie (American-Italian that has worked with us for 30 years) we have created a familiar atmosphere where the customers become one big family within a week and continue then to see each other after they have returned to America.
Is there anyone else you would thank for your success? What role did they play? 
I would like to thank my father who started the hotel activity after the construction. He was very poor, with no father, but with great sacrifice he was able to graduate in engineering and began the reconstruction of Naples after the war and then went on to construct the first hotel Suisse in Ischia.
While life in Ischia seems tranquil, were there any struggles you had to overcome? Did you ever doubt in your vision? 
I don't believe I have had to overcome and great difficulties in comparison to what my father had to overcome. For me, it was most difficult to come to America, it took 10 years to get my Green Card and 5 years to get an American passport.
Italy has so much beauty to offer, but if you were to open another location, where are your top three places?
In Ischia we have two Hotel/Resorts: the Suisse and the Ischia Lido.
The American customers on tour are at Ischia Lido which is located in the pedestrian center of the island, on the beach with a number of shops and restaurants a few minutes away by foot.
Italy is all very beautiful and we have many hotels from the North to the South, my dream is to open a resort on a private island where the entire island becomes a grand resort, not too far from other well-known locations.
Of your many accomplishments in life, what are you most proud of?
The thing I am most proud of is that I have a beautiful family with two beautiful children that now are 29 years old (Francesco – MIT MBA) and 25-year-old Noemi who is creating her own fashion company after a Masters at Maragoni in Milan and after having worked with Brunello Cucinelli.
One last question: Out of all the amazing things you've done and places you've been, what brings you the most joy in life?

We live all around the world but every now and then we are able to get together with everyone, always for the Christmas season, even with our extended family, and at the table we have more than 30 people… this is the most beautiful thing…
The Orofino family has boundless love for one another, their customers, and their two homelands: Ischia, Italy and Sarasota, Florida. Choosing between the two seems like an impossible decision. Fortunately, the Orofino family doesn't have to decide. In 2004, Giorgio obtained his dual citizenship, and now spends his time between the two countries, five months in Naples, Italy and seven months in Sarasota, Florida. It truly is, as Giorgio says, "The best of both worlds."
Hard work, dedication, and a dream is what it took to make the Orofino tourism business so successful. A dream that began with a poor boy from Naples has grown into an international empire in the hands of his son, Giorgio. An Orofino tour is a unique adventure, born from the love of the Italian sea and soil, and the desire to share that love with the world.
So what do you think? Would you stay and visit Italy?