The famed marble quarries of Carrara are practically sacred ground. The gleaming white surface of the exposed marble graces the crests of the Apuan Alps, often mistaken by the unknowing for snow. Gargantuan chunks cut from the mountainside for almost two thousand years now create blocked terraces resembling amphitheaters for giants, their lines precise and measured. Looking more like heavenly mirages on high, the scattered quarries reflect shimmery white to the Tuscan valley below. To think of all the famed feet who've walked across these exposed mountainsides, each searching for the perfect block of marble, is inspiring. It's said Michelangelo would spend weeks living amongst the marble, searching and waiting for just the right piece of stone to whisper, "I am your canvas!"
Valued for its purity and quality, the marble of Carrara is synonymous with Italian passion, artistry, design, and meticulous attention to detail – all attributes that make Made in Italy mean something. Much like Italian wheat is transformed into the finest pasta, or lovingly tended grapes are coaxed into memorable wine, this marble hoisted from the belly of the Apuan Alps has been the embryo for fine sculptures since the days of the Roman Empire. Fatto a mano – made by hand – is what the grandest work of art and Nonna's Sunday dinner are all about, right?
While true, and definitely what makes the Italian way the envy of the world, there's some artistic trailblazing going on in Carrara. Let me introduce you to some of the newest sculptors in Italy – the whirring, spinning robotics of Italy's innovative technological company known as Robotor. What, oh what, would Michelangelo say?
Simplified, these robots are like 3-D printers in reverse, their precision diamond tipped appendage extracting masterpieces from existing material. Robotor co-founder (and a veteran of the marble and sculpture business) Giacomo Massari finds humor in the thought that many of us want to cling to the idealized image of a half-mad genius flinging marble dust into the air as he chips a creation into being. Many of the artists utilizing Massari's robots would love us to continue to hang on to that notion, as well, choosing not to disclose their identities publicly. Afterall, if "artists" such as robots ABB2 or Quantek2 can precisely produce the fruition of an artist's imagination, why spoil the narrative?
Michele Monfroni, a sculptor since age 7 and Carrara native, passionately offers his take on how Michelangelo would feel about the idea of robots as artists: "…he would tear out his hair," he stated in a recent New York Times interview. And yet, is it wrong to rail against something as dispassionate as an innate machine replacing the warmth of the human touch, especially when it's related to the romance of art? Traditionalists such as Mr. Monfroni may never approve. Fearing Robotor's construct will lead to demise of Italy's artistic reputation, Monfroni maintains that a work of art crafted by hand and heart is the only acceptable approach. "Robots are business, sculpture is passion. If you use a robot, you also become a machine yourself," Monfroni pleads. Ouch. It's a tough argument for anyone with a sentimental streak, for sure.
Tech-wizard Michele Basaldella is the Oz to Robotor's Emerald City of robots. Basaldella argues that employing help for the brunt of the work required to create a new sculpture is nothing new. In fact, he asserts that 90 percent of the Renaissance masters' initial toil was done by unrecognized apprentices. His are merely made of metal…and a lot of software. Basaldella also assures the doubter that the robots are designed with "artistic sensitivity" – however that translates from flesh and blood over to steel and wires.
While it's hard to grant human qualities such as emotion or sensitivity to a robotic that looks like a giant free-standing dentist's drill, Robotor's creators insist they have come close, at least with the end product. Touting a fusion of tradition and technology, the main idea put forth seems to be that infrared scanning and point clouds can now scratch out an identical copy of Michelangelo's Pietà in monumentally fast time. As Massari reminds the skeptical, Canova's Psyche Revived by Cupid's Kiss took five years to coax out of a chunk of Carrara marble. Want a replica for next month's pool party? Robotor can deliver in a mere eleven days and six hours from start to finish, dimensions and nuances cloned precisely from the original and guaranteed to inspire fervent ooooo's and ahhhh's from its admirers.
Furthering his argument, Massari points out that the manual labor involved in hand carving has fallen out of favor with today's younger artisans. And none want the perils that come with breathing in marble dust day after day. The only way to survive is to carve out new approaches – both literally and figuratively. Massari's robots are doing precisely that.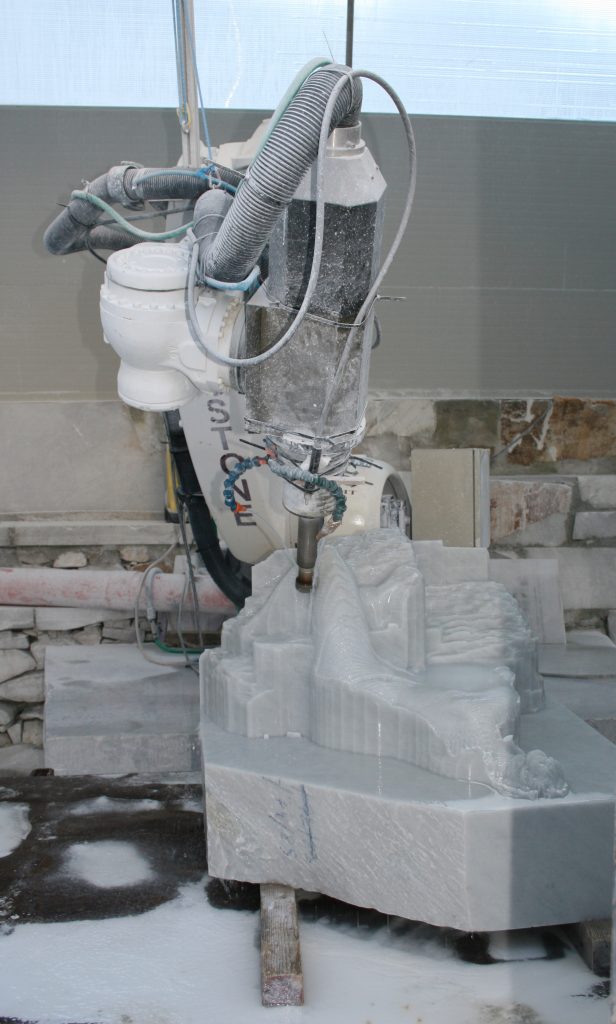 Robotor's bots were initially sourced outside the company, but as demand and increasingly challenging commissions came in, the homemade recipe of in-house programming and German machinery evolved into the creation of the mechanized artisans now whirring away in Robotor's workshops. The company markets its robots and software worldwide, alluding that a 3-D creation of any size isn't really that hard to achieve: "Easy to use – without knowledge of programming languages" and "Requires only simple training of staff" sure make it sound easy enough.
Is there any middle ground in this battle of old vs. new, an acceptance of innovation tempered with the traditions of the past? Art historian Marco Ciampolini shared his thoughts with the New York Times recently, pondering that the use of robots really isn't divorcing the past. He cites the historical delegation of the grunt work to underlings while the final delicate touches were applied by the master… "Only a human knows when to stop," Ciampolini quips.
Fortunately, the same point of view is shared by Massari and his cohorts at Robotor. Whether an abstract cubist creation commissioned from France or a last-minute order of replicas of Michelangelo's Emerging Slaves, the skill and eye — and emotion — of a living, breathing artist finalizes the curves and lines of each piece, smoothing and tempering with a feathered touch. Fatto a mano is the kiss of completion.
Interestingly so, Carrara was the hotseat of 19th century anarchy, her marble workers a beehive of radical thinking and ideas. Frame it as anarchy continued, or perhaps just a sign of the technological times, I do feel Mr. Buonarroti would be amused.