Students enrolled in Gonzaga University's kinesiology and sport management program will soon be able to apply for an internship unlike any other: A chance to team with Pistoia Basket 2000, a professional basketball club in Tuscany.
The sport management professional development partnership was signed September 19, 2023, at an event in Pistoia City Hall. Participating were Mayor Alessandro Tomasi, U. S. Consul General in Florence Daniela Ballard, and representatives from both Pistoia Basket 2000 and Gonzaga University in Spokane, Wash. The collaboration will bring educational opportunities to Gonzaga students, as they gain experience in the business of international sports while learning about another culture.
"Sport management is a practitioner-based field," said Ryan Turcott, associate professor of kinesiology and sport management at Gonzaga. "This collaboration will allow our students and faculty to work side-by-side with a top-level European basketball team on managerial and operational projects."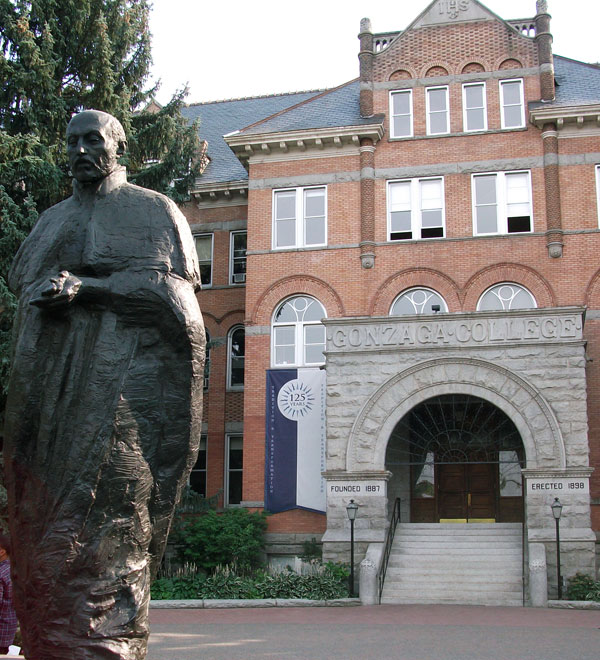 The Gonzaga internships will last four to six weeks. The initial group will be four students; it may expand to include more students later. Besides the on-site internships, there will be regular meetings held virtually between the two organizations.
Students will work with Pistoia Basket 2000 on hospitality, tourism, corporate sponsorships, merchandise development, social media, ticketing strategies, fan engagement and hospitality. Gonzaga faculty will assist with research to help with player scouting, player analytics and other skills that will improve team management and recruitment. The partnership agreement runs through August 2026.
"Our students will work with Pistoia Basket's management team to better understand how Italy uses social media and marketing campaigns, and then help them create solutions to the challenges they face," said Turcott. "We want to build on the club's success and decades of history in Tuscany and help ensure its sustainability into the future."
During the press conference, Andrea Di Nino, senior advisor to Pistoia Basket 2000, acknowledged that Americans are experts in fan engagement and hospitality. "We want to learn how to better welcome fans at the arena, and we want to make our arena a better place to visit," he said.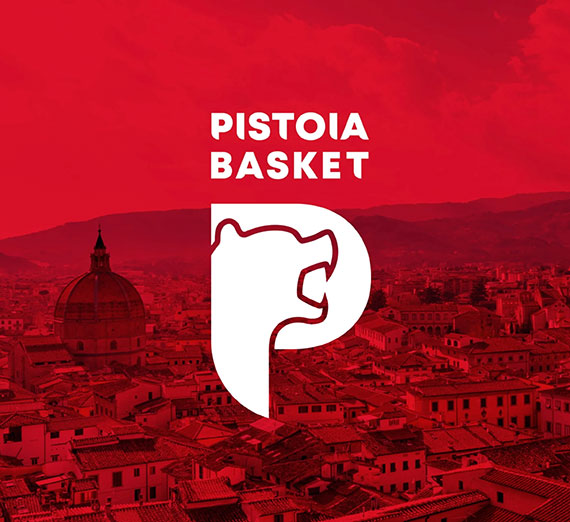 The idea to launch a professional development partnership grew out of Gonzaga's existing study-abroad program, established in Florence in 1963, which hosts about 500 students each year. "The current partnership with Pistoia Basket started with a study-abroad class and now it's turned into a full-fledged partnership," said Turcott. "We now have a partnership where we will work together. They'll host our interns who will work side-by-side with the club, attend games and observe practices."
Gonzaga University has had a long history with Italy. The university was founded in 1887 by Father Giuseppe Maria Cataldo, a Jesuit priest from Sicily. Cataldo bought 320 acres of land overlooking the Spokane River in eastern Washington to start a school for local boys, including Native American youth. On opening day, the school had seven students; by the end of the first year, that number had increased to 20.
Today Gonzaga has 8,000 students and 1,000 employees. Listed as one of the top 100 universities in the U. S. in 2023, Gonzaga is an educational leader known for its top-quality finance, business management, entrepreneurship, and social services programs. Always a strong basketball school, in the past 30 years its rise on the court has been meteoric. The Zags have played in the NCAA tournament for the past 24 consecutive years – a record – and the team has been in the finals twice. "We've never won the championship," said Gonzaga-in-Florence director Jason Howard, "but definitely this year!" – a statement greeted by applause from the Pistoia press conference attendees.
Turcott believes the professional development agreement is the first university partnership of its kind to combine international sport management, consultation and internships. "A lot of schools, like Seattle University, partner with local teams such as the Mariners or Seahawks," he said. "But from our research we could find no other university with an international sport management partnership like this one."

Pistoia Basket 2000 is located 30 miles outside Florence, about a 20-minute train ride from Gonzaga's study-abroad base in Florence. Pistoia's population of about 90,000 residents is less than half that of Spokane. Founded in 2000, Pistoia Basket is the only Lega Basket Serie A professional basketball team in Tuscany. Like Spokane, whose community is branded as Hooptown USA, Pistoia is also a basketball town with a deep base of passionate fans, youth teams, player development, and success on the court.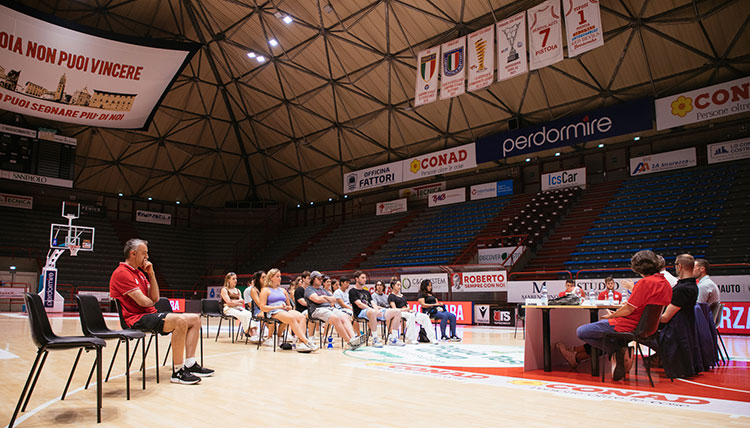 Sports is the perfect medium since they have a unique role in society, said Daniela Ballard, U. S. consul general in Florence, at the press conference, noting that sports can create strong connections between nations and people, and provide a way for cultures to get to know one another. "Sport has its own diplomacy," said Ballard. "It can teach us about inclusion, gender and equity, healthy living, empowering youth and resolving conflict. This internship program is a unique opportunity to create a bridge between Pistoia and Gonzaga."
Gonzaga hopes that participating students will learn not only about sport management but will also spread a culture of inclusion and diversity. "We'd like to hold workshops in Italy on topics such as women's basketball or wheelchair basketball," said Turcott. "We want to build on Gonzaga's reputation for hosting student-athletes and study-abroad initiatives, and bring our strengths to a global community."