Panettone: soft, fragrant, with its melt-in-the-mouth texture, it is perhaps the most popular cake we eat at Christmas. Traditional with candied fruit and sultanas, or reinvented, with chocolate, fruit, nuts, and creams of all types, it has several contenders across Italy, from pandoro to panforte, but you can't say it's Christmas unless you have one on the table. Everything else can go, but panettone stays.
This year, panettone will, likely, taste even sweeter, because we'll manage to celebrate an "almost normal" Christmas, with our families and friends. Or so we hope. And because it's going to be such a special celebration, we should pay more attention to the panettone we bring home because let us be clear:  not all panettoni are born equal. Famous producers may have the fancy boxes and commercials, but it's the artisanal creations of local bakeries across the country you want to try: you won't only support local businesses, which have been suffering incredibly during the pandemic, but you'll also discover how quality ingredients and the recipes of our tradition truly make the difference.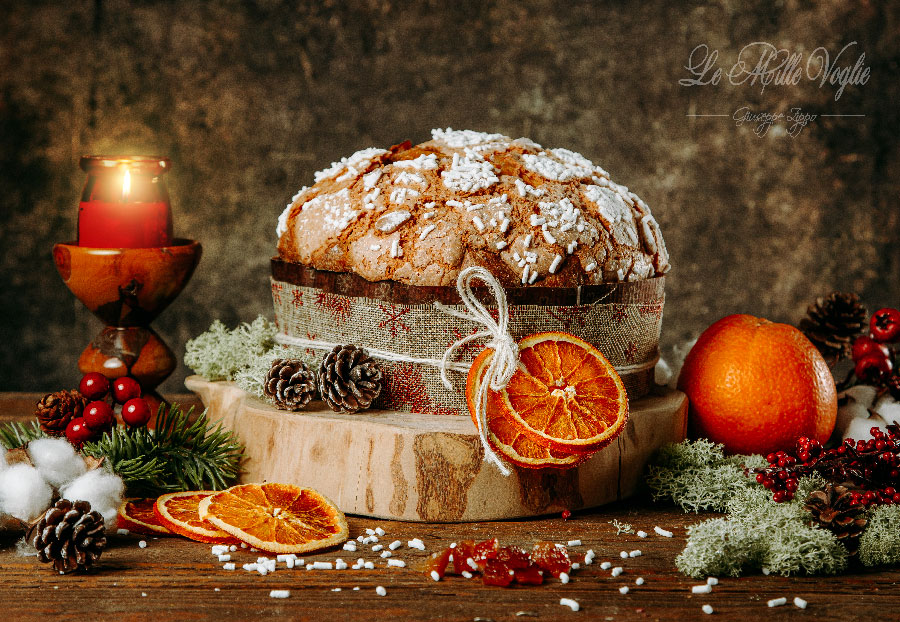 This year, for its Christmastime interview, L'Italo-Americano had a chat with maestro pasticcere Giuseppe Zippo, of Le Mille Voglie Pasticceria, in Specchia (Lecce). Zippo is known especially for his award-winning panettone, which also received the prize of best traditional panettone in the world. With him, we discuss culinary art, tradition, how he discovered he wanted to become a pastry chef, and the importance of excellence and tradition in Italian patisserie.
It was love at first sight between Giuseppe and the art of pastry making, but nothing of it was planned: "It all began by chance, really. I was a pretty vivacious kid, always ready to get into trouble. My father worked in Switzerland back then, while mom had remained in Italy, in Specchia, with me and my older brother. With me, she had her hands full! So, when I was 8, she decided to send me to a bakery after school to learn the basics: that would be impossible now, with all the rules and laws we have today (Author's Note: children cannot work in Italy if they are of compulsory schooling age, that is, under 16). That's how it all began. Once I had to go to high school, I decided to attend the Scuola Alberghiera, and… here I am!"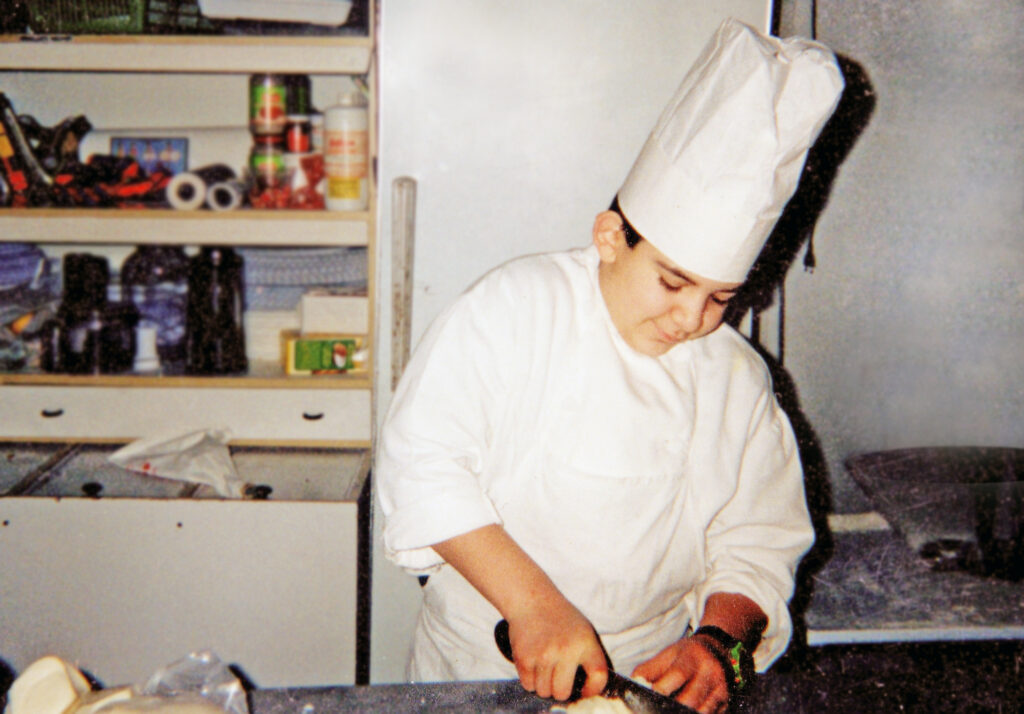 After graduating from high school, Giuseppe knew even better what he wanted to do in life: become a pastry chef. So, he didn't waste any time and left for Sharm El Sheik, on the Red Sea, to work and train at the Domina Coral Bay Resort. After this international experience, Giuseppe came back to Puglia and took up a position as pastry chef assistant in a renowned bakery near home. Sometime later, he moved to Florence where he worked as a pastry chef at Pasticceria Nannini. These are important years for Giuseppe, which he uses to hone his skills and develop his creativity.
Giuseppe, though, missed Puglia, his homeland. Puglia is a region filled with tradition and beauty, and home to some of the most delicious desserts our country offers: pasticciotti and cartellate, mandorlacci and vincotto di fichi, fruttone and boconotti, only to name a few. Giuseppe wanted to go back home and put to use the experience he had acquired abroad and in Tuscany in a traditionally Apulian culinary context; he wanted to bring together tradition, skills, and creativity to make something new. But, as he told us, patisserie is not only about creativity at all: "Physics and chemistry are more important. And you need a lot of patience, too."
Moved by his desire to succeed, Giuseppe bought the bakery where it had all begun when he was a child and, on the 12th of April 2003, at only 19, he opened his own store. With him Federica, his girlfriend, who is today his wife and close collaborator. The business grew exponentially, so much so that, a decade later, in 2014, Giuseppe and Federica realized the old bakery was no longer enough and moved to a larger location, with a garden, near the beautiful historical center of Specchia, in the Lecce province of Puglia: more space, more staff, more happy customers. And just last weekend, on the 4th of December, Giuseppe and Federica opened up a second bakery in Gagliano del Capo, a borough of about 5,000, some 8 miles south of Specchia.
A talented pasticcere, of course, but how did Giuseppe become famous all over Italy? Well, it's all down to his award-winning panettone. Panettone, of course, doesn't need any type of presentation: ubiquitous presence across the peninsula during Christmastime, his origins date back to the Renaissance and Milan. Its traditional recipe is simple: flour, butter, sugar, yeast, candied fruit, eggs,  but making it is a labor of love … and patience, just like Zippo implies when he says: "Traditional panettone… So many troubles, so many sleepless nights!"  Yet, it is thanks to the soft, buttery most Christmasy of all cakes that he gained international fame: not many can say to have been awarded the prize of Best Artisanal Panettone in Italy by Iginio Massari, in Milan. But Giuseppe can. "It was a great joy," he explains.  And that was just the beginning of a long series of awards for his panettone, the secret of which, according to him, is tradition: "Of course, I followed tradition, the most authentic. So much so, you can smell Christmas after the first kneading of the dough!"
Tradition, yes, but also the clear, uncompromising choice of committing to excellence, from the choice of raw materials – all of the highest quality – to confronting his work with that of international masters in the field. This is an important thing because it is this very commitment we find across the vast world of Made in Italy products, a commitment not to cut corners to give the market cheaper goods; a commitment to quality which,  in the culinary arts, means also being faithful to traditional recipes and methods.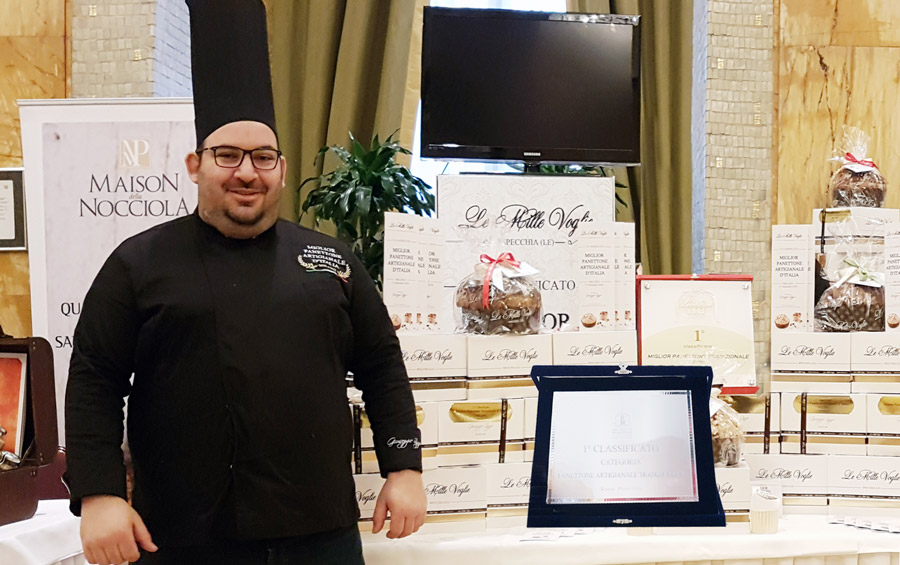 But aiming at excellence has an enormous significance also for our own heritage and sense of self as a nation – let's not forget it – because it means keeping high our name around the world while honoring and respecting a past that gave us much of what we are today. Yet, it is also important to keep an eye on modernity, to experiment with flavors, to play around with ingredients, just as great chefs and patissiers have always done. It is the secret of Made in Italy in all sectors: following the past and being inspired by creativity to design the future.
This approach gained Giuseppe Zippo an array of important awards, starting from, as we said, the first prize for best artisanal panettone in Milan, 2016, followed by – always in 2016 – the first place for Panettone Artigianale Scuola Piemontese at the Una Mole di Panettoni competition, in Turin. In January 2017, thanks to his Perla Nera (Black Pearl), a dessert inspired by Salento and made with figs, almonds and sweet olives, Zippo won the first prize for Miglior Dolce Debic Italian Style in Rimini. At the end of 2018, this time back in Milan, his Le Mille Voglie is elected third-best café-bakery in the country by the people of Bar Award Bar Giornale. Then, in 2020, his panettone received a silver medal in the Miglior Panettone del Mondo Fipgc competition and first place in the Classic Panettone category.
Panettone made Giuseppe and his bakery famous, but we wonder if there is something else he likes to bake and eat at Christmas. His ideas about it are quite clear: "Cartellate of course! They are very simple, traditional fried pastries from Puglia, that speak of Christmas at home. They are usually flavored with honey and orange, and often decorated with colorful sugar sprinkles. A must on Apulian tables, from the day of the Immaculate Conception to the Epiphany." For those who don't know them, cartellate are a traditional treat made with thin ribbons of puff pastry, usually prepared with flour, white wine, and oil, then rolled on themselves to form a rose-like shape, which is fried and then flavored with a plethora of different ingredients, the most traditional of which are vincotto, cinnamon, and sugar.  Cartellate have a strong bond to Christmas and, according to local lore, they'd represent the Virgin Mary's halo, or the blankets used to keep Baby Jesus warm in the manger. However, they could have a much older origin. Visual representations of cartellate have been found on rock paintings dating back to the 6th century BC, attesting their presence in Puglia much earlier than the advent of Christianity. According to historians they were associated with Ceres, the goddess of agriculture, and her cult.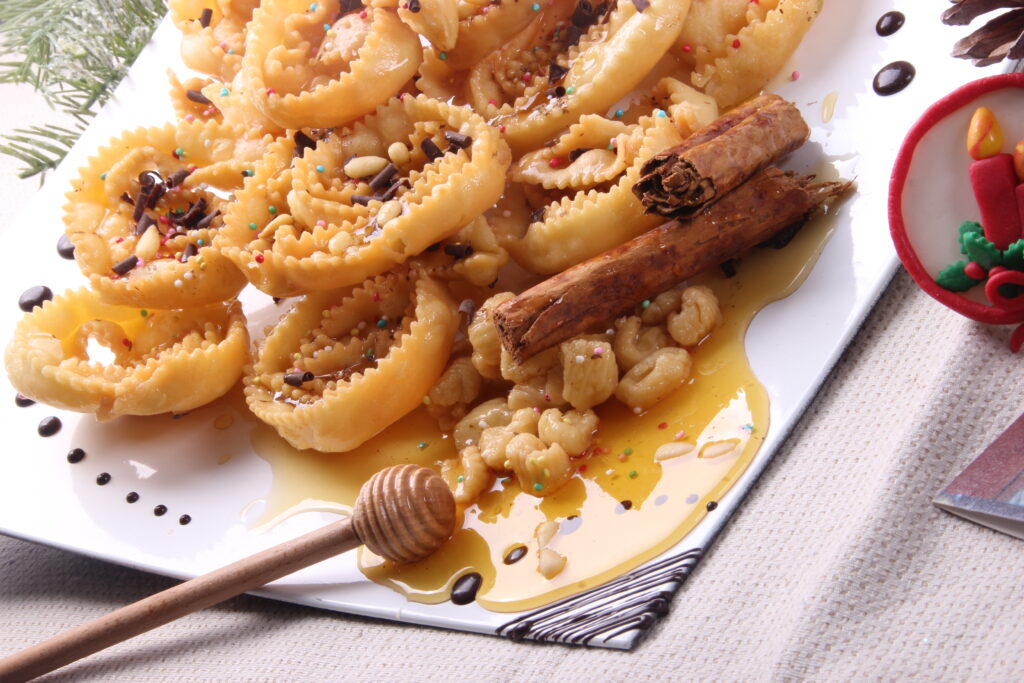 Our last question to Giuseppe is about America, or better, about American-style baked goods and their popularity in Italy. Our patisserie, we discuss, has a deep connection to tradition but, perhaps also in name of the many TV shows on air these days dedicated to baking, American-style cakes have become more popular. We asked Giuseppe what he thinks about the phenomenon. Do we Italian really love it? "Well… I think it's a trend, and like all trends, it can certainly stimulate our creativity and satisfy our aesthetic sense – he explains. But in the end, we Italians will always prefer the simplicity of our own tradition."