On Sunday, May 12, 1957, the Ferrari driven by Alfonso de Portago went off the road during the historic Mille Miglia car race, running over and killing 11 spectators, including five children. The Spanish driver and his co-driver, American journalist Edmund Nelson, lost their lives on impact. A storm swept over the car manufacturer and Enzo Ferrari, who was later charged with manslaughter and personal injury – he was subsequently acquitted on July 26, 1961.
This tragedy is the focus of the film Ferrari, which had its world premiere at the 80th Venice Film Festival. The movie, directed by Michael Mann, will be released in US theaters on December 25. Alongside Adam Driver, who interprets Enzo Ferrari, and Penelope Cruz, in the role of his wife, Laura Ferrari, is Italian actor Giuseppe Bonifati. He plays Giacomo Cuoghi, Enzo Ferrari's manager and longtime friend, a key figure in his life as he was the one who advised the Modenese entrepreneur to participate in the Mille Miglia.
The screenplay which Michael Mann co-wrote with the late Troy Kennedy Martin, is inspired by Brock Yates' book Enzo Ferrari – The Man and the Machine. Mann, known for his work on Heat, Collateral, and The Last of the Mohicans, has been working on this project for about two decades.
Bonifati is a multi-talented individual who works as an actor, author, director, and playwright. He is also fluent in six languages. Bonifati has previously worked on a Hollywood set, playing Giovanni Iacovoni in Ridley Scott's 2017 film All the Money in the World.
Giuseppe, how did this work experience come about?
There was an initial audition, followed by a call-back in Rome where I met Michael Mann personally. I could tell it went well by the understanding glances of the three casting directors.
It is said that Giacomo Cuoghi and Enzo Ferrari were never on a first-name basis, even though they had been close friends since childhood. Michael Mann gave me material about him, and I treasured it even though I then tried to find my own path to develop the character. The film does not have a documentary intent so I had some liberties in building it.
How did you feel acting alongside a giant like Adam Driver?
A giant in every sense of the word! Adam Driver is very tall. I first saw him during the table-read, which felt for all intents and purposes like a first day of shooting because there were already microphones and cameras. The chairs were arranged with the names of our characters, mine was between Adam Driver's and Penelope Cruz's. I was always comfortable with both of them during rehearsals. Very often, it was just us and Michael Mann.
What did you absorb from actors of that caliber?
Watching them act was like attending a real masterclass. Besides the fact that Adam Driver is humble and affable.
What kind of director is Michael Mann?
I was impressed by a group scene with lots of extras in Modena, in front of the Storchi Theater. It was more than 100 F. We did about 50 takes, we went on into the evening. Mann has this technique that, in a way, is based on artistic exhaustion. He gets you where he wants you this way, because after a certain number of rehearsals you release something different from the first few takes.
What was Ridley Scott like instead?
He was much more instinctive. He would say, "Give me your lines," even before he started shooting the scene. Scott relies a lot on instinct, whereas Mann is very meticulous, punctilious. If he sees a hand in a pocket that doesn't fit, he notices it from 200 yards away.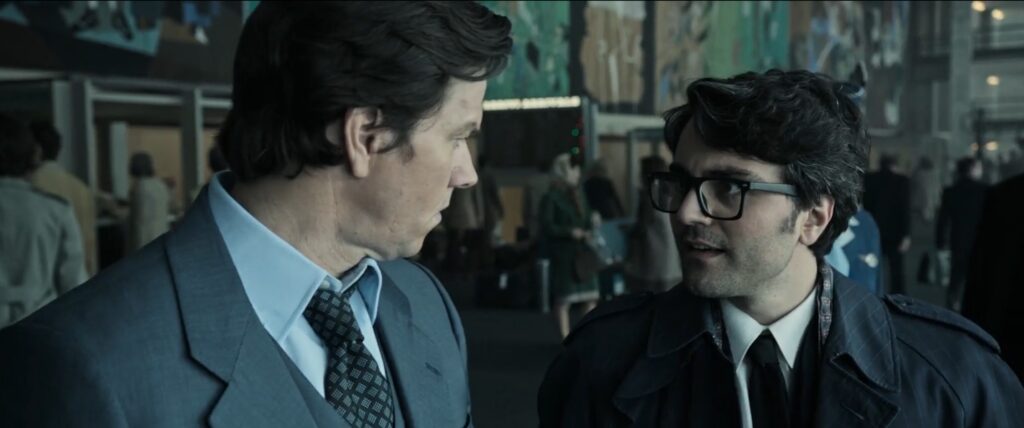 Americans have a very direct, very straightforward approach. There is no complacency. Everyone says Michael Mann is particular as a director, I found him very direct, he knows very well what he wants. He takes you in the direction he has set: in fact, you go together, he guides you.
You have almost exclusively scenes with Adam Driver and a couple together with Penelope Cruz. How did it go with her?
It was very pleasant with her as well, we spoke in Spanish. The funny thing is that there was a guy from the crew, who was a big fan of Penelope Cruz, and he had a tattoo of her. When Cruz heard about it, she wanted to see it at all costs. He was so excited he almost fainted.
Giuseppe, you were born and raised in Castrovillari, Calabria, but you have been living and working in Denmark for almost 15 years. What brought you to Northern Europe?
My wife, who is Hungarian, and I, opened a theater in northern Denmark many, many years ago, and started our own company. Then, for the past three years, we moved to the south of the country and started a theater inside the airport in Billund, which is the city of Legos. We go very often on tour in Europe but also around the world, we have been to Venezuela, Costa Rica, California. The show is called Fly Me To… and it gets its name from the capitals we go to. Last October, we took our play to the Santa Monica Playhouse in Los Angeles, which of course became Fly Me To LA. We stayed for two weeks on vacation and fell in love with it. Santa Monica has a soft spot in my heart.
A theater inside the airport?
Yes, it is unique in the world: It's called The Flying Theater. The first two years were a kind of pilot project, during which we experimented a lot. Now we are setting up a permanent theater so we can do shows there, because at the moment we do them at the gates, at the baggage arrival, and in the various terminals. We surprise passengers from all over the world with unique artistic experiences. In the beginning, we used to do them during flights.
How did you come up with this idea?
I trained my head to create new and original ideas all the time. It's like training a muscle. I'm never satisfied so, as soon as I do something, I'm already thinking about what to do next.
Would you like to have a career in the United States?
In Los Angeles, we have contacts with the Santa Monica airport where there is a reality of artists very interested in our project. The goal, at the moment, is to come a couple of months a year and export the format.
When did you know you wanted to be an actor?
I never did anything else. I did modern dance from age 8 to 14. I got my first paid gig right in Castrovillari, thanks to a teacher who was a student of Alessandro Fersen, an Italian playwright, actor, and theater director. After that, I studied at the Civica Scuola Paolo Grassi in Milan and furthered my studies at the National Academy of Dramatic Arts Silvio D'Amico in Rome. Then, as a playwright, I trained in northern Denmark. Now, as I told you, I am very focused on our Flying Theater. Just think that I even married my wife, who is the creative producer of the project, at the airport!