If you've ever been to an Italian old-men bar, the one where your granddad would go spend the afternoon with his mates if that's the type of thing he is into, or if you had the curse – or blessing, depending on which way you look at it – to become acquainted with the habits and quirks of Italy's spiagge libere (those were everyone can go without paying any daily fee), you know it already: Italians have an obsession with playing cards.
Pensioners from North to South organize bona fide tournaments, I am sure. And the image of a family sharing a game of scala 40 under the beach umbrella is as "quintessential Italian Summer" as the man selling coconut slices on the promenade.
Italy and playing cards go a long way back and while we didn't invent them – it was probably the Chinese or the Indians who did it, sometimes in the 10th century – we certainly had a hand in making them popular in Europe. The first attested presence of playing cards in Europe is found in 14th century Spain and Italy, even though there were similar games in England already in the 12th century. However, historians tend to believe those had developed from the game of chess and didn't have any connection with the old Chinese -or Indian- card games.
Playing cards didn't come to us directly from the Far East, though: we likely inherited them from the Mamelukes of Egypt, with whom several Italian towns entertained commercial relations. Soon, playing cards became popular in our country, as well as in Spain and France, as 14th-century documents attest. Little by little, every country embraced the trend, adapting decks to their culture.
We Italians added to the oriental deck we had borrowed from the Mamelukes 22 special cards, the so-called triumphs, and voilà: the original tarot deck was born. While today tarots are associated with divination a bit everywhere around the world, with the most famous deck being British and not Italian, we shouldn't forget that the originals were not used that way: they were just… playing cards. We'd have to wait until the late 18th century to see them used as a way to read the future. Italians also added the Queen to traditional decks, a little hint of ante-litteram feminism.
The popularity of playing cards in Italy is still pretty surprising: somehow old-fashioned, yet everyone has a deck at home. Not as fun as videogames, perhaps, but young people are still partial to a game of two of scopa with their grandparents. Usually, children debut with rubamazzo (also known as rubamazzetto), the game known in English as "go fish," or "beggar your neighbor," and you can see why: it's easy, it's quick and there is nothing special to understand to play it.
The more you grow, the more games you learn, of course: enter, in non-temporal order, scala 40, scopa, briscola, burraco. Some of them, like briscola and burraco have a foreign counterpart: you guys know them respectively as "trump" and "buraco," while others remain an Italian – or Mediterranean/Latin – thing: scopa, for instance, which is the second most popular game of cards in the country after briscola, is played in some parts of South America, especially in Argentina and Brasil, where it was brought by Italian immigrants. Scala 40, similarly, remains a strictly Italian thing. And we shouldn't forget that there are different types of decks, too, with basically every region having its own variety: we have le (carte) bergamasche, le genovesi, le bolognesi, le piemontesi, le napoletane, le romagnole, le sarde,  and many, many more. However, they can be widely grouped into three large categories: those using French suits – mostly in the North West; those using the Spanish suits – in the center and the South; those using Italian suits – in Lombardia and the North Eastern regions; and those using German suits – in Alto-Adige.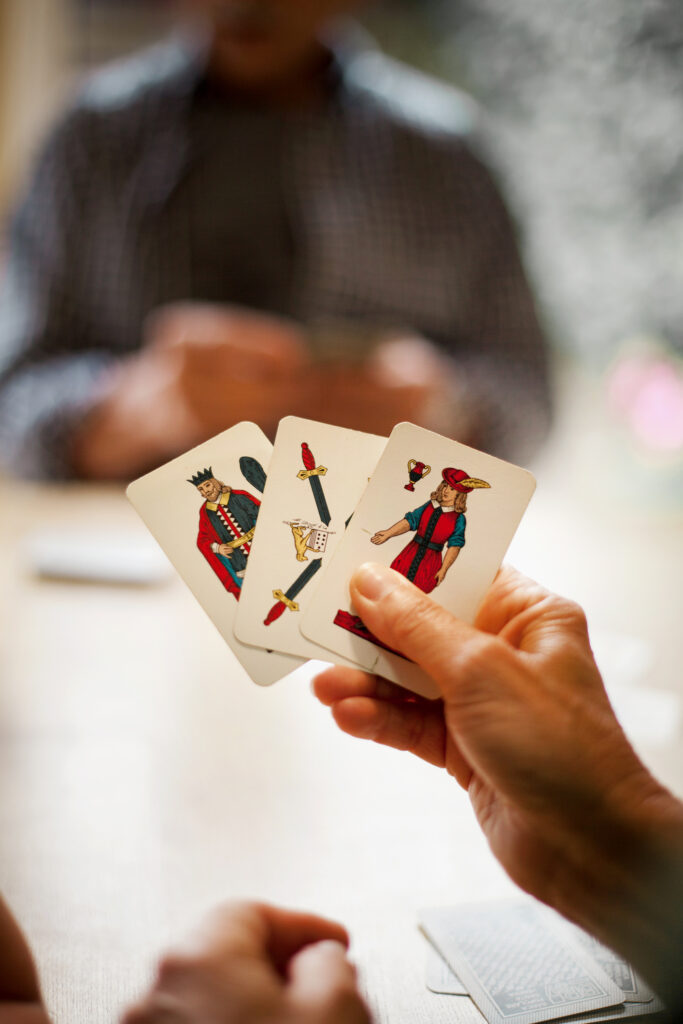 Some curiosities: the oldest playing card deck still extant is called "Italia 2" and dates between 1390 and 1410. Despite being "Italian" at least in the name, it is part of the Fournier Naipes Museum in Vitoria, Spain. And one of Italy's most popular games, burraco, actually comes from South America. Who would have thought?
Playing cards, in Italy, has the same generation-unifying power as watching a game where the Italian soccer team plays: when the deck comes out, we are all the same and we all want to play. There is a clear social connotation to our games of cards, too, because it's something we do at every age and always in groups. There is an attractiveness to it, that makes us always say yes when a game is proposed and, in a very heart-warming way, playing cards is trans-generational, because it's often something grandparents teach their grandchildren. Ah, game of cards after dinner with my nonni… what wouldn't I give to do it again!
Last but not least, we shouldn't discount the aesthetic beauty of cards. Indeed, cards can even become a fashion item, something to display proudly in your sitting room: Tiffany, Prada, Hermès, Alexander McQueen, all created their own designer decks.