We bet you didn't know that there is such a thing as a clock that goes backward in Florence, did you? Well, we admit it took us by surprise, too. If you want to see it, you just need to visit the town's duomo, Santa Maria del Fiore – yes, the same one with Giotto's bell tower and Brunelleschi's dome.
Inside, surrounded by colorful marbles and the grandiose beauty of its simple, yet majestic gothic vaults, you'll find a curious clock, created and painted by famous Italian Renaissance painter Paolo Uccello. Born Paolo di Dono in 1397, Vasari – who wrote a series of "Lives" of artists – tells us that the nickname "uccello" comes from his passion for painting animals, birds in particular (that's what "uccello" means in Italian).
Uccello developed his artistic skills the way it used to be done back then, in an artist's workshop: in his case, it was Lorenzo Ghiberti's. Uccello wasn't the only one learning from Ghiberti: in those years, one of his "classmates" was Donatello, one of our Renaissance's most appreciated artists.
Uccello travels through Italy and Europe, where he gets in touch with gothic architecture and art, but the biggest artistic revolution, he witnesses it in his own Florence, where in the years of his return – we are the early 1430s – pictorial perspective was being developed. Paolo Uccello was to be known for his impressive skills in the use of the technique.
This is all good, I hear you say, but how does it have to do with a clock that runs backward?
Well, Paolo Uccello painted a special clock in Santa Maria del Fiore, known either as orologio della controfacciata (because it is on the wall opposite the façade), or simply orologio di Santa Maria del Fiore. Its dial marks twenty-four hours in Roman numbers in ascending order but they are written counter-clockwise. And there is more because the hands of the clock move counter-clockwise, too.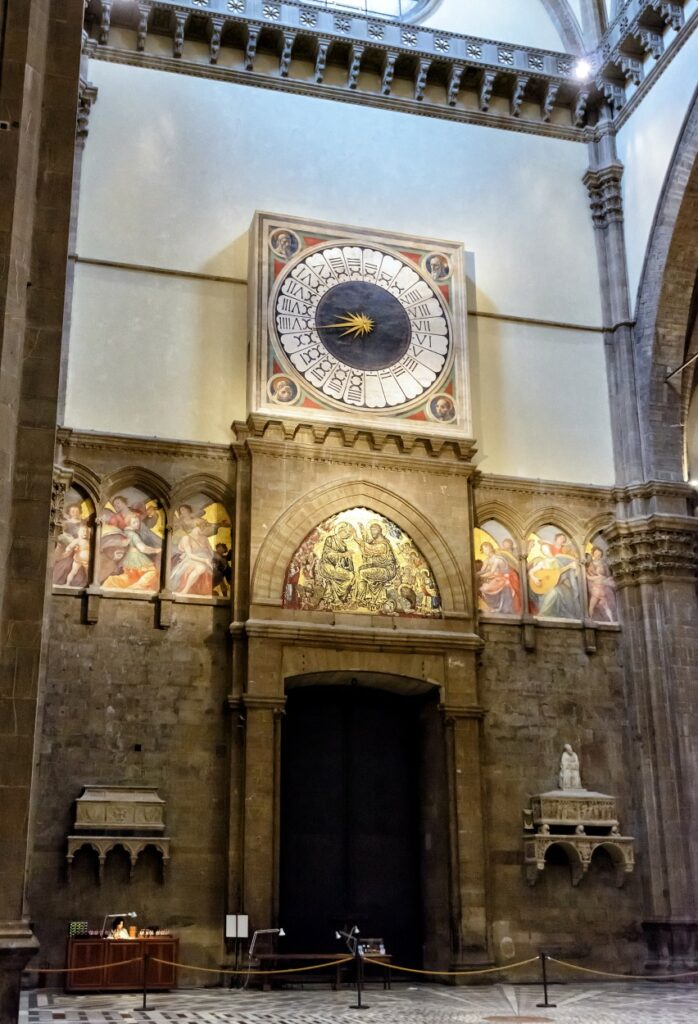 Quirky? Certainly, especially to modern eyes, but not as strange as one may expect, because there is a very rational explanation for it all. Basically, the clock was painted following the way the sun moves on another popular tool to mark the time in those years, a sundial, and the 24th hour doesn't mark midnight, but rather sunset. The habit of marking when the sun goes down as "the end of day" was commonly known as Hora Italica. And, when you think of it, it makes perfect sense, because sunset was when the city gates were locked for the night and people had to come back home from working in the fields around town. As fun as it may look, using the Hora Italica also meant that clocks had to be regulated throughout the year, to ensure they always marked the exact time when the sun would set.
With this first interesting mystery debunked, we can now move to the second one (yes, there is a second one!), which is even more closely related to the artist that painted the clock, our Paolo Uccello. At the four corners of the clock's frame, you'll find four beautifully painted heads representing …That's the mystery: we don't know. Art historians say they are likely to be the Four Evangelists, but, strangely, Uccello didn't represent them in the usual way, that is, with their four customary symbols: the lion for Mark, the ox for Luke, the angel for Matthew and the eagle for John.
Besides being a curiosity, the clock is also a rarity, because it is one of the very few clocks still existing that marks the old Hora Italica. By the way, you may be pleased to know it still works perfectly well, despite its 590 years of age, also thanks to the accurate restoration of its mechanisms carried out in the early 2010s by the Opera di Santa Maria del Fiore, Officina Panerai, historical Florentine watchmakers (who sponsored the operation) and professors Andrea Palmieri and Ugo Pancani, of the Centro Studi per il Restauro degli Orologi ISIS Leonardo da Vinci, who worked directly on the artifact.