Oscar-winner Nicola Piovani defines him as "a great exception to all rules." "The most creative music cinema has ever had," adds Bruce Springsteen. Giuseppe Tornatore's documentary Ennio, presented out of competition at the last Venice Film Festival and currently in cinemas across Italy, has just won the Nastro d'Argento 2022 for best documentary. It narrates the story of a musical genius, author of unforgettable soundtracks: from Once Upon a Time in America to Bertolucci's Novecento, from Cinema Paradiso to The Untouchable.
In Tornatore's last work Morricone, the music giant, reveals a composer's torment, thoughts that can't stop and pages to be filled with the ambition of giving to the world an indelible melody. An intimate and choral work all at once, rooted in 30 years of friendship, collaboration, and 10 movies together. The Roman orchestra conductor, who passed away in 2020, tells the story of his life in the first person, revealing some of his private and professional self. But the documentary, which took five years to be produced, is also an audiovisual novel filled with the thoughts of international artists about Morricone's personal, innovative, knowledgeable, infinite musical inspiration. Among them, Alessandro De Rosa, composer and co-author of the autobiography where Morricone put himself into words: "Without a doubt, the best book about me, the most authentic, the most detailed and studied. The most real," the composer–star no. 2.574 on the famous Hollywood Walk of Fame – once said.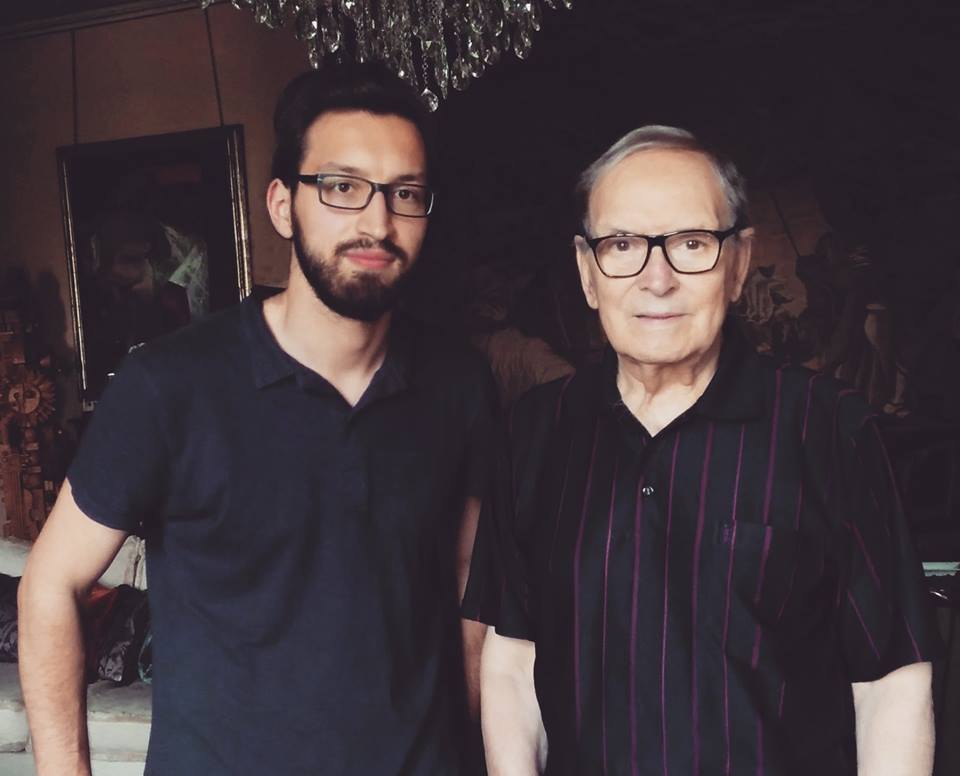 Ennio Morricone: Inseguendo quel Suono. La mia Musica, la mia Vita. Conversazioni con Alessandro De Rosa (Mondadori Libri, published in English as Ennio Morricone: in His own Words, by Oxford University Press) reached its third reprint in Italy. The book is structured like a dialogue where the maestro talks about his life and work, and how the two mix, influencing one another. After the book, in 2020, the podcast Io e Ennio Morricone was released by Amazon Audible.
Born in Milan in 1985, Alessandro De Rosa has just released his new album Flesh and Soul (Pele e Alma). He sat down with L'Italo-Americano to talk at length about Morricone, a true musical genius of the 20th century.
Can you tell us a personal memory of yours of the Maestro, and the greatest lesson he taught you?
The memories I have of Morricone are of great affection and connection. Our identities, our souls, resonated through music immediately. Music of his, which I of course knew, and music of mine, which he got to know because I had given him a CD with some early compositions when I was 19, during a conference in Milan, in 2005. His answer was immediate: "You have great qualities. You must study composition, but I cannot give you private lessons." I had asked him to be my teacher, and his attitude didn't only start my research path but also opened a third dimension that developed in time and became a friendship. The biggest lesson he gave me? Perseverance, dedication, commitment, persistence, becoming free from all habits, that is, bettering yourself always. Aiming continuously at something new, authentic, pure. You can't ask anything of others if you haven't asked yourself first.
What passages in the book better represent Morricone as a composer and as a person?
While working on our book, which developed through many phases and was many years in the works, I understood Morricone wanted to focus on his legacy, he wanted to reflect upon the musical part of his life. In his case, music and life, the book's subtitle, go hand in hand. As I am myself a composer – I was still studying at the time but you never really stop learning – he felt he was understood also musically and that he could reveal more of himself, as well as pondering anew, as he said in the introduction, on many events of his life. Through our conversations, he changed his perspective on many memories. To give you one answer to both questions about Morricone's life and work, I'd say we are in the realm of dynamic immobility, which brings together the immobile and the dynamic, what is and what becomes. Both in his life and in his music, in this stillness that turns into time, Morricone shows his deepest identity: that of a man who, always respecting his past, loves and studies, moves into the present, transforms a score in communication with its baton, while he conducts. And then walks into the future, into new challenges. You could define Morricone in many a way, both as a man and as an artist, but at the heart of all of them, there is an immense coherence.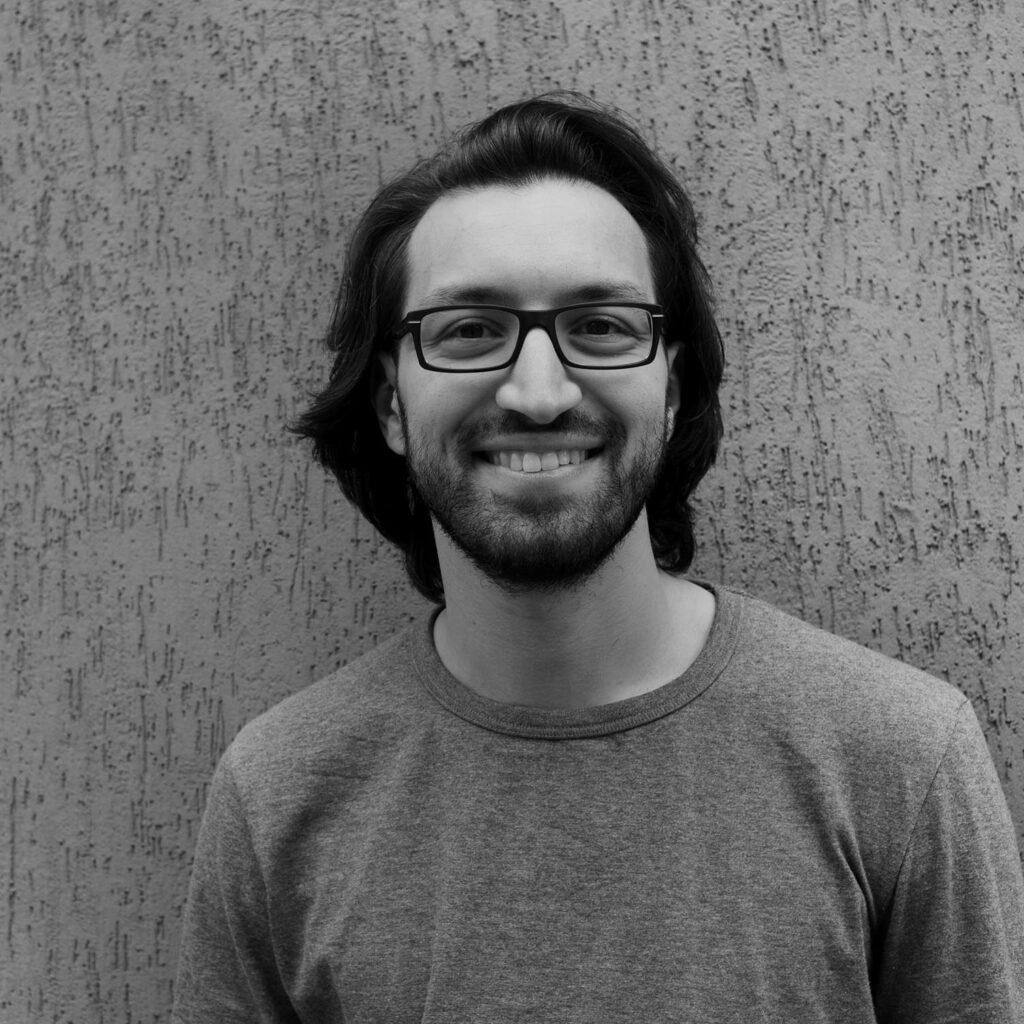 Based on your conversations, how would you say Morricone defined his music and what was he most attached to?
Well, first of all, music was his life, quite literally. It was his life's main commitment. He'd wake at dawn, exercise, and then write until noon. In the afternoon, he'd either go recording for movies or keep on writing, until late in the evening. He used to work a lot, so music was a truly strong presence in his existence.
With it, he had a peculiar approach. We'd all like to work in cinema, but not Morricone. In the beginning, he wanted to be recognized as an avant-garde composer, just like Stockhausen, Boulez, Nono, Ligeti, Bartok, Mahler. But then, little by little, he had to adapt to the industry that gave him money. He arranged many Italian songs by some of the most famous RCA singers, like Morandi, Paoli, Vianello. Then it was cinema, but the passage was almost conflictual because he felt he was losing time, as that wasn't his true ambition, either. Yet, he felt he had to respect it because it put bread on the table. This conflict lasted quite a while and he suffered a lot, but then he changed his mind. In the last years especially, and also thanks to the work we did together, something he says in many interviews and also in our book's introduction. This process helped him understand that all his music, all his experiences were important because they showed the world who Ennio Morricone was.
What was the sound the Maestro truly sought, in your opinion?
When we were looking for a title for the book, Morricone came out with a poem he had written for his wife, Maria. Everything was there: "The sound of your voice/finds in the air/an invisible tempo/and makes it still/in an eternal moment. That echo entered in me/shattering the fragile crystals/of my suspended present/…without return. I'll have to seek the future/following that sound/myself a desperate echo/to find myself."
He was after a sound that leads towards love and affection, that aims at understanding one another and wants to inspire new thoughts. He was after communication between people while protecting his own personal history, his own musical path. Identity was very important to him.
The book's title, just like the photograph on its front cover, invites us to keep silent and listen. They invite us to listen to the Maestro, to his experience, to his music. Is there also an invitation to readers, though, to seek their own sound?
Indeed, silence is key when listening to Morricone and his tales. By the way, in the 20th century, silence became music: Morricone often cites John Cage's famous 4 minutes and 33 seconds track, created as a challenge to the great amount of music produced. Silence can nurture reflection between the object and the subject. It's the zero-condition, the base to which music, just like life, can come and go. Those moments may be empty or very dense. If we want to follow suit, if we want to listen, we need to create a moment of inner and outer silence and find a balance within ourselves and then with others.
You are both a composer and a writer: notes and words are two different languages, just like music and cinema, two languages that Morricone, however, could bring together perfectly. What do the words of your book add to Morricone as a musician?
There is no need to add anything to Morricone's music because – contrarily to other periods, of which we have music scores, but not the composer's desired execution – with him we have the opportunity to listen to all his music, to get in direct contact with the sound source. In the book, we don't only talk about how he became a composer, we can also listen to the experience of a man and a musician who created his own life, himself, step after step. The American Dream is nothing compared to it! It all began in a working-class area of Rome, and he became who he is only thanks to his art, and that's not a given at all. Page after page, we build a dialogue through which the mind of one of the greatest composers of our times, his creativity, can be observed and understood. We witness moments of crisis and moments of inspiration; moments when a job came to an end and moments of tension; the reasons that led the author to write and to act in a certain way. The book wants readers to go backstage and wonder about what's behind each choice, why he chose Edda dell'Orso's voice for western movies, and why that exceptional voice became part of our collective imagination. Both in the book and the podcast, you see, we can truly understand the extraordinary reasons behind the music we know. We wanted our readers and listeners, and not only musicians, to think like creators, rather than consumers. 
To tell the story of his life, Morricone chose another composer, much younger than himself. What do you think it means? Affinity is certainly a necessity to understand one another, but do you need also distance – in this case, temporal – to better get the meaning of things?
Morricone was born in 1928, I was born in 1985. We do speak about the differences between our generations, it's another important theme of our relationship. Yes, both distance and closeness are necessary, but you need also to be a good listener, to understand the person in front of you. There must be an initial connection, respect, and trust, which grow with time. In a way, we chose one another, and then, just like in Serendipity, things happened, even if both of us were predisposed for them to happen. It's not only a matter of a younger and an older person meeting, there must be a will to communicate and to understand each other, there must be openness.
When you met for the first time in 2005, Morricone suggested you studied composition, as he noticed you had an inclination and a talent for it already at a young age. This is actually something you have in common: Roberto Cangiano had suggested he studied composition rather than the trumpet. What else would you like to share with him, and on what, on the other hand, do you think he is absolutely unrivaled?
Besides biographical similarities and very different life contexts, I think we found each other, especially in one thing: human emotions haven't changed, as Pasolini used to say. We found each other in our desire to express ourselves, in our ambitions, in our integrity, in our wish to do and dig deeper into things. Morricone's music demonstrates it, because you see what he saw through it, and feel what he wanted you to feel: thanks to his communicative power and his ability to analyze the senses, he could show you something that movies didn't show. In what he remains unrivaled? Well… Morricone is Morricone. All I can hope for myself is to find Alessandro De Rosa.
Your album, "Flesh and Soul," was released on the 15th of February. It is a journey through emotions, eight tracks and 70 minutes of music. It's a lengthy record, which is unusual in today's fast-paced world…
The meaning of the record, where I collaborate with Brasilian singer-songwriter, performer, activist and twice-platinum-record Fantine Tho, and which is illustrated by Greta Facchinato, is the exact opposite of the fragmentation we experience today. Krishnamurti used to say it often. This record is a journey towards connection, listening, meditation, Indian philosophy, within oneself, and within archetypes. I was inspired by Tho's activism in reforestation and by the fact that we can't expect a balanced world without finding our balance within. It's a meditative record, that leads towards an inner, cosmic journey. A journey, however, that needs time because it's essential, as the music of our past teaches, to delve into things, to concentrate, to break away. Silence.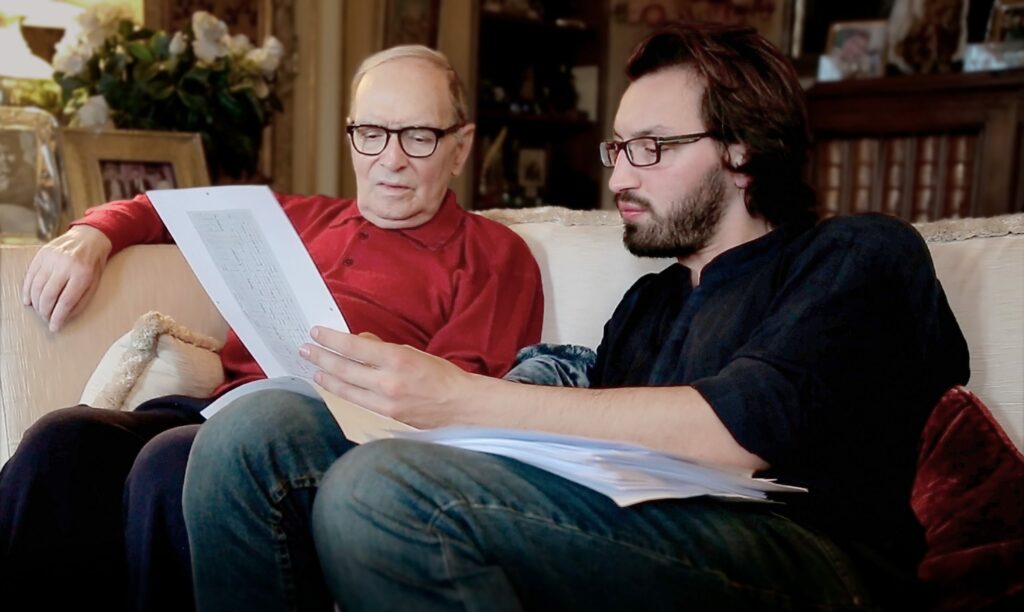 Is there anything of "your time with Morricone" that'll stay with you?
My time with Morricone will stay with me, just like the time I shared with my maestro, Boris Porena, who studied under Petrassi, will. There are encounters in life we always bring with us. The important ones, those where something is exchanged, and then we're no longer the same as before. I'll keep on thinking about my time with Morricone, I'll keep on understanding it better, and giving it more value. To improve, and to get new means to read it, to perceive it. But I'll keep seeking, too. I'll keep looking for something deeper and deeper.