Did my use of "rules" and "Italian" in one sentence cause a second glance? Other than keeping that left lane on the Autostrada open for high-speed designer cars, or maybe dutifully respecting the ZTL signs (Zona Traffico Limitato) that come equipped with a stealthy camera, most rules in Italy are made to be bent if not broken. Mere suggestions, as an Italian friend once told me.
True enough…with one major exception: food and drink. The do's and don'ts of eating and drinking are serious business in Italy, more of a national sacristy than just good manners. While native Italians are probably born with these rules imprinted on their DNA, the rest of us have to be willing students…or risk a few incredulous looks branding us the "rude tourist." But after all, what could be sweeter than adopting the ways of the country that stands above all others with its joy and passion for food and drink!
1. There won't be scrambled eggs in the morning
Scrambled eggs, bacon, pancakes…. mmmm, good when you're in the USA, but asking for this in Italy will gift you with an eye roll and an exasperated "mi dispiace." Eggs make an appearance later in the day on a salad or frittata. Find a nearby bar (the Italian equivalent of a family friendly hangout for drinks and snacks), order a high-octane espresso or creamy cappuccino, pick out a fresh-baked brioche (croissant), and soak up the vibe. It's a lively place where Italians from all walks start the day…and you should, too.
2. There's a lot to know about coffee
The life blood of Italians, coffee throughout the day is as much a cultural pastime as the evening passeggiata. But it can get a bit complicated for the uniformed. Rule #1: no cappuccino after late morning. Whether it's the milk that will magically ruin your digestion based on the clock or just tradition not to be broken, cappuccino is for the morning hours only. Also true for a caffè latte. I have occasionally slipped by with an afternoon macchiato, espresso laced with a bit of nefarious milk… sometimes I live dangerously. Yearning for a large mug of coffee like at home? Order an Americano and you'll find satisfaction. But if you want to live like a local, downing a caffè normale (espresso) with breakfast, after lunch and dinner… whenever the mood strikes… is how it's done.
3. Some pasta dishes just don't exist
If you love getting looked at with disdain while ruffling someone's feathers, go ahead and request Fettucine Alfredo…or maybe spaghetti with meatballs. Once the sigh has escaped the pursed lips of your waiter, you'll be guided to better choices. But they won't include chicken – an abomination to any shape of pasta – nor will you find meat sauce labeled Bolognese (except in Bologna), but rather "al ragù." Meatballs (polpette) do exist, but as a second course unto themselves. In America we tend to sprinkle cheese on anything we consider remotely "Italian food." Rule of thumb in Italy: if it's offered, sprinkle it. If not, don't ask. The mere thought of scattering parmesan over a seafood pasta dish would cause most Italians to emit a passionate "Che schifo!" (How disgusting!).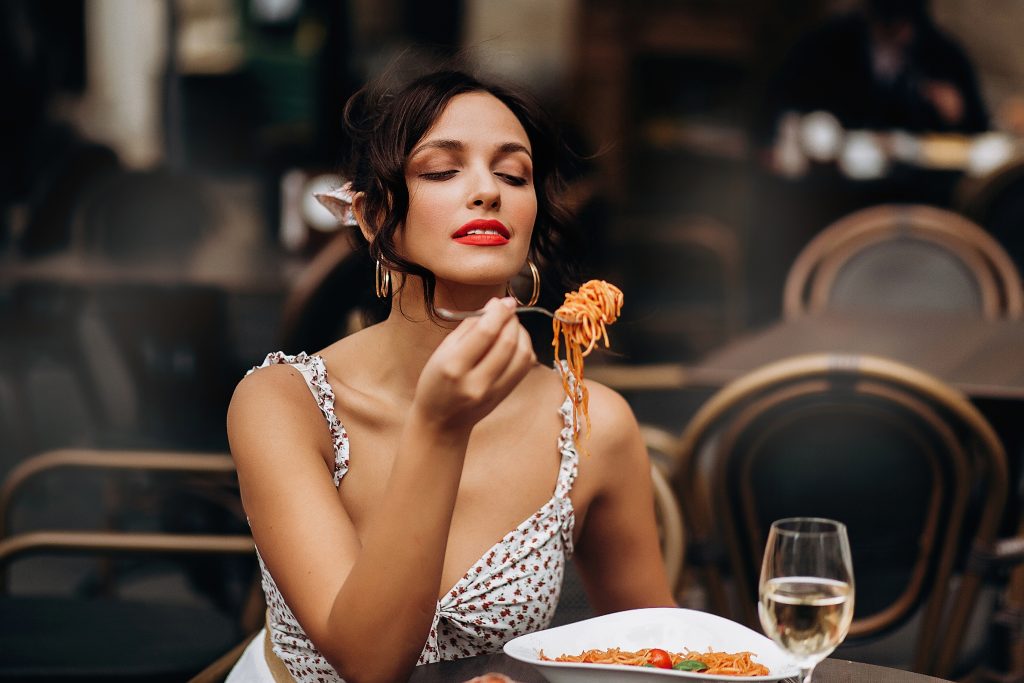 4. Wine, water, sweet tea with my meal?
At most any American table, it's a free-for-all when it comes to what to drink with meals. Not so in Italy. Granted, there are choices: sparkling water (gassata) or still (normale)? Red or white wine, a glass or a bottle? And of course, a yes or no answer to an after-meal espresso (say yes). Most evening meals also come with the offer of a digestivo – a sweet limoncello or perhaps a bitter amaro – all to aid one's digestion! Though these rules may sound pretentious, the enjoyment of food is taken with a serious passion. A mealtime drink is seen as the supporting player, a complement to the star on the plate. Forget the sweet tea, though…something most Italians think is just a myth.
5. Know your pepperoni from your peperoni when it comes to pizza
Pepperoni pizza with the greasy red disks is an American staple, so it must be as readily found in Italy, right? Wrong. If you request a pepperoni pizza, be prepared for a peperoni (one /p/) pizza bedecked in bell peppers to unceremoniously arrive at your table. If it's little circles of meat you crave, go for the pizza con salamino or alla diavola. Other pizza toppings thought of as normal here – pineapple, bacon, sliced hotdogs – are considered something out of a horror film in Italy. Just don't go there. If you want a soda or beer to wash down your pizza, va bene – have one. But please – don't drink out of the can or bottle. That's what glasses are for. I sipped from a can once in Rome, fairly new to Italian travel at the time, and nearly got kicked out of the restaurant!
6. Bread is a tool
Unlike most Italian restaurants here, a huge basket of garlic and butter slathered bread is not the Italian norm. The small offering of bread set on the table, simple and somewhat tasteless, is not Course Number One. Nor will it come with oodles of butter or even that oil and herb dipping plate we might expect. Instead, its purpose is lowly… la scarpetta, the little shoe…used to sop up the last bits of sauce and crumbs that remain. To "fare la scarpetta" is quite acceptable in trattorias but be wary of doing so in more formal settings – quite maleducato (impolite)!
7. Take your time
We eat quickly here — in our cars, walking, standing in the kitchen. Simply barbaro (barbarian) by Italian standards. Embrace the Italian way of enjoying food and company – sit and enjoy, then sit even longer. Dishes are fresh, seasonal, loaded with flavors to savor and relish. Friends and family are delighted in. The check will come only when asked for; the table is yours all night if you wish! We can learn much from this beautiful tradition of eating and drinking to live in each savory moment.
There are many other tricks to the art of eating and drinking like an Italian: good oil and vinegar dress a salad beautifully, don't touch the produce at the market, please don't use a spoon with your pasta, do peel that apple, and so on. If you're not sure, just observe or politely ask. A good attitude can go a long way to correct a culinary blunder! But the most important rule to remember is that food is for pleasure to be had with good company…that is the essence of the Italian way. Buon appetito!