It goes without saying that good eating is the one thing most Italians would never be willing to compromise on. Countless Hollywood reenactments of banquet-like family meals have helped reinforce the collective image we've longed to establish of ourselves as being (arguably) the highest authority on good and proper eating the world over.
It further goes without saying that you simply cannot have good eating without it being coupled with great drinking. This might sound like something of a Carrollesque application of logic, or a reverse catch-22, but back home we take this very seriously and abide by it dutifully. These values and traditions are impressed onto the younger generations with unrelenting method; they are made to permeate all aspects of Italian life. Anyone who has grown up in Italy will have heard somebody's grandparents (most likely their own) tell them that "l'acqua fa male, il vino fa cantare" (water is bad for you, wine makes you sing)!
This bona-fide national passion we have for eating represents an inseparable component of our Italian-hood. For this reason, all enthusiasts of genuine Italian cuisine in Los Angeles should rejoice upon receiving the long-awaited news that Eataly will be opening one of its gargantuan culinary paradises in Los Angeles. We're talking about a virtually interminable marketplace, sided with fine-dining restaurants, drink counters, bakeries, retail items, a baking school and much more! All this, operating under the same roof and in accordance with the same philosophy: "the pursuit of high-quality sustainable Italian cuisine". That is how Alex Peirano summarizes Eataly's Slow Food approach and mission. Alex has worked as Italian Wine Specialist and Educator at both Eataly New York and Chicago, teaching consumers of Italian goods about product origin, development, and cultural relevance. He tells us that "ten or fifteen years ago this concept that Eataly now embodies was basically a utopia in the United States. Nobody knew about robiola, or agnolotti del Plin or about the piadina Romagnola… Now, thanks to Eataly and the visionaries in charge of its development, people know!"
We were also able to get in touch with Dino Borri from Eataly, who was kind enough to share some of his invaluable insight as to the Eataly USA phenomenon. Upon asking for his official title within the corporation he deflects by saying: "Ma sí, it's just Dino Borri from Eataly! We're sort of against formal titles".
Notwithstanding position titles (or lack thereof), Dino Borri is a significant driving force behind the growth and success of Eataly in the US. Later on in our conversation he classifies himself as "buying director, if that's what you want to call it", still reluctant to curtail his multifaceted, and often creative role within the boundaries of such a dry, dull, bi-dimensional title.
Dino was born in Bra, a small Italian town in the province of Cuneo, Piedmont, where founder of the Slow Food grassroots organization Carlo Petrini was also born. The latter was a mentor to Dino, who worked together with Slow Food for close to ten years. During this time Dino learned all about the "Slow Food philosophy, and the philosophy of 'good, clean, and fair'".
To this extent, he specifies this does not always mean having to consider exclusively whether a producer is certified as 'organic' or not. "There are many small farmers and producers that are not certified as 'organic' because of their size or because of other reasons. Nonetheless a lot of them still produce in an excellent manner".
Dino goes on to talk about the 'fairness' component of the three-step recipe, as he very candidly enunciates his understanding of "fair" in this context to mean "that every step of the production chain must be fair: producers must be paid in fair measure, the same way Producers' employees will have to be paid fairly, and the same way prime ingredients must not be underpaid. We supervise the entire production chain to ensure strict compliance with Slow Food standards".
So what can we expect from the future Westfield Century City Eataly location? For one, we can expect the aforementioned standards of culinary excellence to be within our very own reaching distance. This is a big component of the Eataly experience according to Dino, who attributes part of the amazing success in New York to the fact that they "placed goods in a context that democratized them, meaning they were made accessible to all".
"The world is gradually moving towards consumption of higher quality products in this industry. We see people shifting towards eating less but eating better. This is essentially what we want to do, educate the consumer so they can understand and appreciate the difference between quality goods and those that are not". The theme of educating the consumer is one of the most recurrent elements of the Eataly business model.
He moves on to say that "from a gastro-alimentary viewpoint, California might just be the US state with the 'slow' philosophy most similar to what we embody, so I think the territory will match perfectly with what we do". Furthermore, every US Eataly location relies for the most part on local producers partnering with the Italian giant.
Dino is hopeful that outstanding agricultural conditions in California will allow for the Los Angeles location to draw its entire fresh goods production from local farmers. This should result in directly increased fresh product offering at our Los Angeles Eataly store.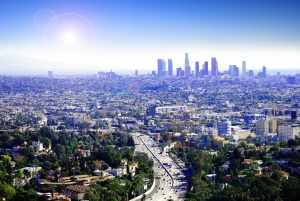 It is abundantly clear that Dino takes pride in the fact that "Eataly is now more than a format, Eataly is a concept". Not only that, but the social impact on its surrounding areas is consistently palpable. "Wherever we open a store we generate value, we create jobs, we create traffic… We become a destination!". With up to 700 individuals employed in each location, it's not difficult to imagine the kind of industry jump-start a new Eataly location gives way to.
Incredibly, Eataly stands for even more. As Dino would have it, Eataly has become a sort of "embassy of taste. But that's not all because food is culture, food is history, and food is philosophy. In Boston, Chicago, and New York, we've become 'labs' for a whole universe of cultural events gravitating around Italy and being Italian; from music, to art, to fundamentally anything that represents us at our finest within and without the Italian peninsula".
To wrap things up I ask Dino what part of setting up Eataly in a new city personally excites him the most, to which he responds that due to his curious nature he treasures the idea of "playing around" by juxtaposing the extremely high quality California produce with long-standing Italian tradition, so as to provide his customers with a truly unique eating and shopping experience. The result will be something to behold. More importantly however, he is excited to learn about the people that will be producing the food, "because at the end of the day" he says "human relations are the most important thing."