Last week Pesaro, a lively town of about 100.000 in the Marche region, was proclaimed Italy's Capital of Culture for the year 2024. The announcement was given by Italian Minister for Cultural Heritage and Activities, Dario Franceschini, whose recent proposition to help Ukraine rebuild the theatre of Mariupol, destroyed by Russian bombings, was embraced unanimously by the parliament. Speaking of Pesaro's victory, Franceschini explained that the choice was based on the fact that the city presented a project to valorize "the relationship between the city and its territory, with a program that involves the whole province."
Matteo Ricci, mayor of Pesaro, spoke for the city and, just like Franceschini, had thoughts for Ukraine and her people: "It is a huge emotion for the whole city. We'd like to dedicate our victory to Kharkiv, which is a UNESCO City of Music just like we are, and that right now is under Russian shelling." He then concluded, stating "I hope that Kharkiv will start playing music again, with us, too."
As hinted by Franceschini's words, it was Pesaro's will to focus on its territory as a whole, rather than on the city only, that made its candidature a winner. "Pesaro's excellent candidature – Franceschini explained – is founded on a cultural project that aims at valorizing a territory incredibly rich in history and environmental beauty, and that wants to promote integration, innovation, and socio-economic development through very concrete actions. It is the right balance between nature, culture, and technology."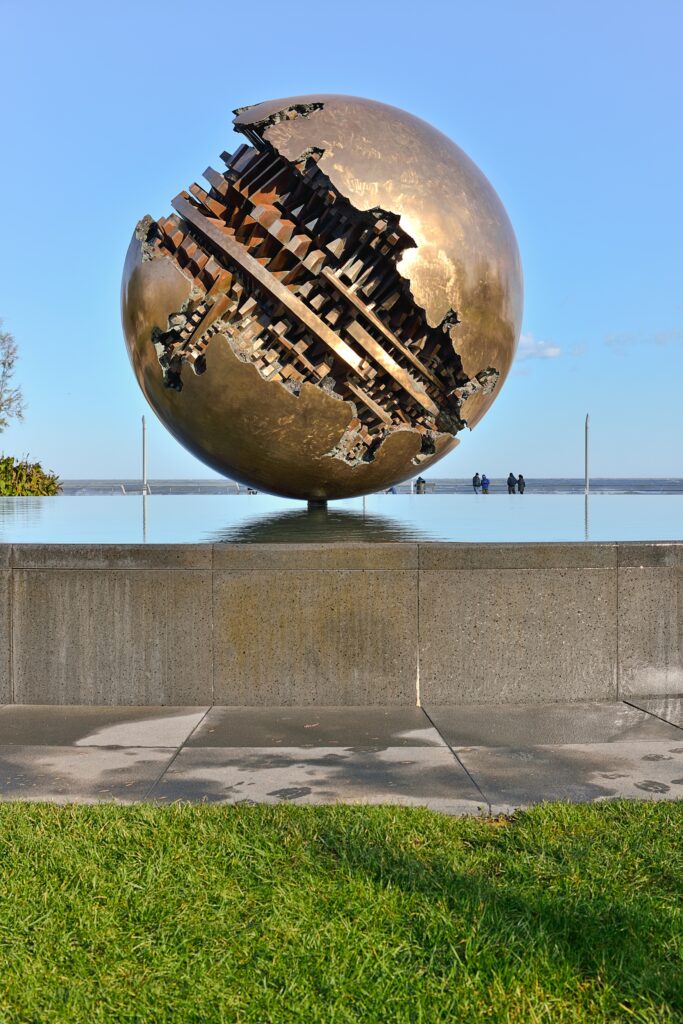 Pesaro, whose project is called La Natura della Cultura, or the Nature of Culture, won over other beautiful cities of Italy: Ascoli Piceno, Chioggia, Grosseto, Mesagne, Sestri Levante/Tigullio, Siracusa, Paestum/Alto Cilento, Viareggio and Vicenza. It comes after other famous Italian cities, which were honored with the title: Procida is our capital of culture right now, while Brescia and Bergamo, two cities that perhaps more than others suffered the dramatic consequences of the Covid-19 pandemic, will jointly hold the title in 2023. Parma, which had won the title for the year 2020, also held it for 2021, as most of what was planned could not be carried out in 2020 because of the lockdown.
Many of you, probably, remember other famous towns and cities that represented our culture and amazing heritage in the past: Cagliari, Siena, Ravenna, Lecce, and Perugia had the title in 2015; Mantova in 2016; Pistoia in 2017; Palermo in 2018. 2019 was the year of Matera, which got a step further and was elected European Capital of Culture.
The main theme of the candidature, as reported on the official website of the La Natura della Cultura project, is the relationship between art, environment, and technology, taking a leaf off UNESCO's seven clusters: craftsmanship, design, cinema, gastronomy, digital arts, manufacturing, and music. All of them are present in the Pesaro province's territory and are at the heart of the projects and events that will characterize the city's year as capital of culture. "It is necessary to invest in our land's soul and in how we can pass it on: the 'creativity of making' brings together the artist and the craftsman, the businessman and the active citizen. It is a challenge that must transcend political views and focus on giving new opportunities to a whole community," it is written on pesaro2024, the official webpage of the project.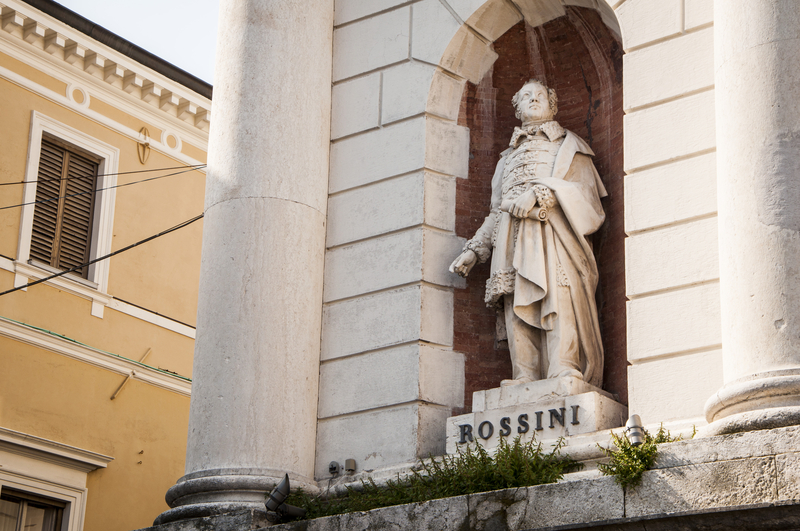 And Pesaro, for sure, has a lot to show to the world and a lot to offer. The city is known for being the birthplace of Gioacchino Rossini and it is also in name of this important connection that it has become home to one of the world's most famous opera festivals, the Rossini Opera Festival which, this year, will take place between July and August. But there is not only music here: Pesaro's historical center is elegant and filled with small alleys and craftsmen's ateliers, especially those of local ceramisti, which produce famous ceramica pesarese, Pesaro pottery. Palazzo Ducale, Casa Rossini, and the Villa Imperiale are only some of the historical and architectural beauties to see. But we shouldn't forget that Pesaro is also a seaside town, with some 7 km (just above 4 miles) of beaches along the crystal-clear Adriatic Sea.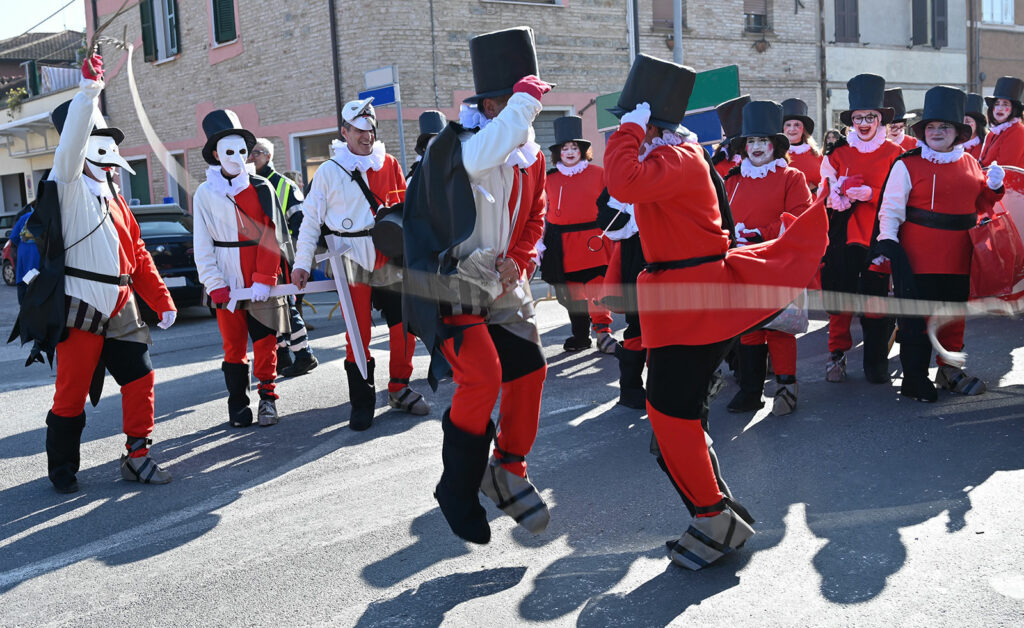 Around the city, nature lovers can discover the Parco San Bartolo, a national park created in 1994 to valorize and protect the natural landscape and the fauna of the San Bartolo mountain. Here, striking views of the sea and the coast can be enjoyed while trekking and discovering beautiful corners of the local territory. The park also includes a small promontory, known for its grottos and cliffs, that was even mentioned by Dante in the Inferno (XXVII, 76-90).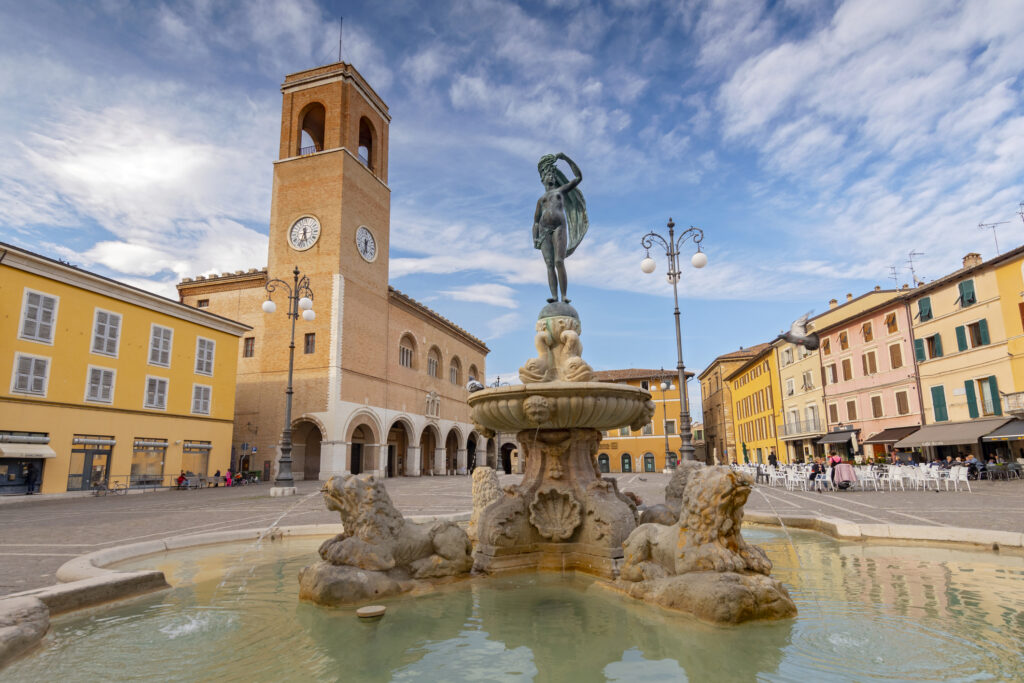 If you are planning to visit Pesaro soon, you may like to know what to order at the restaurant, too. As you would expect from a city by the sea, there is a lot of fresh fish and seafood to be enjoyed. Minestra di seppie, or cuttlefish soup, is a traditional dish of Pesaro and other towns of the area like Gabicce and Fano. It brings together, a bit like surf-and-turf dishes popular a bit everywhere in the world, ingredients of the soil and of the sea together, to create a wholesome mix of cuttlefish, peas and tomatoes and, of course, some fresh pasta to make it all more filling. Pesaro is also known for its triglia alla Pesarese, or Pesaro-style mullet. This is a bona fide cucina povera dish or, at least, it was born like that, because mullet used to be a pretty cheap fish – although the presence of other, higher-end ingredients may be used to refute this view. Key here, beside the fish of course, are sage leaves and prosciutto: you clean the mullet, you add a little salt and pepper, a sage leave, then you wrap it all in a slice of prosciutto and bake. If you like seafood more, we have also stuffed cuttlefish and garagoli, a type of shellfish sautéed in oil with a blend of traditional spices.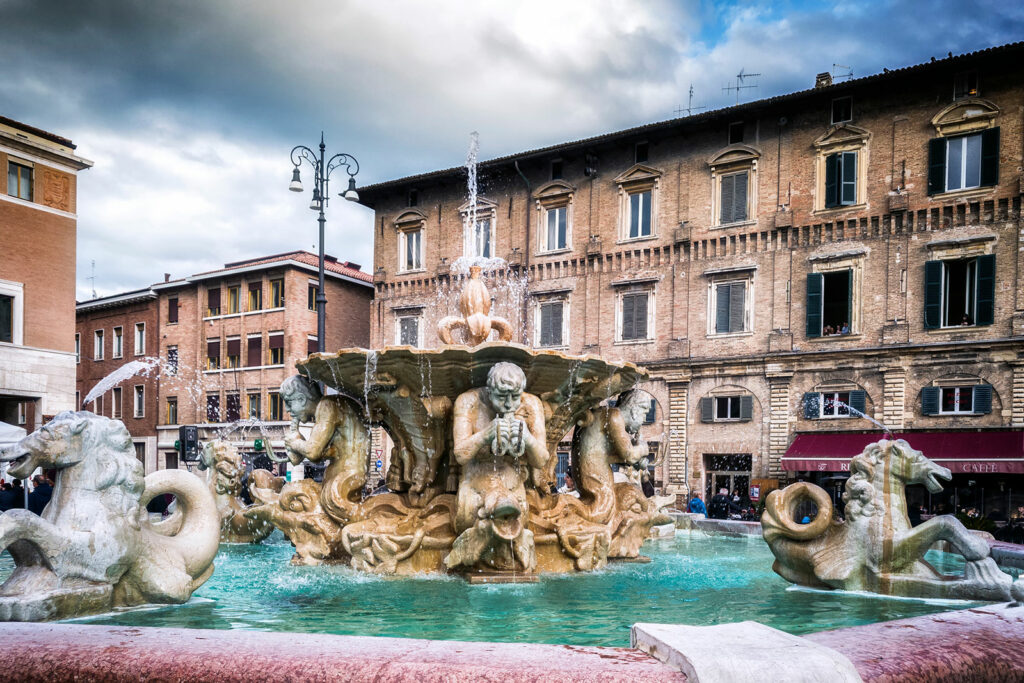 In many other respects, Pesaro – and Marche in general – remains under the influence of their neighbor Emilia-Romagna. That's why you'll find here, too, cappelletti among the most traditional main dishes. Cappelletti in Pesaro are similar to tortellini, but they are filled with roast pork, capon or turkey, offal, eggs, pepper, nutmeg, and parmigiano. Of course, they are served in broth. Pesaro also has a dish dedicated to its most beloved child, the cannelloni alla Rossini: made exclusively by hand, these cannelloni are filled with chicken and veal liver, butter, porcini mushrooms, sage or thyme, and a pinch of salt and pepper.
If you have a sweet tooth, then you should try Pesaro's traditional bostrengo, a cake made with boiled rice, dried figs, honey, cornflour, sultanas, alchermes, cocoa, and apples: filling and comforting. But there are other delicacies to enjoy, like cresciole. Cresciole are like a mix between pancakes, or even better crepes (for their size) and frappe (or bugie) for their texture and taste: they are typical of Carnevale, crunchy and light, even if they are deep-fried. Their history is quite curious, because they were created as a way not to waste leftover polenta: once upon a time, when cornflour and polenta were the key ingredient and dish of our diet, especially in the countryside, not an ounce of it had to be wasted. So, it was common to use any leftovers to make little pancakes for children, that they could enjoy as a snack. To make cresciole, you need to use cooked polenta, crumble it and mix it with water and some regular flour, which is then fried and covered in sugar. Simple and delicious, just like so much of our cuisine.