Davide Locatelli's love for the 88 keys of the piano manifested early on when he started playing at just three years old, supervised by his father, a musician and music lover. A few years later, he was already prepared to take the theory and solfeggio exams at the conservatory. On the day of the exam, at just 9 years old, he sat next to a candidate who was about 35 years old. The teacher, addressing the latter, said, "Your son cannot stay here."
From that day on, nothing has stopped Davide Locatelli, born in 1992 and originally from Valbrembo, in the province of Bergamo. After years of study at the conservatories of Brescia, Verona, Mantua, and Milan, he earned a degree in classical piano, one in composition, and one in jazz piano. Today, at 31, Davide has released three albums and collaborated with the Dolce & Gabbana brand, for which he composes and performs piano pieces during the brand's fashion shows, from Paris and Portofino to Japan.
How did your career start?
My first real experience was in 2015, when Canale 5 called me to participate in "Tu si Que Vales." At that time, I had 200,000 followers on my Facebook profile. There, I performed my rock piano version of Vivaldi's Summer. The performance became one of the most-watched on Canale 5's website. When I published the piece that I wanted to perform in the finals, which was the theme from Pirates of the Caribbean, it reached two million views within a short time. Thanks to that experience, I met Francesco Facchinetti, who was my manager for seven years.
And your first album came out when you were only 17 years old.
Yes, "La vie en… rock," which I performed at my concerts for the next three years, totaling 500 dates. It was a very innovative album because I played the piano as if I were creating rock music. Later, I signed with Sony, and that's when my journey as a pianist and composer really took off. I was arranging and composing either covers or my own songs. My first single with them was the theme from The Pirates of the Caribbean, which was also used on the film's official page to promote The Pirates of the Caribbean 5.
How did the collaboration with Dolce & Gabbana come about?
In 2018, I got a message from Domenico Dolce's agent asking me to play at his birthday party in Agrigento, an offer I had to turn down, however, because I already had a sold-out date in a theater in Florence and couldn't cancel it. I have been a lover of the brand for years, so having to say no was very difficult.
What happened next?
One day, a year later, I was in Bergamo and got a call from a friend, who invited me to Florence to play at a Dolce & Gabbana event, the brand's first event after the pandemic. It was meant to be that way.
Do you also play your own pieces for the fashion shows?
Yes, for example, Sugarland and Hyper Silent. Among my own pieces that I'm very attached to is also Experience, which sadly became popular in 2020 when it served as the soundtrack for a video dedicated to my city, Bergamo, which was hit by Covid.
What exactly did you do for them?
I compose music and play during fashion shows. I composed music for two fashion commercials, and I played for a lot of their clients, including the Trump family. The company has given me a lot of responsibility and made me travel the world. I also help them find other artists for specific things requested by the designers. For example, I recently composed music for a children's choir that wanted to perform Gregorian chanting for a D&G Beauty exhibition. It's a collaboration that continues to this day and has also become a friendship.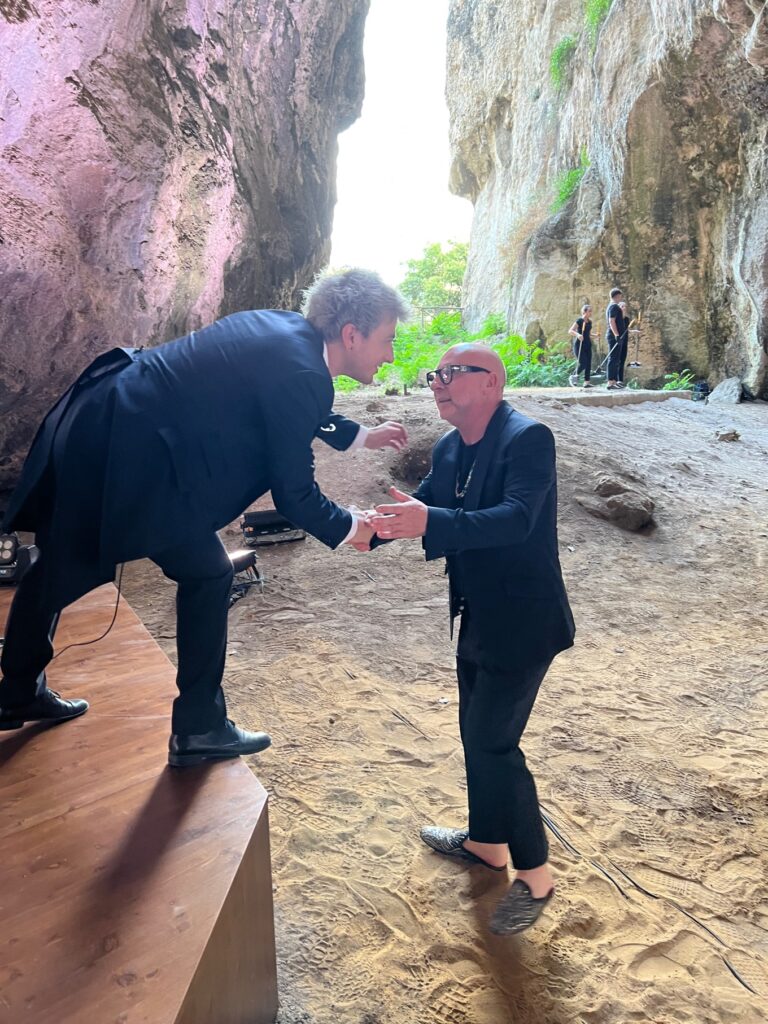 What determined your first success?
I remember the first video I did was a cover of Zombie by The Cranberries. No pianist had ever taken a rock song and done it on the piano. I mixed two opposite worlds, and it worked. That helped me a lot to make my way and to get to my last album, This is Dave, released in 2021, an album that represents me in full.
How does it represent you?
It's an album where I wanted to try crossover, which means mixing things that are at opposite ends: in my case, classical piano music with contemporary music, from trap to rock and other genres, using the piano as if it were a voice. Now I'd like to take this approach to music to the United States.
What projects have you carried out this year?
This year, I set a Guinness World Record by performing a piano concert on the highest peak in the world. I played in India on June 29th on the summit of Khardung La. I've long wanted to play on a mountain since I'm passionate about mountaineering. When I found out that there was a Guinness World Record related to this and that one could choose a peak in Venezuela, China, or India, I decided to go for it and opted for India. After a lot of difficulties, I finally succeeded.
What did you have to do to set the world record?
The challenge was to play at 5,400 meters (17,716 feet). I had to train for three months to get my breath accustomed to these altitudes. I also did some training tests on site, and on the day of the record, everything went well. You have to play for more than 15 minutes. I performed only my own pieces, telling my story from the earliest compositions to the latest single. After the performance, I had to be on oxygen for two hours.
Which pianists inspire you?
Ludovico Einaudi has definitely been my virtual teacher. He remains a point of reference for me.
What are you most proud of in your career so far?
I am proud that I have never plummeted as happens to many, especially after a talent show. I have always managed to maintain my success and increase it.
What are your goals for your new adventure in the USA?
To compose music for films, as Los Angeles is the capital of cinema.