Did you know that tour guides in Italy need to pass university-level exams in order to obtain a tour guide license?
Visitors to Italy often want a private tour of some of the historic and artistic sites throughout the country. We sat down with our friend Floriana Carnevali, who has been a guide licensed by the Italian government since 2012, and asked her to tell us a little bit about this profession.
"Guides must pass a separate test for each language," Floriana explains. "Sometimes people have to take the test several times before they pass." For the exams, prospective guides have to demonstrate extensive knowledge in a particular province — for example, Floriana is an expert in our area, the Viterbo province north of Rome. Often called the Tuscia, this is an area rich in Etruscan (pre-Roman) history as well as Roman, medieval, and Renaissance periods.
"Guides have to have a deep knowledge of the geography, archaeology, art history, and enogastronomia [wine and food] of their area," she says, "as well as a fluency in the languages they will use." Guides may only conduct tours in the languages they are licensed in; the languages are printed on their government-issued ID badges. Floriana is Italian, fluent in English — she is also a Cambridge-certified English teacher — and she's licensed to conduct tours in Italian, English, French, and Spanish.
Until recent years, a guide was only permitted to conduct tours in their own province; that is, a guide licensed in Rome couldn't lead a tour in Florence, or vice versa. However, in an effort to enhance tourism, the government has relaxed and unified the certification requirements. Now, a guide like Floriana is an expert in one area, as the exams are still regional; but they can conduct a tour anywhere in the country.
Nevertheless, Floriana prefers to stick close to home. "I like to concentrate on tours in my area," she says. "I can dig much deeper into the local history and traditions, and that makes a more interesting presentation, I think."
A tour guide's license lasts forever, but many guides regard that as a minimum knowledge base. Some, like Floriana, keep up to date on new scholarship and research about the historical sites they visit with tourists. During slow tourism periods (especially in winter), conferences and conventions take place, where guides can learn and add to their base of knowledge. Many tour guides take their work as a labor of love as well as a livelihood, seeking out additional information about their area whenever and wherever they can find it. What they relay in their tours reflects the extra research they've done, beyond what was necessary for the original exams.
For instance, Floriana's approach to her tour of the Sacro Bosco di Bomarzo (also known as the Parco dei Mostri or "Park of Monsters") is fascinating and unique: "I incorporate new historical scholarship into the visit — some of it hasn't even been published yet. So people can see these fantastic sculptures in a new light."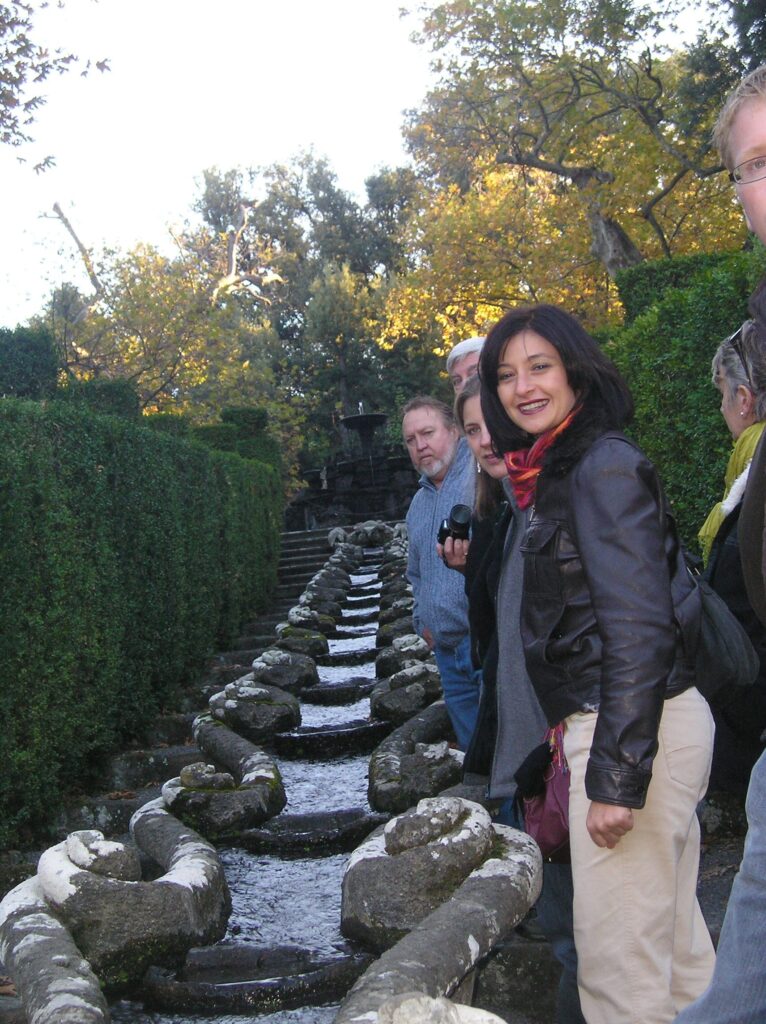 Floriana also suggests that tourists communicate with their guide in advance, to let them know about the ages and interests of the group. "I try to design a tour depending on each group of clients, and I keep up with different aspects of each site." With advance notice, she explains, a guide can change the presentation if it's a group with a lot of youngsters, or if it's a group of art historians.
For many of the tourist sites in Italy, particularly those conducted indoors, guided groups are required by law to use "whispers." This doesn't mean just speaking in a quiet voice. "Whispers" refers to the audio apparatus used by guides.
"The visitors use 'auricolari' — like ear-buds — tuned into the guide's headset microphone," Floriana explains. "So we can speak in a normal, quiet voice, and not disturb other groups or individuals." This is especially useful at indoor locations like churches and palazzi and some museums, she said – and it's obligatory.
How does one find a good private guide? "It's best to find a company that focuses on the specific area you want to visit," Floriana advises, "so that your guide is more likely to be well-versed in the local sites." Moreover, a big nationwide or international company means a lot of middle-man percentages; a local company can offer a better price for a group as well as a local guide.
Floriana has many interesting stories from her many years of leading tours. One has to do with tipping. Many tourists, of course, are from the United States, and they sometimes tip in US dollars. "Tour guides and coach (bus) drivers have a sort of network," Floriana says. "If someone is going to visit the US, other guides give that person their dollars in exchange for Euros. It's the only way many of them can actually ever use that tip money." [Our takeaway: Please tip your guides in local currency!]
Another story she related was about guiding a tour to a winery visit on Lago Bracciano. It was a friendly, lively tour group of Americans. "As everyone was tasting wine and taking in the beautiful vineyards, one visitor asked me: what do you do when you're not leading tours?" Among several jobs, Floriana works teaching English; and she is also a singer — a soprano with a deep background in classical music, including opera and musical theatre. "I told them I had just come from performing a concert at a castle not far away, singing opera arias with a tenor." Upon hearing this, of course, the visitors were very excited, and they asked her several times to sing. "I felt so relaxed with these nice people in that beautiful place, and the wine had started to pour — so finally I sang a little bit of O Sole Mio." One woman started crying a bit, she said, and the sun started setting over the vine-covered hillside. "It was a perfect 'Italian moment' — and they gave me a very generous tip afterwards!"
And in this case, she added happily, the tip was in Euros.
About the authors: Zeneba & Matt moved from the U.S. to Italy in 2019, where they live and work as performing musicians. They are also authors of four award-winning travel guidebooks, and as Little Roads Europe they craft itineraries for travelers who want to visit small towns and enjoy authentic experiences in Italy and Ireland. www.littleroadseurope.com