Giorgio Faletti was a multitalented artist: a gifted crime novelist, an inspired singer-songwriter, a stand-up comedian, and an actor who added dramatic dimensions to his onscreen persona.
The adventurous storyteller died of lung cancer in 2014 in Turin, at age 63 on July 4, America's Independence Day anniversary. It was just a coincidence, yet that synchronicity or sad irony helps me evoke and revive his natural, strong feelings of love for the US.
Faletti was born in Asti, a medieval town in Piedmont that is a food and wine lover's paradise. But he was enamored with cars, American culture, and the American way of life.
In the 1970s, after graduating from law school, he began performing standup comedy at the Milanese Club "Derby." His TV career kicked off in the 1980s with the cult variety show Drive-In, where he created a range of oddball characters such as Vito Catozzo and Suor Daliso.
In the meantime, Faletti's innovative career had opened to music and that remained a constant in his creativity. He wrote songs that were hits for other artists such as Mina, Milva, Angelo Branduardi among others. In the mid-'90s he competed in the Italian Song Festival in Sanremo, surprising the audience and critics with songs that expressed a deeply reflective, melancholy side.
In 2002, his debut as a crime writer was even more unexpected: he became Italy's publishing sensation of the early 2000s with the thriller Io Uccido (I Kill), which has sold 5 million copies. Faletti's books have been translated into 25 languages. La Nave di Teseo publishing house has just republished all his work and his novel A Pimp's Notes was recently adapted into a film produced by Luca Barbareschi, but its release was postponed due to Covid-19 restrictions.
I interviewed Mr. Faletti several times along his multifaceted career. When he talked about his wife Roberta, "a sweet architect" who renovated their "stone house" and love nest on Elba Island, his eyes would light up. They would become even more aquamarine.
"My husband was quite fond of that place, our treasured home on Elba," remarks Roberta Bellesini Faletti in recalling her relationships with the versatile artist and his intense feeling for America. "We were so close despite the age difference, 20 years, but he was keeping his spirit young," she says.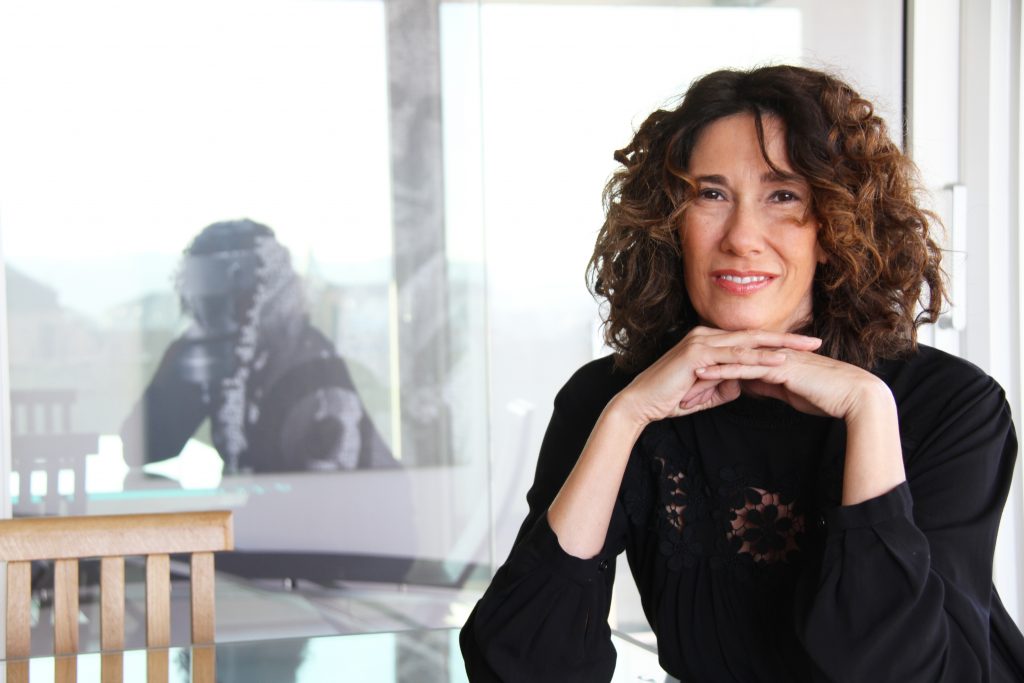 Ms. Bellesini Faletti, why did he set the second novel, Niente di Vero Tranne gli Occhi (The Killer in My Eyes), in NYC?
"After achieving great success with his first thriller I Kill, Giorgio was contemplating the next novel. He decided to pick NYC as a setting but a problem arose: he had never been to the US before and was over 50. One day, he told me: 'Well, this is a good time to go; I will find inspiration there.' In October 2003, we left for NYC where we stayed a month. Giorgio already had a good idea of how the story would unfold but he needed to see the key locations and do extra research to strengthen his knowledge and flesh out his book. He needed to breathe the atmosphere of the city."
The Killer In My Eyes became another bestseller. Then he did write some short stories set in the US.
"Yes, they were included in Crimini, an anthology of crime stories by different Italian noir writers. The project also included a TV series produced by RAI, the Italian national TV channel. Rai Corporation held a press conference at its elegant studios on 32 Avenue of the Americas. We were also guests of the Italian Cultural Institute of New York. We stayed in the city for a long time. It was the year when Lehman Brothers collapsed, shaking financial markets worldwide. The housing market was depressed and I remember my husband telling me: 'Let's contact a real estate agent: we'd better take a look at some apartments!'"
So you bought one!
"It is exactly what we did. After seeing a handful of spaces, we fell in love with the charming Rose Hill neighborhood today populated with landmark architecture. The residential building located at East 29th Street between Madison Avenue and Park Avenue was still under construction. We picked an apartment on the 29th floor."
Do you still own the New York apartment?
"No, I sold it after Giorgio passed away. It made me suffer because we had found it together and furnished it together according to our taste, the Italian taste, you know. The memories we made there, bit by bit, laugh by laugh, made it difficult to go back there by myself. But it was a home that I liked a lot. However, we were lucky to have lived it for a few years. Every year, we stayed for three months."
He was a renowned comedian when he disclosed to me that his writing was underway. He also told me that his literary idol was Jeffrey Deaver, an American mystery and crime writer best known for his Lincoln Rhyme thrillers. I used to interview Deaver twice a year and he was scheduled to come to Milan within a few weeks again. So I passed along to Faletti the date and the location of Deaver's visit. And they met, I guess. Their friendship flourished naturally because when I saw Deaver again the following year he told me about Faletti. Then they both suffered from a minor stroke and one day Deaver mentioned to me that sad commonality and referred to Giorgio as a "brother."
"Yes, they became good friends. They both loved good food and good wine. They also discussed co-writing a book that combined food recipes and memoirs. They both liked experimenting with cooking. Then, due to various problems, the project did not go through. But then in 2017, Jeffrey dedicated the crime novel The Burial Hour (Il Valzer dell'Impiccato) to the memory of his friend Giorgio."
In 2019, the America Award by the Italy-USA Foundation was conferred in memory of Giorgio Faletti. You received the award at the Italian Parliament. What would have been his reaction?
"He would have been so happy, deeply honored, and even moved. Giorgio always loved the United States. That award was the icing on the cake… He was fond of American literature, American cinema, and American comics. The United States had entered our hearts. He deeply appreciated the meritocracy that characterizes the American society, a fundamental value that in Italy does not exist."
How did Faletti feel in Italy?
"Sometimes he felt very confined, especially when he started his writing career. After the huge success of the thriller I Kill, there were snobby people with their noses in the air who doubted that Giorgio could write. And when the second book The Killer in My Eyes came out, some of them even though Jeffery Deaver might have been Giorgio's ghostwriter. All that sounded so absurd! Is not that crazy? Jeffery was a dear friend and that's it. Giorgio had to endure incredible things."
Then Faletti's third novel, Outside of an Evident Destiny, is set in Arizona among the Navajo people to whom Faletti dedicated the book.
"The three months spent in the Navajo Nation for the research are unforgettable. We traveled through the Indian reservation in Arizona, New Mexico, and Utah, and what we saw ignited our senses. Such a wonderful experience."
What about California? You stayed in Los Angeles in the last months of his life trying treatments…
"Yes, that is correct. He loved California's vibrant nature. Another year, we stayed in San Francisco; we drove through Monterey, the Napa Valley… Such an array of scenic, stunning and exciting places. In Los Angeles, Giorgio would lose himself in the major film studios full of magic… We also visited Martha De Laurentiis, the wife of the legendary late producer Dino De Laurentiis."
Faletti once told me that the thriller I Kill was about to become a movie. Any updates on that?
"Movie producer Aurelio De Laurentiis had bought the rights of the book and still has them. Aurelio had several film scripts written, but no one had ever convinced him. It is difficult to make a movie from such a complex story. Too many things would have been lost. So some months after Giorgio's death, Aurelio called to invite me on board his yacht in Capri to discuss the project. In August 2015 in Capri, he told me: 'I thought about it a lot but a feature film will not work. I am thinking about a television series instead.' I said I was playing around with ideas for a TV series as well. We agreed on this. So we developed the structure of a TV series script in 12 episodes covering the whole plot. Each episode is about 50 minutes long."
Who wrote the TV script?
"Aurelio chose Anthony Cipriano, author of the acclaimed series Bates Motel. Every time Anthony wrote an episode, he would send it to me. I wanted to supervise the character development as Giorgio fleshed out characters so well, included the minor ones. In August 2016 at Aurelio's house in Beverly Hills, I met Anthony and together defined the ultimate things. Now De Laurentiis is in search of a suitable co-producer. It is an ambitious project due to the many special effects and the Monte Carlo setting which is quite challenging. But it will happen. Aurelio and his son Luigi believe in it."
What do you miss the most about Faletti?
"I miss everything about him, the daily life together. We were living in symbiosis. I miss him around the house, while inventing a recipe, or rehearsing a song on the keyboards… He always had that fresh thinking, that creativity. And I do miss his great resources: joy, laughter, happiness."
Joy is closely connected with melancholy. And Faletti had that veil of melancholy that often comedians have, that kind of blues…
"Giorgio had a constructive melancholy. He was melancholic in the last step of a creative process, the revision stage. On the one hand, he did not want to let go of the project he was about to complete, and on the other hand, he felt the urge to embrace the next challenge. He looked forward to creating something new. On that stage, he feared: 'I will no longer be able to write a book as compelling as this or a song as beautiful as this.' Then, he suffered from mild depression."
Why did he feel the necessity to explore different creative fields?
"Because he always needed to feel the adrenaline of a rookie. That was a trait of his personality. He explored his inner world by experimenting with new ways of expressing himself. Every time, he picked what he considered the most suitable medium for him."
With the thriller Io sono Dio (I Am God), released in 2009, he showed an obsession with the Vietnam War…
"Yes, indeed. He was obsessed with it. He read all kinds of books about the subject. We went to Saigon and into the jungle. Through I am God he wanted to convey the madness of a shell-shocked veteran and the consequences for the community."
A few books were also published posthumously, included La Piuma (The Feather).
"That work was originally conceived as a musical. He had in mind a musical. Music was a constant element in his life and his books."
He was obsessed with musicals.
"He loved the genre. In NYC we saw so many Broadway musicals."
Was his beautiful yet bitter song "Signor Tenente" inspired by the Capaci and Via D'Amelio mafia massacres?
"Yes, he was numb with shock when those monstrous things happened. My husband had many friends in the police department. He heard their stories and felt their fear."
Are there still unpublished materials of Faletti? Book manuscripts, songs? Once he told me that he had a drawer full of notebooks filled with lyrics.
"Before passing away, he collected many of his songs into a double CD entitled Da Quando a Ora, but yes, there are still some lyrics around."
"Giorgio would have liked to direct the show but he could not make it. The play consists of 8 monologues and 8 songs. Actress Chiara Buratti and musician Andrea Mirò did a great job. We had a wonderful experience in New York."
Could you please share a phrase he often said that we all should treasure?
"He often said that the best gift a human being can give to another human being is to make them smile, give them a moment of serenity amid life's problems. He always did that and seeing other people happy made him happy."