For the longest time, Bologna has been happily known as "The Learned," "The Fat," or "The Red." Until a few months ago, however, the city seemed to have lost her fame of capitale dei tortellini and of traditional delis with salumi hanging from the ceiling, to get that of city of Taglieri, that is, of cheap, poor quality food contaminated by flavors that little had to do with Italy's culinary tradition. Today, Bologna has got her old role back, thanks to the FICO (Fabbrica Italiana Contadina, or Italian Country Factory) Eataly World project, the largest park in the world dedicated to the Italian food and agriculture industry.
The park will open on the 15th of November and will include two hectares of cultivated fields, forty factories, forty five restaurants, twelve teaching rooms, a theater, a cinema, a one thousand seats congress center and six carousels. The project is also supported by four universities.
In other words, an enormous container that Oscar Farinetti, head of Eataly, defines "a large amusement park with all the best the 'Made in Italy' produces and represents: restaurants, learning opportunities, agriculture." The FICO Eataly World project is just like a twenty thousand square meters farm, where cultures are developed and animals farmed, including two thousands of Italy's most representative agricultural varieties and two hundred Italian farm animal species like Romagna's Mora piglets, Sardinian sheep, Frisian cows, along with goats, chickens and hens.
A true "Noah's Ark" of our own biodiversity, where visitors can understand Italian agriculture while admiring centuries old fruit and olive trees, cereal fields and even a truffle searching ground and a hop-garden. Indoors, within the Fabbrica Italiana Contadina, the world can learn how our best loved delicacies are born. The project includes eighty thousand square meters of factories, entirely open to the public, where the procedures behind the creation of some of our most iconic products are shown: Prosciutto di Parma and other local cold cuts like mortadella, but also those made with Cinta Senese and Nero Calabrese pigs, along with Parmigiano Reggiano, Grana Padano, Squacquerone, breads, dry and fresh pastas, stone ground flours, rice, sauces and preserves. There's more, because visitors can also learn about eggs and fish processing, coffee roasting, chocolate and traditional candy making and, last but not least, oil, wine and beer production.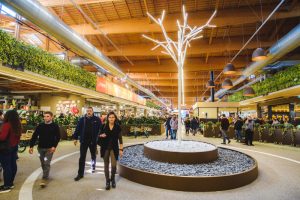 The pavilion of the future
At the heart of the Park a circular pavilion, named Area del Futuro, will propose a full immersion itinerary in the world of tank farming, where all will have the opportunity to grow their own food thanks to augmented reality. Visitors will be able to plant their seeds of choice in this indoor orchard and monitor their growth day by day until picking time comes, thanks to the Eataly World.
A few months ago, we interviewed Carlo Ratti, founder of the organization bearing his name and lecturer at the Massachusetts Institute of Technology: "Walking through this pavilion is just like walking through time while watching how plants grow. At the entrance, you'll find seeds and sprouts only to meet fully developed plants in a matter of meters."
In the city
In the meanwhile, during this early fall, confirmation that consolidates the efforts made during the summer arrives in the città dei portici, bringing along new interesting actors, even though large investments (such as those that were used to update Palazzo Bega) will arrive only in a few months. Three main centers are to be recreated with the world of food in mind; the historical Elios Printing will become Libra, a reality dedicated to healthy eating. At the beginning of November, the stables in Piazza Verdi will be renamed Scuderia, and will offer a mix of traditional cooking, under the supervision of Il Tortellino, and new approaches to fermentation. Finally, a new ambitious café will open in the Mondadori Megastore of Via d'Azeglio, with the collaboration of Gabriele Spinelli from Dolce e Salato. But this, only at the beginning of 2018.
More about special projects: recently the city has welcomed another protagonist of regional cuisine, Alberto Faccani, leader of Cesenatico's restaurant Magnolia. In Bologna, he's been running I Conoscenti, located under Via Manzoni's arcades. The cooking is sophisticated yet informal, and proposes tapas to enjoy along with the many cocktails on the menu: "cocktails and food" is, indeed, the restaurant's byline.
Il Pappagallo, historical name of Bologna's restoration, in Piazza della Mercanzia, followed a similar route and reinvented itself as a bistrot serving exceptional local salumi. A new entry in the city, on the other hand, is a well established Rimini reality: Bio's Kitchen, a project focusing on organic produce and vegan and vegetarian options, which is about to open in Via Galliera. It'll also be a pizzeria.
Export
Exports of Bologna's amazing culinary tradition and products are all US oriented. Emilia-Romagna has been among the first regions to have become active on American shores with the creation of Food Valley dell'Emilia-Romagna, a project that sits the world to the kitchen table by exhibiting its own products in the best of international windows, New York City. From Parmigiano Reggiano to Prosciutto di Parma, from balsamic vinegar to piadina romagnola, from Modena's cotechino to Bologna's mortadella, all the way to filled pastas, wines and Cervia salt. All great names and brands, symbols of a traditional way to produce food that remains synonym with quality and excellence, from the orchard to the table.
Emilia-Romagna is the first area in Europe for DOP and IGP products (forty four), a guarantee of their quality and authenticity. It is also home to Osteria Francescana, best world restaurant in 2016, its food defined by Forbes "Italy's greatest gastronomic treasure," and protagonist, last year, of the first Settimana della cucina Italiana nel mondo.