Art, in all its forms and shapes, is the most immediate and beautiful of all ways of communicating: a painting, a song, a piece of poetry, a palace or a church, they all tell a story. A story of emotions and feelings, filtered through colors, shapes and sounds. What an amazing world, that of the artist, gifted and blessed with the most universal of languages: creativity.
Artists communicate with the world through their art, but they also express their turmoil, their pain and their happiness. In a way, they allow us to glimpse into their more intimate self, something we should always feel grateful for, I believe. This is the starting point of our ideal walk through the rooms and corridors of the Italian American Museum of Los Angeles (IAMLA), where an exhibition dedicated to Italianità, Italian-ness, is about to begin. Central to the project is, beside that of "being Italian American," the idea of diaspora, of the dispersion all over the world of a people, something we strongly and rightly associate with the Jewish community, but that it has been experienced also by the people of Italy, during those faithful decades between the end of the 19th and the beginning of the 20th century, when more than 4 millions Italiani stuffed their dreams into a suitcase, crossed themselves and sailed to a new home to become first generation Italian American. And after them, many, many more made the same trip, on a ship or on a plane, but always with a dream in their pocket.
And for all of them, the US became home, while Italy remained that, too. A heart divided in two, a soul bearing two flags, a wealth of knowledge, traditions and heritage that created a new community, at once special and independent, but still strongly and profoundly attached to its roots. Because being Italian American means belonging to a culture which is naturally made of two, but is also unique, different from both: the child of a strong, courageous father and a breathtakingly beautiful mother with violet and frangipani scented skin. America and Italy, holding hands over the Atlantic Ocean, cradling their many, proud children.
How difficult is it, though, sometimes, to express this feeling? How hard can it become to describe and endure, this being whole and somehow severed at once, this being at home, yet longing for home at the same time? Here, artists can do what we can't: they can say it with a brush or a pen, a scalpel and a stone, a drop of color, a meaningful chiaroscuro.
Indeed, this is what the exhibition Italianità is all about: giving shape and colors to Italian American identity.
Enters Ralph Fasanella, the son of humble immigrants Joseph and Ginevra, a laborer and a seamstress with a passion for social causes and a fervent anti-fascist. In him, as it always happens in all children, the spirit of both parents mingled and developed, strength and roughness along with sensitivity and sense of justice. Fasanella's father and mother embodied typical Italian traits, opposite yet intertwined, an only apparent dichotomy, which speaks of Italian-American history and, indeed, identity.
And it is this exact idea he delivered so powerfully in his work, for us all to see: the only apparent naiveté of his lines and shapes, the primary, bold colors, so reminiscent of Frida Kahlo, quintessentially American scenes (a baseball game, the  New York's skyline, snapshots of women and men of all colors and ethnicities waiting for the bus in their overall and knee-length, chastised dresses), meet images of families having dinner in their kitchen, a crucifix dominating the room, which could have been inspired by thousands of Italians homes. Fasanella's America is that of his youth and community, so different from what he may have found in his parents' home country of Italy, yet Italy is present in the stark contrast of shades and shapes that so much reminds its multicolored, uncompromising nature and, indeed, also in some of what inspired him.
And there is the multi-faceted work of Italo Scanga, born in Calabria, raised in Pennsylvania and Michigan: an eclectic creator of sculptures and paintings where the myths of Italy's own cultural roots, those of the Greeks and the Romans, meet Christian saints in works spacing from sculpture to drawings and paintings, and showing a creative variety that embraces styles, means and materials. Italianità here has the shape of ancestral tradition expressed with all the creative power of the New World, filtered through the eye of an artist who was born in Italy, but became himself artistically in America.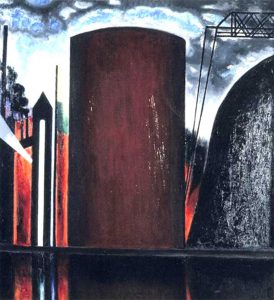 Then, we have Joseph Stella, Rico Lebrun, William Papaleo, Lola Scarpitta, Tina Gulotta, only to name a few: all children of Italy and America, all artists whose work came to represent, in its complexity and beauty, the core itself of the Italian diaspora, because in being different and afar, their art remains intrinsically tied by a silk ribbon of tradition and history that leads back to their old European home. It came to represent the heart of Italianità and Italian-American identity, because it mirrors, with its content and style, the varied and complex nature of people whose heart equally loves mother and father, Italy and America, and whose expressivity speaks both Italian and English.
Defining Italianità and truly understanding what being Italian American means is not simple: yet art, the most universal language of all, can help us do so, because it is immediate, visible, tangible and speaks the words and signs of beauty. This is why the Italianità exhibition at IAMLA is important: it gives a face to Italian American identity, it makes it visible, understandable to each and every one of us and demonstrates how having a heart and soul divided between two homes really looks like.