One of America's most beloved authors on the pleasures of food, wine, and community is Angelo Pellegrini, an Italian immigrant whose wisdom and impact as a cook, gardener, author, winemaker, and mentor are legendary.
Born into a humble sharecropper's family in rural Tuscany 120 years ago this spring, Pellegrini rose to excel in several fields. He was a beloved University of Washington professor, a thoughtful author who wrote honestly about the immigrant experience, and a passionate promoter of the pleasures of food, wine, and company. His home garden was so lush that Sunset magazine once sent a photographer to capture it in every season of the year.
Pellegrini was born in the small town of Casabianca in the rural Tuscan countryside, not far from Florence. His father Piacentino was a sharecropper who, like so many others, headed to America for a better life. Piacentino arrived in the US in 1912 and the following year, sent for his wife Annunziata and their five children, including Angelo.
The Pellegrini family set sail from Genoa on the Taormina, packed in like sardines with scores of other Italians, most from southern Italy. After the rough Atlantic crossing, they made their way by train to McCleary, a company town in western Washington where Piacentino had found work in the sawmill.
Ten-year-old Angelo arrived without knowing a single word of English. Despite his age and size, he started school as a first-grader. Any other child would have been distraught, but Pellegrini took to his schooling with gusto and advanced quickly. Within five years, he had completed eight years of elementary school. An excellent athlete, he also enjoyed putting his new English skills to use, participating in debate and drama clubs, and becoming a reporter for the school newspaper. Once again he was on the fast track, graduating from high school in three years. Next stop: University of Washington where he majored in history.
Later in his life, Pellegrini wrote about how "only in America" could an immigrant from peasant stock attain an education and succeed on his own merits. In his book called Immigrant's Return, Pellegrini wrote: "It is a fact that if my parents had had their way I should never have gone to college. They did not doubt that I had the ability to absorb the higher learning. But they had to be persuaded that I, their son, a Pellegrini and a peasant, had the privilege and the right to enter that other world, the world of the citizens and to overpass the distance which had traditionally separated us from the wealthy and the cultured."
Pellegrini enrolled in law school to satisfy his parents – neither of whom had attained more than two years of schooling – but he soon realized the law was not for him. His passion for language and literature won out. He switched careers to become a professor of speech and then of English, first at Whitman College and then at the University of Washington. He later earned a Ph.D. at the UW and that is where he met his wife Virginia; they married in 1934.
Despite his extraordinary academic rise, Pellegrini was best-known for extolling what he considered the essential ingredients of life: food, wine, and good company. This wasn't rocket science; it was simply how his Italian ancestors had lived for generations, following a way of life that was practical, healthy, and in harmony with nature. Pellegrini espoused "la cucina povera" (peasant cooking) which focused on simple recipes using fresh ingredients with minimal manipulation.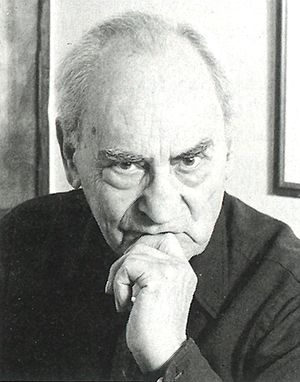 Friends and colleagues asked him many times to create a cookbook. When he finally undertook the task, he carried it out in a careful and thoughtful manner. First, he visited bookstores to see what cookbooks were already in print. That helped him decide not to create a traditional cookbook of recipes, but rather to incorporate stories and anecdotes drawn from the varied chapters of his life. In this way, he could illustrate the importance of food and its connection to community.
The Unprejudiced Palate, published first in 1948, is hailed as a classic today. Over the years, Pellegrini published nine books, including Americans by Choice, Immigrant's Return, Wine and the Good Life, The Food-Lover's Garden, and American Dream: an Immigrant's Quest.
Although their titles indicate they are about food and culture, in reality they delve much deeper into questions that were close to his heart: what does it mean to be Italian? How do we maintain connections with others? What is a life well-lived?
As someone who grew up poor, Pellegrini was practical in his approach to food and cooking. He encouraged Americans to select local ingredients, picked and eaten at the peak of ripeness. There was no magic to it. He truly believed that anyone could learn to cook, grow vegetables, bake delicious bread, make wine, and live in harmony with nature. One time a reader asked him for the secret to winemaking. His response: there is no recipe. Simply crush a ton of grapes into an appropriate container and wait for nature to do the rest. A response that is pure Pellegrini!
Pellegrini retired from teaching in 1973 but maintained an office at the UW where he continued to write until shortly before his death on November 1, 1991, at the age of 88. Today, his books continue to offer valuable lessons for how to achieve a life well-lived.