Far from the cacophony of day trippers, busy cafés, and shops selling everything-lemon lies an almost forgotten piece of Amalfi's rich and fascinating history. A steady climb from sea level along Via San Lorenzo leads past Amalfi's stunning Duomo, colorful pastel shop fronts, and numerous side alleys that entice the curious. The ascent levels off and culminates in what appears to be a quiet residential area along Via delle Cartiere – the "paper mill street."
If the street name isn't clue enough, a simple sign on a vine-laced building stating Museo della Carta (Paper Museum) makes apparent the tranquil quartiere's (neighborhood's) history. Waiting behind the humble wooden door is an immersion into the world of artisan papermaking, little changed from its beginnings centuries ago. Housed in an ancient paper mill dating to the 13th century, the museum is nothing less than a time machine. Guided tours whisk one away for an introduction to the industry that was a vital part of what made the ancient Maritime Republic of Amalfi an epicenter of trade, power, and wealth.
While Amalfi was the first production center for papermaking in Italy, the seaside village can't take credit for introducing the craft. As one of Italy's most powerful maritime republics during the Middle Ages, Amalfi's vast trade dealings brought wide exposure to various cultures. Through frequent contact with Arab traders who'd been taught papermaking by the Chinese, local artisans mastered the process. It didn't take long for the enterprising Amalfitani to realize paper was a valuable commodity. A robust trade economy required contracts – contracts required paper. Why not avoid the perils of importing from far-away lands and make it at home?
The Canneto River spills vigorously from the mountains towards the sea just above Amalfi, a perfect resource to power mills and provide water vital for paper production. Numerous mills soon appeared scattered alongside the Canneto where it carved the gentle valley above Amalfi. The Valle dei Mulini – Valley of the Mills – supported a vibrant industry that churned out Charta Bambagina, the high-quality paper ubiquitous in Amalfi. It wasn't long before dignitaries, including the Pope, throughout Southern Italy began using the superior paper for legal documents and correspondence. As Amalfi's paper gained a global audience, popularity and demand for the product soared.
Amalfi's papermaking heritage quite literally is a rags-to-riches story. The origins of the bambagina method of using rags to create paper came about thanks to the keen observation of a Chinese minister way back in 105 AC. Ts'ai Lun took note that as clothing was beaten during cleaning, tiny fibers were released into the wash water. As the fibers regrouped in the murky water, they clung together creating a product that, when dried, was ideal for writing upon. With a little bit of fine-tuning, Lun developed a predictable method for creating paper from cloth rags: a new paradigm replacing papyrus had entered the world.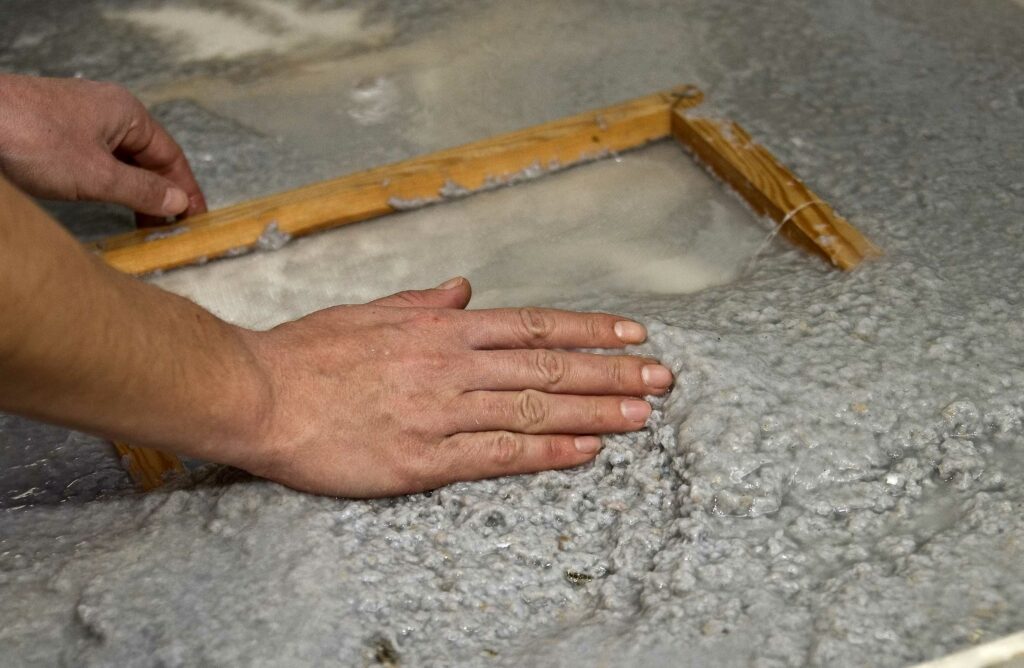 Empowered with this know-how, Amalfi's industry developed around a mechanical system hydraulically fueled by river water. Huge wooden mallets violently pounded prepared rags of cotton, hemp, and linen into pulp called "whole paste."
Immersed in a huge tile-lined vat filled with water and binding agents, the paste was rigorously stirred with a large wooden paddle until it blended into an opaque slurry. It was now ready for the next step. Small pallets of fine metal mesh bearing the producer's trademark, the "watermark," were securely sandwiched between wooden frames, then individually plunged and swirled through the emulsion in an almost choreographed manner. After a brief few moments, the pallet and its contents were carefully lifted. Appearing more like a mushy mess, the resulting product was then cradled between woolen felt, rid of its excess water under the grip of a powerful screw press, and hung out to dry. The result: a soft, finely textured paper ideal for ink and paint.
Amalfi's mills cranked out bambagina for hundreds of years, its quality and desirability the stuff of legends. Change is inevitable, though, and thus it came. The 1700s delivered the advent of utilizing wood pulp to create paper, a simplified process that decreased the demand for rag paper. The following century brought the Industrial Age and perhaps the coup-de-grâce to Amalfi's beloved industry. Despite their efficiency and ingenuity, the medieval paper mills could not keep up with the rapid and less costly manufacture that automation made possible. Even if Amalfi's production declined over the years, it never completely disappeared thanks to southern Italian tenacity and the value of tradition.
As late as 1954, Amalfi counted 16 paper mills still standing in the Valle dei Mulini, many of them still running small-scale productions. A devastating flood that year, however, literally changed the landscape. When the debris was cleared, only three mills remained. The tradition of artisan papermaking could not be so easily washed away, though, and lives on thanks to two local families whose roots are deeply planted in papermaking tradition.
Entering the doors of the Cartiera Amatruda mill located on Via delle Cartiere one might think, other than for the modern attire of the artisans, they'd stepped through a time warp into the 1500s. The noisy whirrs and hums of the ancient machinery still perform the labors to produce bambagina just as they have for hundreds of years under the watchful eyes of the Amatruda family. Their artisanal creations and love for tradition continue to provide Amalfi and the world with La Carta di Amalfi, a product coveted for formal invitations, stationary, painting, or simply for the joy of a beautifully crafted object.
For a hands-on experience, the earlier-mentioned Museo della Carta can't be missed. Established in 1969 by Nicola Milano to preserve his family's and Amalfi's history, the living museum features 500-year-old machinery that still functions using the Canneto's harnessed flow. Guided tours allow for total immersion in the process from start to finish. Those that don't mind sticking their hands in the "full paste" goop can even make a sheet of paper! It's a fascinating journey watching the elements of chiseled wood, stone, and cloth brought into harmony to create a luxurious product. At the end, a well-stocked gift shop makes it possible to take home your own selection of Amalfi's rags-to-riches history.