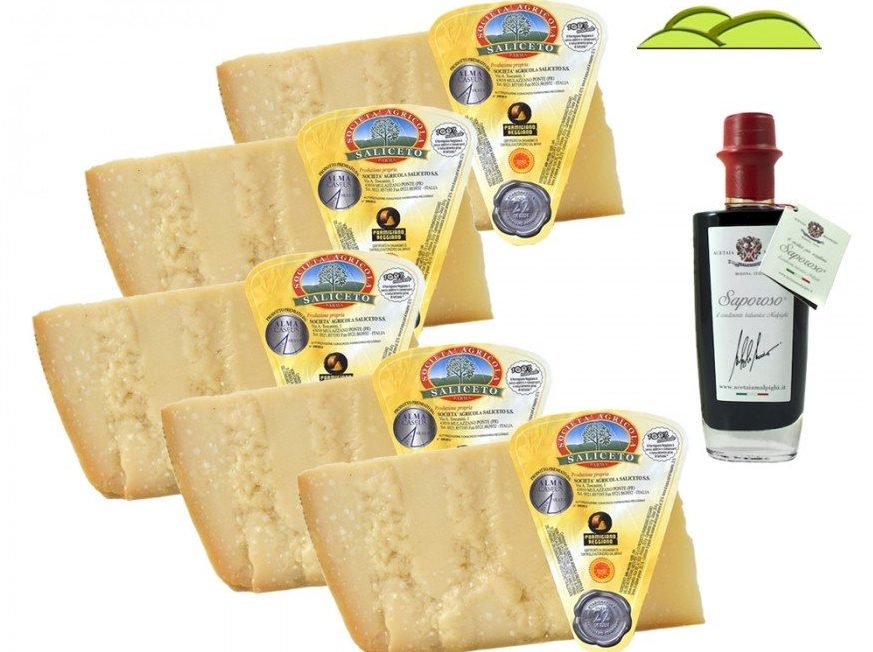 Parmigiano Reggiano Pdo from hill, I°quality 24 months, 5 Pieces each 1.350 Kg / 3 Lbs + Saporoso 100 ml
$181.28
5 singularly vacuum-packed pieces of Parmigiano Reggiano PDO cheese from hill, qual."Extra"
each weighing 3 Lbs / Kg.1,350 (for a total of 15 Lbs / Kg.6,750) seasoned 24 months
+ 1 bottle 100 ml. of balsamic dressing "Saporoso."A fire-branded mark onto Parmigiano Reggiano by the Consortium means it meets the requirements of Pdo
Directly from Parma the town of Parmigiano Reggiano cheese!
We are registered with FDA (Food & Drug Administration)
5 singularly vacuum-packed pieces of Parmigiano Reggiano PDO cheese from hill, qual."Extra"
each weighing 3 Lbs / Kg.1,350 (for a total of 15 Lbs / Kg.6,750) seasoned 24 months
+ 1 bottle 100 ml. of balsamic dressing "Saporoso"
EUROPE, USA, JAPAN DELIVERIES ONLY BY COURIER.
A fire-branded mark onto Parmigiano Reggiano by the Consortium means it meets the requirements of Pdo, the Protected Designation of Origin. It's made only with essential and genuine ingredients: milk, salt and rennet, following traditional methods, thanks to the art and wisdom of the Master cheese maker.
It takes 14 liters of milk for one kilo of Parmigiano-Reggiano.
Irreplaceable in the kitchen, it is universally known as the "King of cheeses"
We can ship these products to Europe, United States of America, Japan ONLY via courier.
Parmigiano Reggiano Allergens:
milk and products thereof
Saporoso allergens:
sulphurous dioxide as processing residue