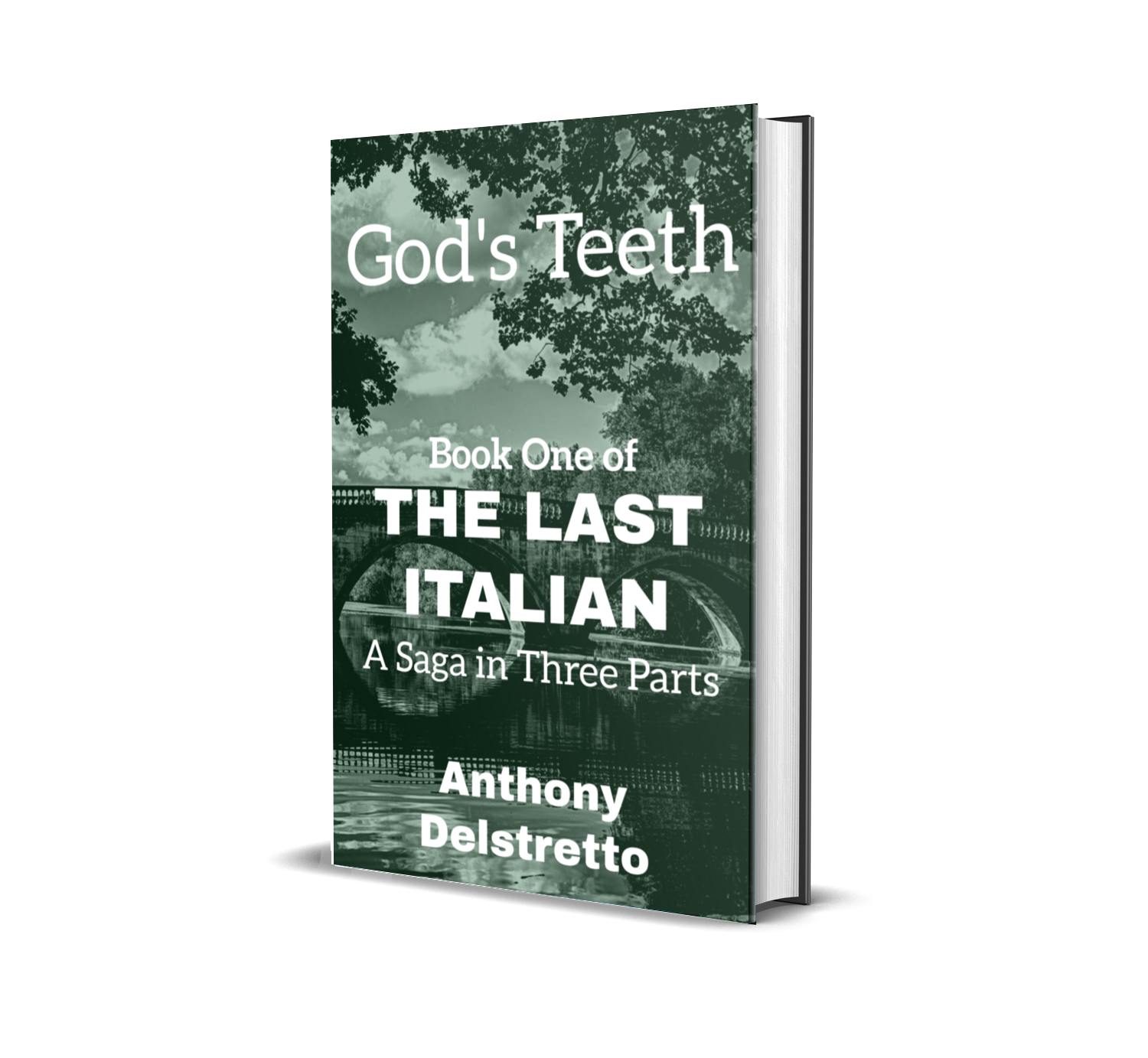 God's Teeth (The Last Italian: A Saga in Three Parts – Book 1)
by Anthony Delstretto (Author)
$9.75 Paper Version
$0.99 Kindle (Digital Version)

The Last Italian, A Saga in Three Parts begins in 1882 Italy and spans more than six decades of personal, social, and political tumult. Three generations of the Como and Vacci families face rapacious landowners, deadly epidemics, harrowing warfare, perilous immigration, and Fascist brutality during the Kingdom of Italy's final sixty-three turbulent years. Throughout, as the characters struggle to balance their commitments to love, loyalty, and honor against the implacable demands of survival, Fate forever stands ready to abruptly intervene. The other volumes in the series include:
BOOK 2: FATE'S RESTLESS FEET
BOOK 3: DEATH TO THE WOLF
Love, jealousy, murder, vendetta. All in the time of cholera. Then the brigands strike.
Carlo Como goes out fishing one dawn in 1882 on the wide river near his northern Italian village of Castrubello. But this morning Carlo hauls in a very different catch, one that will allow him to marry his love, Tonia, a worker in the town's dismal silk mill. But Carlo's discovery unleashes a chain of fate-driven events that will define himself and his family for decades to come.
Tonia's brother Ettore is determined to advance on his own merits. With a hot-headed partner, he travels south to carve The King's Road through the mountains of Campania. Ettore soon finds himself fighting an impossible deadline and a band of cut-throat brigands who swear to violently halt the brazen intruder threatening their mountain lair.
ABOUT THE SERIES
The Last Italian, A Saga in Three Parts begins in 1882 Italy and spans more than six decades of personal, social, and political tumult. Three generations of the Como and Vacci families face rapacious landowners, deadly epidemics, harrowing warfare, perilous immigration, and Fascist brutality during the Kingdom of Italy's final sixty-three turbulent years. Throughout, as the characters struggle to balance their commitments to love, loyalty, and honor against the implacable demands of survival, Fate forever stands ready to abruptly intervene. The other volumes in the series include:
BOOK 2: FATE'S RESTLESS FEET
It was expected to be a quick and glorious colonial conquest. War to the knife in a cactus labyrinth awaited.
In 1911, brothers Gianni and Renzo Como land with an elite Bersagliere regiment in Tripoli, Libya, as the Kingdom of Italy declares war on the Ottoman Empire. Renzo risks everything to live up to his duty to protect his brother during a treacherous battle fraught with confusion, courage, and cruelty.
Despite dire warnings, Angelina Scrivatti undertakes the perilous journey to America to claim a promise of marriage. She arrives at a Michigan mining town to discover the man she loves in the grip of alcoholic despair. They become swept up in a storm of ethnic violence one dark Christmas Eve — with a final chance for personal redemption.
BOOK 3: DEATH TO THE WOLF
Bitter winter descends on the Kingdom of Italy. The family, divided like Italia itself, stares into the abyss.
Ettore Vacci celebrates his 80th birthday in 1942 as Italy embraces its disastrous alliance with Nazi Germany. Serving with the Italian 8th Army near Stalingrad, Donato Como's unit faces a massive Soviet offensive and killing temperatures in a battle for survival on Russia's frozen steppes.
In Castrubello, Regina Vacci, Donato's beloved, courageously defies the Fascists' merciless persecution of Jews. Meanwhile, Ettore Vacci, shocked to witness his nephew Pietro Como rise to political power within Il Duce's iron regime, finds he must act — for justice, for Castrubello, for onore.
Learn more about author Anthony Delstretto and the research behind "The Last Italian: A Saga in Three Parts" at his website: https://adelstretto.wixsite.com/mysite