Ah! The Costiera Amalfitana! The beautiful Amalfi and the charming Positano, but also Ravello and the historical wealth of Pompeii. And then, out there, just a stone-throw away from the coast, there are its islands: Ischia, Procida, Ventotene, Ponza, and Capri, of course.
Capri today is synonymous with old-school glamor and the years of la dolce vita. Sophia Loren, la Lollo, the great names of the Hollywood gilded age: all of them have walked its paved piazzetta, admired the blue of its sea and, perhaps, took a relaxing dip in it. And we can't forget its faraglioni, nor the romantically and poetically named Grotta Azzurra, the blue grotto, which owes its name to the magic play of light and water that transforms it into an aquamarine-hued beauty. A place so otherworldly that our ancestors, the ancient Romans, under the reign of Emperor Tiberius, used it as a marine temple, as we know also thanks to the many statues found on its bottom, which are now on display at the Casa Rossa in Anacapri.
But the Grotta Azzurra isn't the only place in Capri where you can breathe in the scents and charms of ancient history. Indeed, the island is truly an imperial jewel, because Rome's first glorious Emperor, Augustus, made it his "home from home." Augustus used to vacation here, where he had a majestic villa and supported the construction of temples and other important buildings. Archaeology, however, tells us that the Romans weren't the first to lay their eyes and interests on the island. The Greeks were the first to settle there, sometimes around the 8th century BC: funnily enough, we have proof of their presence thanks to what is commonly known as the Phoenician Steps, that connects the Marina Grande to Capri town and that, despite their name, were built by Hellenic colonists.
So, when Augustus decided to get a holiday home in Capri, the island had already centuries of history on its shoulders. The findings of these early settlements were discovered by the Romans and Augustus, who had a penchant for history himself, as Roman historian Suetonius tells us, had some of them exhibited in the garden of his villa. After Augustus, it was his successor, the already-mentioned Tiberius, who took things a step further, increasing greatly the urban development of the island. Tiberius, in fact, spent the last 10 years of his life and reign in Capri, as he considered Rome not safe enough for him, fearful as he was to be killed by his opponents or fall victim to a coup.
But why was Tiberius so afraid of staying in Rome?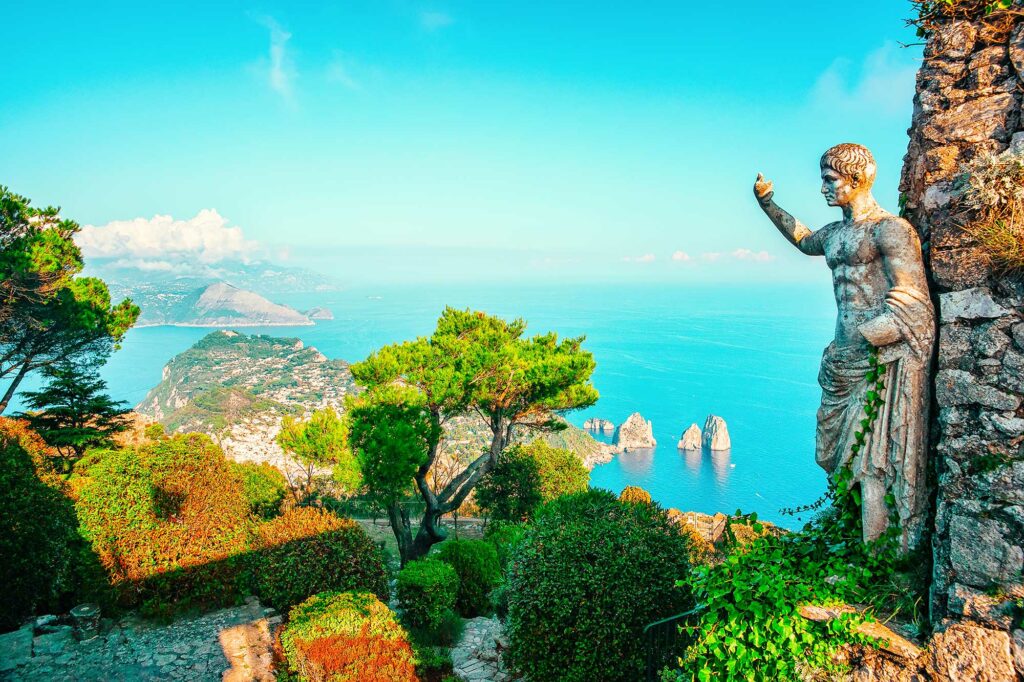 Well, he had a thing or two to fear, because he himself did not rise to power in the clearest of ways. Tiberius was Augustus' stepson, but his destiny wasn't that of ruling the Empire. Augustus wanted to leave power to one of his grandchildren, Caius and Lucius, the sons of Giulia, Augustus' daughter. Both of them, however, died in seemingly mysterious circumstances, and it was only then that Augustus designated Tiberius, known for his military prowess, as his imperial successor. According to some, the death of Augustus' grandchildren was the work of a true conspiracy that developed under the supervision of Livia, Augustus' wife – and Tiberius' mother.
We, of course, don't know if this is true at all, but certainly, at some stage, Tiberius no longer felt safe in the capital and began spending more and more time in Capri. During his reign, 12 villas were built on the island, the most famous of which is Villa Jovis, located in a little trafficked part of the island which was, back then, quite difficult to reach and, therefore, easier to protect and control. Interestingly, though, Tiberius' death ended up being mysterious anyway: he was found dead, aged 77, in his bed, with Suetonius openly stating he was either poisoned or smothered to death.
After Tiberius, Roman emperors seemed to lose interest in the beautiful island of Capri, exception made for the infamous Commodus of Gladiator fame, who banished both his sister and his wife there.
Capri today remains a land of the Emperors, though. If you love history – and good, old-fashioned mystery – you can visit Villa Jovis, which can be reached via a beautiful trekking path. The villa is located on a cliff, which is one of the island's highest points, and used to be more than 5,500 square meters in size (this is some 18,000 square feet): in it, there were gardens, servants' chambers, and passages and the Emperor's apartments. Legend says there was a spot, notoriously known as Tiberius Leap, from where enemies of the emperor – or anyone who crossed him in some ways – would be thrown into the sea.
Just like it happens for many other places in Italy, Capri bewitches all visitors. And it has been doing so for millennia. From Emperors to stars, this is truly the island of beauty.