For Italians, growing up in a household where one or both parents own a restaurant is not unusual. But how many Italians can claim that fast food pioneer Harlan Sanders of Kentucky Fried Chicken fame was a frequent house guest?
Seattle's Dorene Centioli-McTigue, co-founder of Pagliacci Pizza, can. Col. Sanders was a personal friend of Dorene's father Gill, the son of Italian immigrants and a legend in Seattle's restaurant and fast food industry.
The two men met in Hawaii in the mid-1950s when Col. Sanders was cooking fried chicken as part of a demonstration. They became good friends. Every time Col. Sanders came to town, he would stay in the Centioli home. "Col. Sanders was like a second father to my dad," said Centioli-McTigue. "When he stayed overnight, he was given my parents' bedroom to sleep in. He would often get up in the night and raid the family fridge for left-over pasta. I remember he was quite an eater!"
In 1979, Centioli-McTigue followed in the family's footsteps and started Pagliacci Pizza with her brother and cousin. It was an instant hit. The brand went on to develop its own quirky personality and culture while staying focused on great taste and excellent service.
Pagliacci's was very innovative. In 1992, it established a centralized call center and began making home deliveries. It hand-tossed its pizza, a novelty for its time. Centioli-McTigue sold the business in 2000 but a Centioli pizza remains on the menu, a thin crust pizza with red pepper flakes, garlic, fresh parsley, Fontina, and Mozzarella cheese. This article was based on a presentation she gave to the Seattle-Perugia Sister City Association.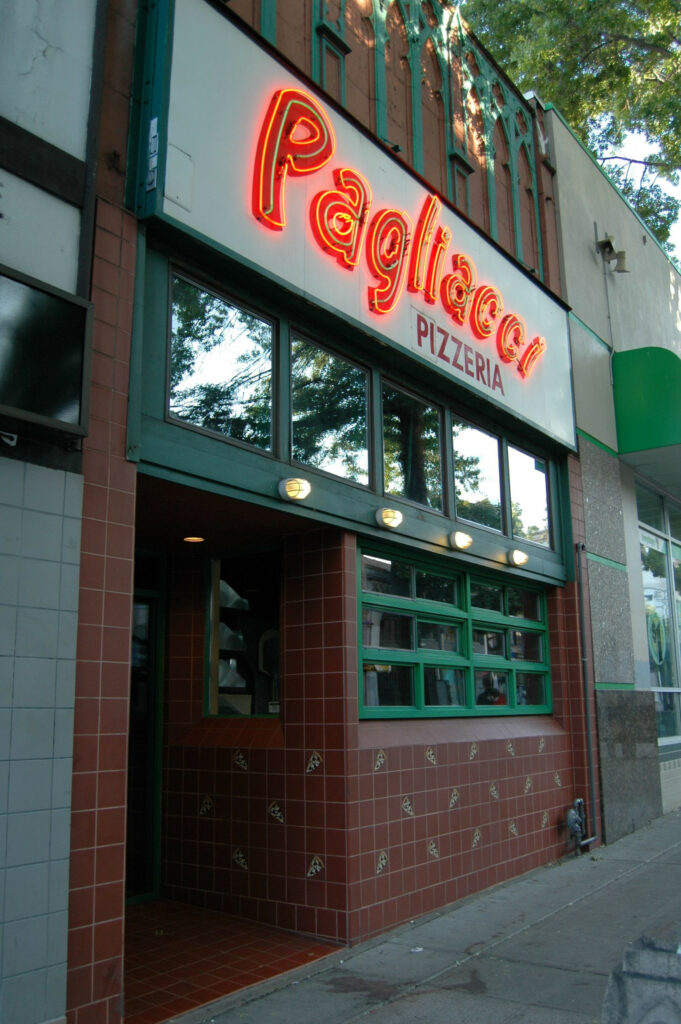 Tell us more about your mother's side of the family
My mother's family is from Calabria; her father was the only one in his family who came over from Italy. When I lived in Italy, we went to visit them in Calabria and they would come to visit us in Tuscany. Calabrians are such proud people. Before they came to visit, they would ship their wines ahead to my home. And I would say: you know that Tuscany has some of the finest wines in Italy. And they would say: yes, but it's not our wine. They had certain ways of doing things. They lived on the land; everything they ate, they grew. It was an amazing life they had established for themselves."
How did that compare with your father's family in Abruzzo?
My father's family was not nearly as excited as the Calabrians to have relatives in America. But we were happy to meet them and to learn more about them.
What was your childhood like in Seattle?
Most of the Italian immigrants lived around Mount Virgin Church, and we did too. We first lived off Rainier Avenue, behind Oberto's Sausage Company. Then we moved to Mount Baker. My father worked a lot, and we would walk down to my grandmother's house who lived on Atlantic Street close to the church. We used to have huge Christmas parties at the church hall each year. The women would cook all day long, and us kids would play all day long. It was just the center of life. Even after people started moving away, we always went back to the old neighborhood. We went to Borracchini's Bakery and to other places that were part of our growing-up years.
What do you remember about your father's restaurant business?
He had a restaurant in downtown Seattle called Gill's Beachhead and Wheel Room located at Second and Virginia. My mother would make the raviolis. On Thursday, we'd come home from school and my mother would have the ravioli board out. We had to pack up the raviolis for the week to take to the restaurant. Then my dad went to California and saw these quick-serve hamburger joints. He came back and in 1950 opened Gil's (with one L) Hamburgers, priced at 19 cents each.
How did he meet Col. Sanders?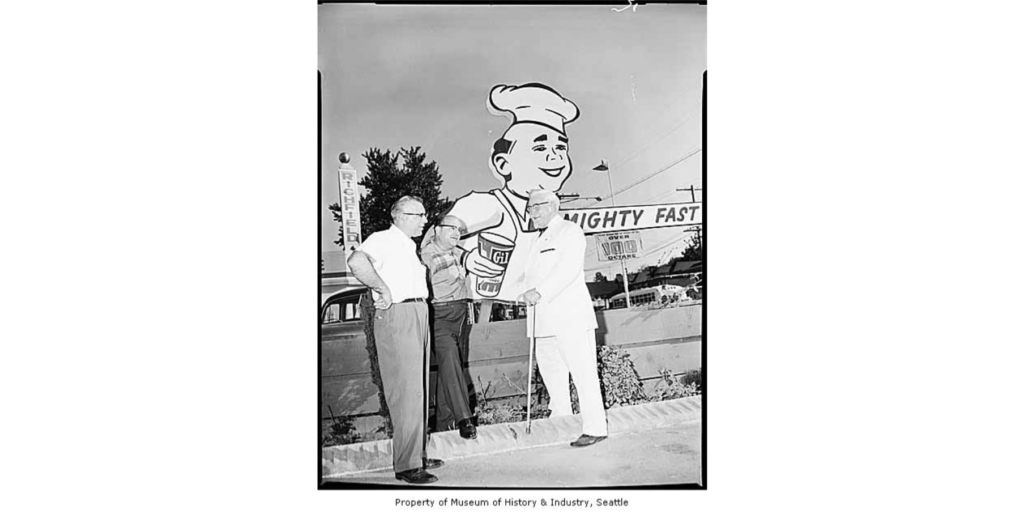 My dad was very congenial. Going to restaurant conventions was a pleasure for him. One time at a convention in LA, there was a side trip to Hawaii, and he and my mother went. There, he met Col. Sanders who was cooking fried chicken. My father thought it was the greatest thing in the world. He came back and decided he would open a Kentucky Fried Chicken franchise. He owned that franchise for more than 30 years and had more than 30 locations around the state.
What led you to open Pagliacci Pizza?
My cousin, brother and I would always complain there was no good pizza in Seattle. Also, at that time, you could not buy pizza by the slice. So the three of us decided to do something about it. When we opened our first location, we did everything ourselves: we built the booths, we laid the floor. We didn't have signage or even a safe. The person who closed up in the evening would hide the money and then would call up the daytime manager to tell them where it was.
But we found that people really liked us. We were one of the first to hand-toss the pizza. Lots of people used canned mushrooms then, but we would only use fresh. There was an entire culture that sprang from Pagliacci Pizza. Our goal was to make sure we had a really good product and that we took good care of our customers.
What is your favorite pizza?
Red sauce and mozzarella with anchovies, Kalamata olives, capers, and artichoke hearts.