One of Giancarlo Giannini's favorite memories was meeting Billy Wilder in a Los Angeles restaurant by chance. Intimidated by a director he considered legendary, Giannini wanted to talk to him but shyness and self-consciousness made him desist. Later, a waiter let him know that Wilder himself wanted to invite him to his table and meet him, as he was an admirer of his films.
Giancarlo Giannini's love affair with the United States and American cinema is long: "I shot my first Hollywood films in Italy. The first one in Taranto, in '68, was Anzio, with Robert Mitchum and Peter Falk. I was the only Italian, so tiny compared to the others," he recalled.
The first cinema roles came in the 1960s, with I Criminali della Metropoli (1965), the already-mentioned Anzio, and The Secret of Santa Vittoria. But it truly was his artistic and professional relationship with Lina Wertmuller that marked his break. It is to honor his career that the Italian actor, director, and voice actor came to Los Angeles this week when his Star on the Hollywood Walk of Fame was unveiled, on March 6.
He is the second Italian actor to receive this recognition after Rodolfo Valentino, a recognition Giannini, who was born in La Spezia but lived in Naples since the age of 10, wanted to dedicate to Lina Wertmuller.Wertmuller led him to success with movies such as Swept Away (1974), Seven Beauties (1975), Love and Anarchy (1973), and The Seduction of Mimi (1972). For Love and Anarchy, he won the Cannes Film Festival Award for Best Actor and he was nominated at the Academy Awards for Seven Beauties. He also won four David di Donatello Awards for Best Actor. Internationally, he is known for his role in Hannibal, where he played Inspector Pazzi – he'll tell us more about the curious way he was cast for the role in our interview – as well as for being French agent René Mathis in two James Bond movies, Casino Royale (2006) and Quantum of Solace (2008), along with Daniel Craig.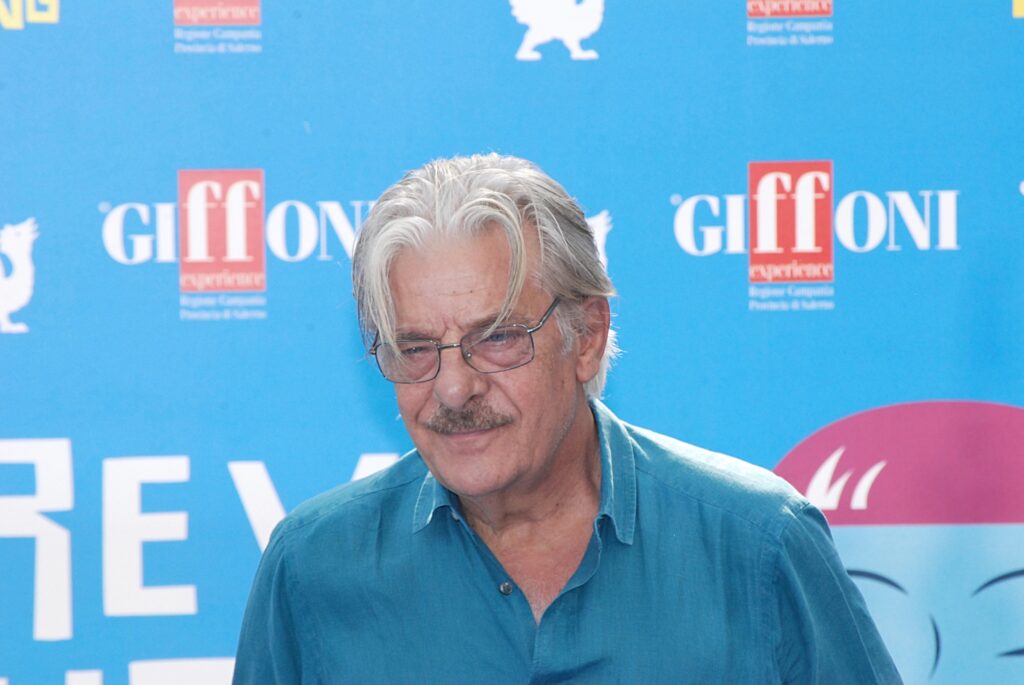 Giannini is also an established voice actor, known for being the "official" voice of great American icons, such as Al Pacino; in fact, he shared duties in this role with Ferruccio Amendola until the latter's death in 2001, when he fully took over. He also famously dubbed Jack Nicholson in the Italian versions of The Shining. Among other great international actors who have, in Italy, Giannini's voice, we should remember Jeremy Irons, Tim Allen, Mel Gibson, Gérard Depardieu, Dustin Hoffman, and Ian McKellen. Animation lovers watching Up in Italian will recognize him as the voice of Carl Fredericksen.
"I do this job by accident and I was lucky," Giannini recounts tracing the beginnings of his career, which started on theater stages." I studied for one year at the Silvio D'Amico Academy of Dramatic Art in Rome and I was noticed by director Beppe Menegatti, who cast me for A Midsummer Night's Dream. I was dancing with Gianmaria Volonté and Carla Fracci! It was an adventure for me, I played Puck, which was a role that women usually played. It was at that very moment I decided to be an actor. Up to then, actually, I had kept my job as an electronics technician in Brazil."
Curiously, Giannini never truly quit his passion for technology and electronics and he still enjoys experimenting and creating new things, including cinematic props: he was, for instance, the mind behind the talking jacket worn by Robin Williams in Barry Levinson's Toys (1992). In an interview he gave to the Italian daily Il Messaggero in 2021,he said he used to create toys for his children when they were young and that making things relaxes him and keeps him in touch with technological changes.
We of L'Italo-Americano spoke with him for the unveiling of his Star on the Hollywood Walk of Fame, placed just beside that of his mentor and friend, Lina Wertmuller.
Your star, which you dedicated to Lina Wertmuller, was laid right next to the one she received back in 2019…
I made the best films with Lina. She was a genius and was under-appreciated in Italy. I remember we would come to America carrying film reels under our arms… Thanks to a producer we managed to become known in the US, and some of the movies we made together enjoy cult status today. Movies like Seven Beauties and Swept Away continue being screened. It is thanks to her that I am here.
How was working with her?
We used to write and build the stories together, working on them until morning. It was definitely a different way of working. Sometimes I was the one finding the main stories or characters.
Can you give us some examples?
Michele Schirro's story for example, which later inspired Love and Anarchy, but also Pasqualino from Seven Beauties, who was inspired by a true story. There was this very old Neapolitan gentleman who worked in Cinecittà. He was very ugly but claimed he had had many women. He was a waterman, he would bring water cans with plastic cups and for 5 liras he would sell you drinks. When I learned of him, I recorded twenty-five hours of conversation between us. That was the inspiration for Seven Beauties.
You, just like Lina Wermuller, feel more appreciated abroad than in Italy: 'In Venice, they didn't even give me a black cat,' you said when you heard about the Star on the Walk of Fame.
That just slipped out during a television interview because I received so many awards but the Venice Film Festival never considered me. In Italy, we award foreign actors much more. Once, during an interview, I said that Italian actors are the best in the world and that some, like Robert De Niro and Al Pacino, also have Italian blood. I was attacked as if I were a heretic but it's true! Italian actors are the best. Who in the world has Eduardo De Filippo, who was both an actor and a writer? We invented commedia dell'arte and opera. Everyone is inspired by us. When Spielberg made E.T. I went to the screening with him since we had become friends and I told him, 'What a great idea you had.' And he said, 'I was inspired by Vittorio De Sica's Miracle in Milan, I replaced brooms with bicycles.'
Dino De Laurentiis loved me very much, he forced me, if you can call it that, to do Hannibal by Ridley Scott. He had originally come to Italy seeking a much younger actor but found no one suitable for the part. Dino told him to consider me and called me one night to say, 'Dye your hair black, speak a little English, and do this audition!' I went and had a very funny audition that I still keep.
What's the difference between an American and an Italian set?
Whether you work with a director fresh from the Centro Sperimentale or Francis Ford Coppola, it's the same, there's no difference for an actor. You're always in front of a camera. More lights, fewer lights…nothing really changes.
The Filming Italy Festival this year was dedicated to Gina Lollobrigida. What are your memories of her?
The last time I saw her we were in Matera, I have a nice picture we took together. Many, many years ago, when we met for the first time, she proposed to me to do a play on Broadway, in New York. In the end, nothing more came of it. I never worked with her but I did many films with Monica Vitti, Anna Magnani, Sophia Loren. Vitti would also deserve a Star in my opinion.
Which modern actors would you like to work with?
I don't like to name names because there are so many of them I risk forgetting someone. I have studied a lot of cinema and actors and actresses who have won an Oscar. You always learn from others: it is very important to have great teachers.
Who were yours?
I was lucky enough to have incomparable teachers. The first was Orazio Costa at the Silvio D'Amico Academy, then Marcello Mastroianni, Vittorio Gassman, Turi Ferro, who taught me Catanese in just two days. I also had the pleasure of meeting Eduardo De Filippo who, while he was alive, did not want anyone to do his comedies. But because I'm big-headed, I'm going to tell you this anecdote: he once called me and asked me to work in Gli Esami non Finiscono Mai. I declined as I knew no Neapolitan. But I regretted it in the end because… who was more brilliant than him?