Are we ready to get a ticket to visit Venice?
We say it so often: some of our cities are true open-air museums, but how would we feel if we, actually, had to pay a ticket to walk their streets?
Well, we're just about to find out because this is exactly what visitors to one of Italy's most famous destinations, Venice, will soon have to do. The relationship between La Serenissima and tourism has always been one of love and hate: love, because much of the city's wealth comes from tourists and the billions of euro industry that revolves around them, from hospitality to cultural events, from museums to commerce. Hate, because the delicate environmental equilibrium of the lagoon, as well as the patience of locals, are often put to the test by the millions of visitors the city welcomes every year.
Starting from the 16th of January 2023, all people coming to Venice on a day trip will have to pay a fee that will go from 3 to 10 euro (3.15 to 10.50 USD), depending on the season and on the number of people already in town that day. This is to ensure that the many daily tourists who crowd Venetian calli almost every day of the year – bringing very little financial benefits to its economy, though – contribute to the city's upkeeping and welfare. As you can see, the decision will not affect those who stay overnight, that is, tourists who not only invest in the city's hospitality industry but are also more likely to contribute to its economy by eating out, and visiting museums and stores.
The aim isn't to introduce an official limit to the number of daily tourists to the laguna but rather to incentivize people to stay for more than one day and enjoy the city in a more relaxed manner, which would also be less intrusive for locals.
The first to pay the consequences of Venice's "entry fee" – which doesn't apply to children and people with disabilities – are cruise ship tourists, as underlined by Deutsche Welle. Indeed, the question of whether large cruise ships should be allowed into the lagoon was long debated, and while today they no longer get into the Bacino di San Marco, they still bring hundreds of thousands of daily visitors to town: each of them will have to book their ticket and pay unless the procedure is taken care of by the cruise organizers.
Some may argue whether charging to enter a town is right, but a quick look at numbers is likely to clear some doubts. In 2019, the year before the pandemic, Venice welcomed 19 million day-tourists, which counts for 80% of all visitors it had in 12 months; we are talking here about a town of only over 260.000, roughly the size of Buffalo (NY), but with notable peculiarities when it comes to transportation and urbanization. But the heart of Venice, the part of the city we visit, only has 50.000 residents and an area of 2 square miles where, more often than not, day tourists outnumber locals 2 to 1.
Venice's tourism commissioner, Simone Venturini is adamant the fee has not been put in place to reduce daily visitors, but rather to ensure there is more control over a situation that had been going, in the eyes of many, out of hand: " We're talking about incentives and disincentives," he explained, and of a system which, it is hoped, should "reduce frictions between day visitors and residents."
The problem of over-tourism in La Serenissima is not new, as the Veneto capital has been probably, along with Florence, the most notable "victim" of non-regulated tourism since the 1960s. Venice's mayor Luigi Brugnaro tweeted that the booking system is "the right way to go if we want to manage tourism in a more balanced way."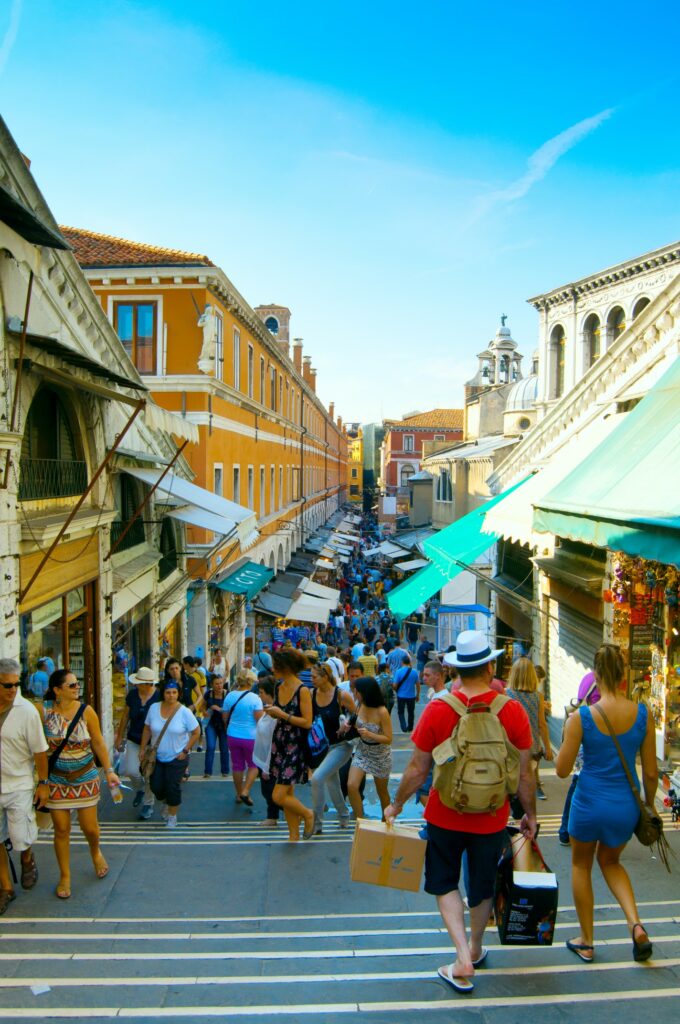 Online, reactions have been quite negative, with many swearing they will no longer visit Venice. Yet, the idea, in the end, isn't all that wrong. A place like Venice must be protected: its urban fabric is fragile and so is the environment where the city developed; because of all this, unfortunately, there is such a thing as too many people in too short a time. Local authorities have clearly explained that the idea is to reduce a specific type of tourism, that mordi e fuggi ("take a bite and go") trend that only creates chaos and fails both the visitor and the city: the first cannot truly understand and experience the beauty of Venice in the space of one afternoon; the latter only gains huge crowds and very little income from visitors who have barely the time to take a look around, let alone visiting museums, eat out or enjoy some shopping, thus bringing financial benefits to the local economy.
The decision remains controversial and only time will tell whether Venetian authorities had the right idea and, if this is the case, whether other cities in Italy will follow suit.