Napoletana, Romana and al taglio. Margherita, capricciosa and quattro stagioni: of course, we are talking about pizza. But while these varieties are known across the globe, they are far from being the only ones, and I am not only speaking about toppings. If it's true that pizza is a quintessentially Neapolitan dish – so much so that Neapolitan pizza-making received UNESCO recognition – we shouldn't discount its many declensions and forms, in every region of Italy.
Now, we all know the basics, right? Pizza "Napoletana" has a fluffier crust, with nice, raised edges, which sometimes you get filled with cheese. Pizza "Romana" has a thinner, crunchier crust, and it's usually more commonly found in pizzerias across the Northern regions – or so my experience taught me!
But Sicily, Sardinia, and Liguria have something to say about pizza, too, even though not many outside of these regions may be aware of it. Let's start from the Northernmost of them, sunny and fragrant Liguria, the land of pesto and focaccia, of trenette, lemons and … sardenaira. This thick, served-by-the-slice delicacy originates from the town of Sanremo, on the Riviera dei Fiori, but it has become popular across the region and you can even find it in many bakeries of neighboring Piedmont. Some consider it more of a loaded focaccia rather than a pizza, but the deliciousness remains the same. The first sardenaira was baked sometimes in the early 1500s, after Colombo brought tomatoes back from America and was, apparently, called pizza d'Andrea (or "pissandrea"), apparently in honor of Admiral Andrea Doria who, in those times, was a big name in the politics of the Republic of Genoa. Sardenaira's crust is thick and fluffy like that of focaccia, and it's topped with a flavorful tomato sauce enriched with salted anchovies, Taggiasca olives, capers, shallots and, of course, olive oil. The name "sardenaira" comes from the fact that, in Sanremo, bakers used to make it with sardines rather than anchovies.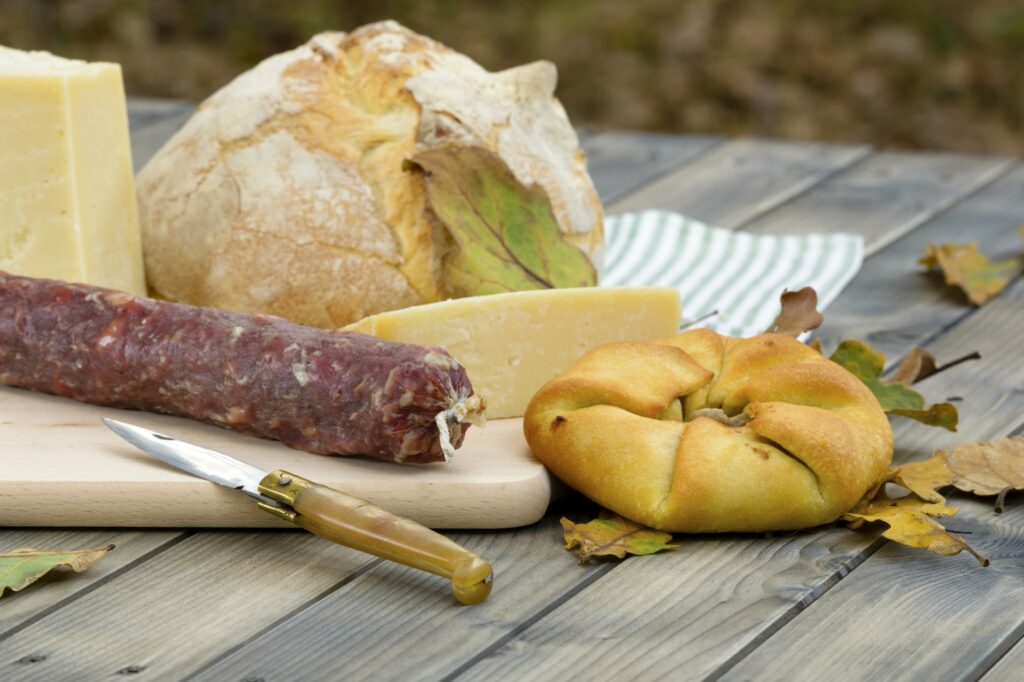 In Sardinia, we find another focaccia-pizza hybrid called mustazzeddu. Mustazzeddus have an irregular round shape and their edges are folded over to partly cover the tomato filling, made with sliced cherry or Sardinian tomatoes, garlic, onion, basil, salt, and extra virgin olive oil, of course. There is also a variant of it traditionally tied to Sarrabus, in southern Sardinia, and called prazzidda. Prazziddais not dissimilar from mustazzeddu, but its filling is richer, and often includes, along with tomatoes, eggplant, but also cheese or onions, and peas. According to Steve DiMaggio of La Cucina Italiana US, pinpointing the origin of these dishes isn't simple, but they likely evolved from pane carasau, the wafer-thin, crunchy flatbread typical of the island. Because pane carasau is often topped with tomatoes and other fresh ingredients, both mustazzeddu and prazzida were likely, initially, a variation of heavily topped carasau.
Let's move to Sicily now for two delicious pizza-style dishes, Palermo's sfincione and Trapani's rianata. Now, sfincione is one of my all-time favorite things, so I may be a bit biased here. A friend of mine makes it and every time she comes visiting I have her bake it for me. Just like sardenaira, sfincione has a much thicker, fluffier crust than other pizzas. Probably hailing from the town of Bagheria, but inspired by a recipe invented by the nuns of the San Vito monastery, it was first baked in the mid-17th century. It is characterised by a very flavorsome tomato sauce enriched with anchovies, golden onions, caciocavallo, pecorino and oregano, which needs to cook for hours to ensure all flavors are properly mixed. Key is also the addition of breadcrumb, which is toasted and mixed with the cheeses before being spread on top of the sfincione.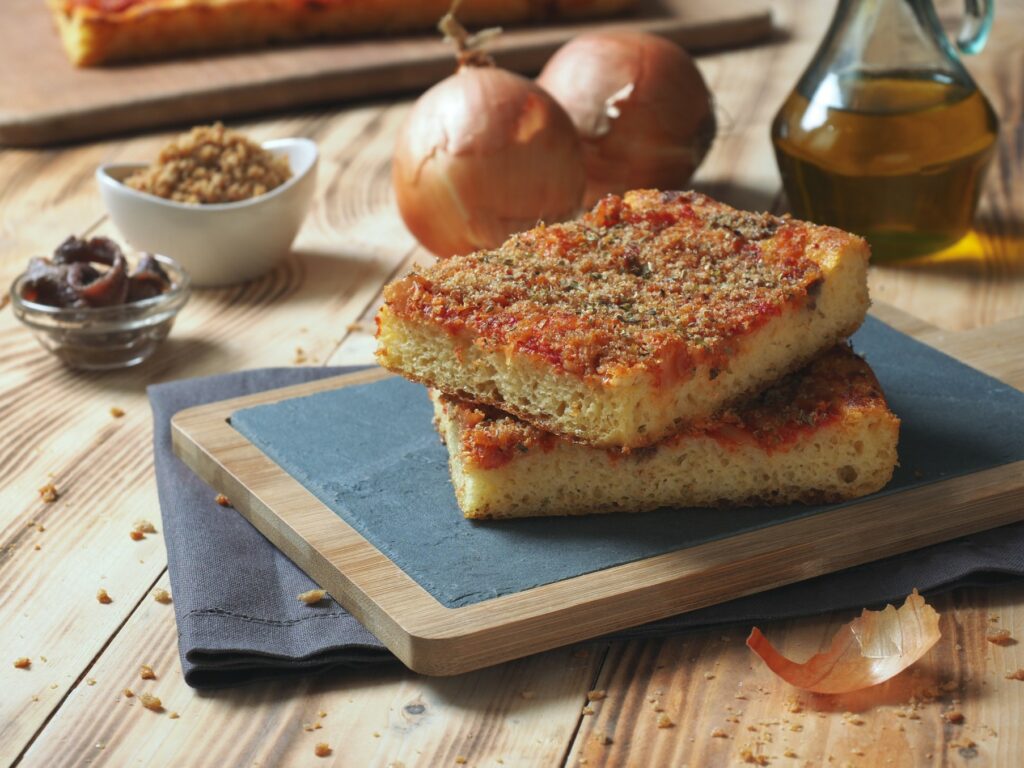 Always in Sicily, but in the city of Trapani, we have the rianata, which is a close relative of the sfincione. Its dough, too, is on the thicker side, and its toppings are similar, too: chopped tomatoes, sardines or anchovies, garlic, chopped parsley, Sicilian pecorino and, of course extra virgin olive oil. But the tocco dello chef, the chef's touch, comes after rianata is baked, when you add loads of oregano on top. Indeed its name, rianata, comes from origanata, or "full of oregano." It seems that rianata was born as a cucina povera dish, that is, as a way not to waste ingredients and preparations which were leftover from other meals. It was so good that, soon, it just broke out of Trapani to enjoy popularity across the island.
Interestingly, when in the US you ask for a slice of Sicilian pizza, what you're getting is the great-grandchild of sfincione and rianata: we know that Italian migrants brought along recipes from the Belpaese and that they used them as a way to reminisce about home, but also as a source of cohesion to keep the community solid. And it's undeniable that, if there is one thing that brings people happily together, is a good plate of food.