The last gasps of summer play out over the Italian landscape – a land grateful for the sun's energizing warmth, but oh-so-ready for fall's cooler temps and bountiful harvests. Undulating hillsides lay decorated with purple-red grape clusters dripping jewel-like from autumnal colored vines, ripe to bursting with sweet juices. Later fall brings the greatly anticipated collection of olives, those delectable fruits that will be coaxed into rich, silky oil ready to savor. Ah…fall's rewards await!
In medieval Tuscany, the chestnut was a staple of sustenance, its bearer literally known as "the tree of life." The high calorie, nutrient-rich fruit was easily ground into flour and provided an array of food products ranging from bread and pasta to polenta and cake  – to just about anything else you could imagine a flour being used for. With more energy to spare on creative uses, crafty modern chefs have turned the chestnut into delicacies such as jams, candy, wines, and sauces.
Chestnuts are found throughout Italy, but the most venerated varietals grow in Tuscany. A product appreciated more nowadays for its virtues than its practicalities, the fruit is regulated and protected to maintain origin and quality. The 3 most prestigious chestnuts boast a proud IGP (geographical areas of protected origin) status: the Castagna del Monte Amiata IGP, the Marrone del Mugello IGP, and the Farina di Neccio della Garfagnana IGP.
Late October is harvest season, as well as time to find your fill of all things chestnut.
Almost every paese (small town) in chestnut growing regions will be crowding the October weekends with sagre (food festivals) offering every modality to enjoy the chewy, nutty-sweet flesh.
We happened upon one last fall while in Tuscany: Abbadia San Salvatore's Festa d'Autunno (Autumn Festival). Tucked away on the eastern slope of the now-dormant volcano known as Mt. Amiata, Abbadia San Salvatore is a small town, pleasantly quiet with tree-lined streets and a charming, walled old town. By all appearances, not much goes on there outside of the daily lives of its inhabitants…until October arrives. Quiet routine turns to festivity as the town's contrade are decorated with fall trappings, banners, and a set-up on every corner to prepare copious amounts of caldarroste – chestnuts, well, roasted on an open fire.
We arrived on a rainy, cold Saturday – perfect weather for huddling together under an umbrella as we set out to explore and discover this lovely tradition. Just outside the aged walls was a wonderfully fun market offering rows of artisans' works, homemade wares, and what I'd call resale shop treasures such as the two vintage children's books (perfect Italian practice for me!) and a packet of ancient Roman coins we walked away with.
Setting foot inside the old town, the true festival began to materialize before us. Old men huddled over large wire drums filled with fresh chestnuts, discussing their readiness as they spun them round-and-round over flames. Young boys stood by, fascinated with the process as they were, in turn, shown the correct method for creating the perfect caldarroste.
Booths offered up new wine, as well as the traditional vin brulé, a mulled wine cooked until virtually no alcohol remains. We wandered the contrade with a cup of this pleasant brew while we waited for the first of the chestnuts to be ready. Open doors allowed us a peep into kitchens bursting with busy women who chattered as diligently as they worked while preparing festival foods; children ran in and out, grabbing a taste before they were shooed away.
Upon hearing exuberant laughter around a nearby corner, we sought out its source and came upon a play in progress in a small piazza. It would qualify for what we would call a farce or melodrama, and despite not being able to follow the dialogue word by word, we joined the laughter and merriment.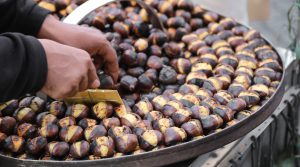 With a bag of warm caldarroste finally in our hands, the tasting began. Easily peeled from their darkened wood-like shell, the roasted chestnut was revealed. The color of a latte, the crinkly but firm flesh had the texture of a dense, cooked potato, and even a bit of the flavor. It was nutty, slightly sweet, and I had visions of trying it drenched in wine and cinnamon as I'd read about. We shared the bag as we sniffed out other delights to try – castagnaccio (traditional slightly sweet chestnut cake), necci (traditional bread), and migliaccini (fried dough balls).
Delightful all…and much, much better than the chestnuts I attempted to oven roast at home in Texas the year before.
We were satiated both physically and nei nostri cuori (in our hearts) after this amazing event. One doesn't have to depend only upon Abbadia San Salvatore, however, for this wonderful experience. Every weekend in October brings merriment in Mugello where one can even arrive on the old steam train between Florence and Marradi for the annual Sagra delle Castagne. Piancastagnaio offers the oldest festival, the Crastatone. True to its designation, the Crastatone is filled with traditional foods, music, and street dances all set to recreate a medieval rural village. And if you're short on time, get in a two-for-one in Vivo d'Orcia where chestnuts and mushrooms are celebrated and devoured!
If you aren't fortunate enough to be in Tuscany in the fall, quality Italian chestnuts can be found in specialty markets in the U.S. or even ordered online. Look for a smooth, dark shell that feels firm to the touch. Avoid any with pin prick holes – the worms beat you to the goods! Roast a batch over a flame or in your oven, pop open a bottle of new wine, and dig in – an age old tradition begins anew! Mangia bene.