When we think of glass and crystal in Italy, thoughts immediately go to Venice, and rightly so. However, we shouldn't discount another important tradition, that of Tuscany. In fact, Florence was known for its glass and crystal production already during the Renaissance, when glassmakers were particularly inspired and would create specific glasses for every occasion. The Medicis were so into the glassmaking art that hired Venetian specialists to train local craftsmen so that they could improve on their already outstanding skills. This is why, in the 1500s, Florentine glass begins getting the hues and shapes typical of Venetian art.
Florence, however, was specialized in something Venice didn't have a patent on, scientific glass! Yes, Think of vials, pitchers, and decanters: everything that was needed in a good lab, Florentine glassmakers would produce. In the end, we are in the region of Galileo Galilei who, by the way, was known to ask local glassmakers to create special thermometers and containers for his laboratory, some of which you can still see today at the Museo della Scienza.
Tuscan glass remained very much utilitarian, if it's true that in the 19th century, the region – especially the area around Empoli – was known for its production of wine bottles, flasks, and demijohns in a variety of sizes and shapes: and how could it be any different, when Tuscany is – and has historically always been – one of Italy's main wine-making regions?
Indeed, Empoli and its surroundings were known for the production of "green glass" specifically made for Chianti wine, but they'd also produce "uso Montecatini" bottles, used for Montecatini thermal waters. These two types of bottles were recognizable because of the traditional woven half cover they had: "uso Chianti" bottles would have a vertical weave, while "uso Montecatini" a horizontal one.
It is in the early decades of the 1800s that the industry of crystal making develops in Tuscany, inspired by the popularity, in those years, of Bohemian crystal products. The area of Colle Val d'Elsa, and in particular its Fabbrica di Cristalli di Colle Val d'Elsa specialized in objects reminiscent of the Bohemian tradition. With the 20th century, the ties between Colle Val d'Elsa and crystal-making grew even stronger, with the birth of another famous business, Boschi, in 1921. It was one of its glassmaking masters, Ubaldo Pacini, who developed the formula for modern crystal glass, in 1963.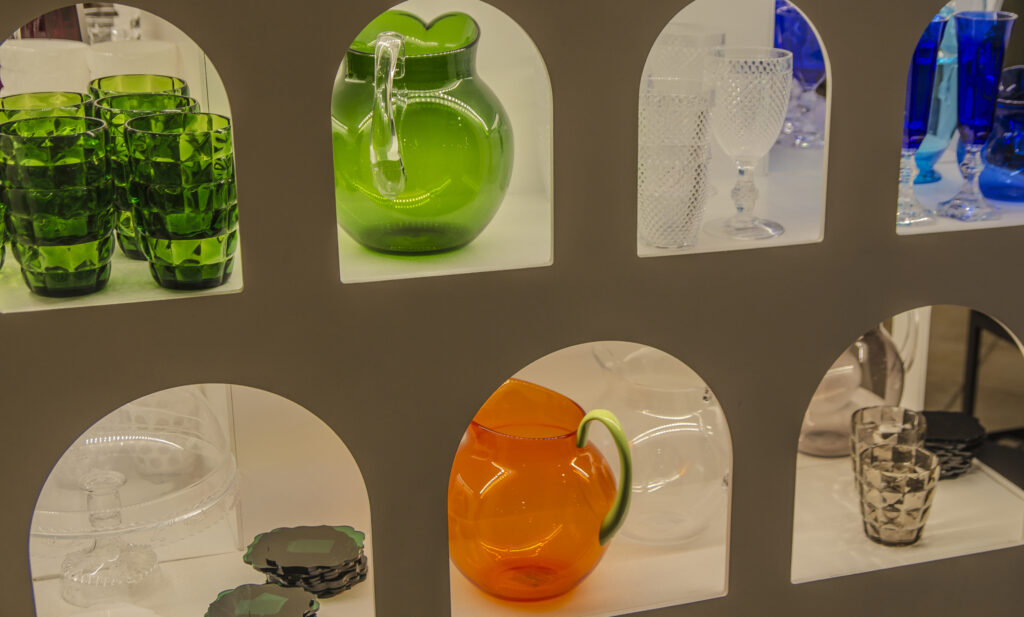 Indeed, Colle Val d'Elsa has always been a glassmaking hub, since the 14th century, to be precise, when a family, the Pasci, rented some rooms in the local Augustinian monastery and opened a glassmaking atelier. Local documents also pinpoint the birth of the industry in the region to the 14th century, thanks to specific regulations in statutes about taxes on glass. Production was sent everywhere in the region, but especially to Florence, the capital of the Granducato.
You may wonder now, as I did, what is the actual difference between crystal and glass. When I was a child, I was told you could tell the difference by clicking your nail against it: if it vibrated and made a sound, it was crystal, otherwise, it was plain glass. Crystal is made by adding lead to glass, in a percentage up to 35%. Bohemian crystal glass, which is mostly used to produce art pieces, is different still, as there is also potassium in its composition. The European Union, back in 1969, decided that only glass with a minimum of 24% lead can be defined as "crystal." To make the perfect crystal glass, the quality and purity of raw materials are key, including that of the lead oxide, which gives to crystal glass its shine.
In recent years, however, the production of crystal glass has been under scrutiny for ecological reasons, as the use of lead can be damaging to the environment. This affected greatly Colle Val d'Elsa and its industry: up to 2008, 15% of the world's crystal and 95% of Italian crystal was produced here.
But ingenuity is the mother of all discoveries, and well, also necessity sometimes… Whichever way you want to look at it, the need and wish to produce crystal more ecologically and in a way that doesn't harm nature brought RCR, the largest crystal making company in Colle Val d'Elsa, to stop producing crystal glass with lead and formulate a new, "clean" version of this beautiful material. In 2020, another important company, Collevilca, also introduced eco-crystal to its production line.
Today so, Tuscan crystal is not only a material that speaks of tradition, art, and beauty, but it also represents the newest frontier in crystal production, a frontier that wants to bring together the importance of heritage and history with the necessity of protecting the environment and preserving it for future generations. And speaking of preserving: Tuscany is also known for another glass-related activity: restoration. Indeed, the region is famous for being a hub for the restoration of antique glass pieces. Not at all surprising when you think of how much beautiful art this region holds within!