Montalto Uffugo is an ancient town in eastern Calabria that offers a gratifying choice for travelers looking for a lesser-known destination with abiding cultural clout in the region.
Its historic center sits on five hills facing the Tyrrhenian Sea, while downstream are the two hamlets of Settimo and Taverna that represent the economic heart of the municipality.
Travelers attuned to genius loci– the spirit of a place- and opera lovers undoubtedly embrace their passion there.
The beautiful hill town of Montalto located in Cosenza province is most famous as the place where opera composer and librettist Ruggero Leoncavallo (Naples 1857- Montecatini Terme 1919) lived his childhood and adolescence.
He moved to Montalto Uffugo at 5 when his father was posted there as a judge. Ruggero's childhood home was a happy nest until an incident occurred in the nighttime right before his eyes. It was March 4, 1865. The painful event inspired his most famous opera, I Pagliacci, the second of nine operas and the only one set in town. The subject of Pagliacci is based on Leoncavallo's account of that tragic fact.
But what happened that night of 1865?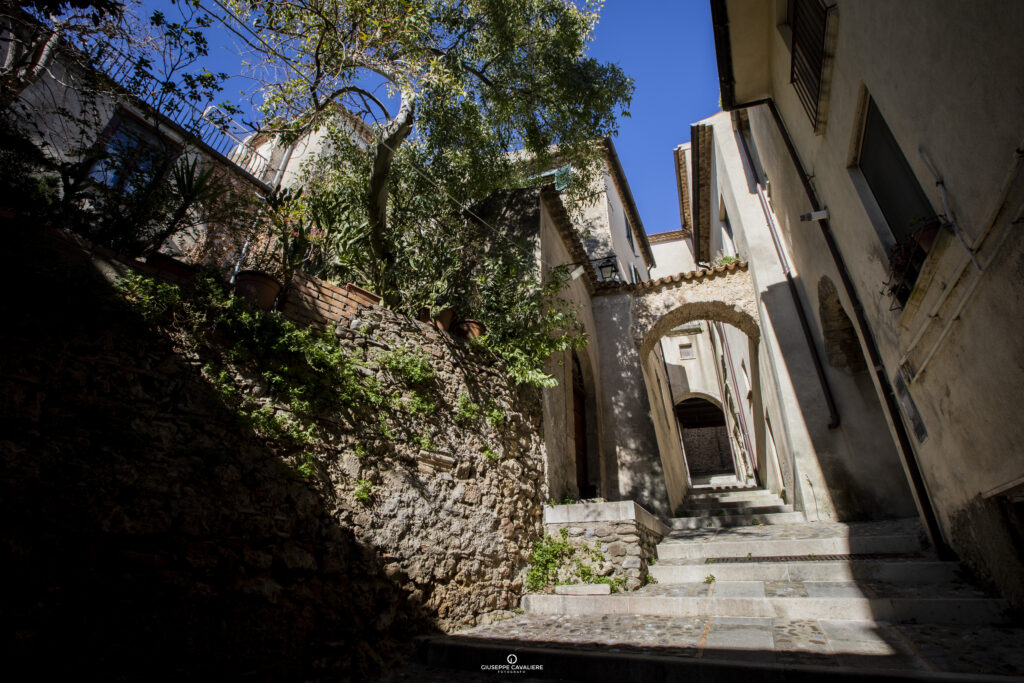 Two brothers, Luigi and Giovanni D'Alessandro, killed a 22-year-old man named Gaetano Scavello di Carmine outside Ruggero Leoncavallo's home. Scavello was in the service of the Leoncavallos as a childminder for young Ruggero and his brother Leone. The cause of the murder was the jealousy by Luigi D'Alessandro over a local woman he loved. Scavello had publicly insulted the two brothers who turned into ambushers in the night as Scavello came out of a theatre after a performance.
They attacked him near the Leoncavallos' home, stabbing him several times. Scavello died hours later, and his last words were his killers' names. Ruggero Leoncavallo's father, Vincenzo, presided over the trial.
The actual crime inspired a famous verismo opera 25 years later. Leoncavallo had the masterful ability to balance humor, romance, darkly violent moods such as murderous rage through words and music.
In a letter to his publisher Sonzogno, the composer insisted on his childhood recollections as the one authentic source of his masterpiece. He spoke of "an event that made a deep and lasting impression on my childish mind, the more since my father was the judge at the criminal's trial."
The Pagliacci premiered in Milan on May 21, 1892 with Arturo Toscanini conducting. The opera plot mixes fact and pure fiction borne out of Leoncavallo's imagination. It tells the story of an acting troupe led by a jealous man who murders his actress wife and her lover.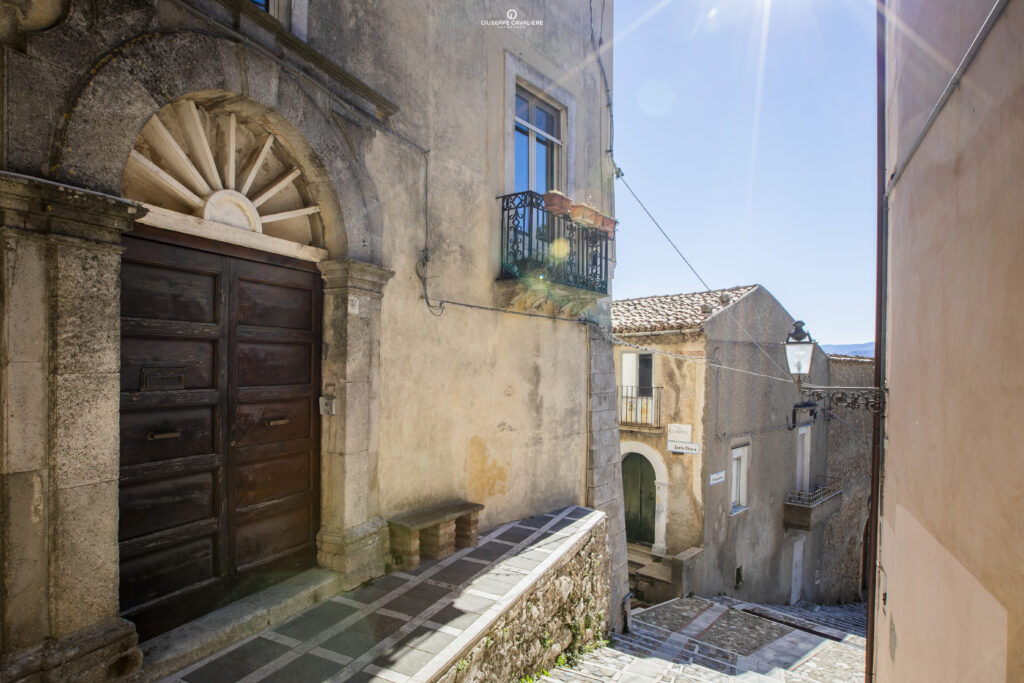 The annual Ruggero Leoncavallo Festival in Montalto Uffugo continues to fly the flag for the town's cultural fabric. The municipality also hosts a museum dedicated to the great opera composer and librettist.
The village accumulated a rich cultural history throughout the millennia. The famous Roman historian Livy mentioned Aufugum – the town's ancient name- in his book Ab Urbe Condita as the place where the Brutii or Bruzi people took refuge to escape Hannibal's perilous march into the Roman territory.
Normans, Jews and Waldensians lived in Montalto for centuries. The local Jewish community was one of Calabria's most flourishing and vital since the 15th century. The Jews of Montalto prospered as traders, especially in silk, and their old shops are still visible in the old town.
During the seismic religious changes of the 16th and 17th centuries, the region became a scene of atrocities– the Waldensian colonies suffered violent repression after coming out into the open. Under Spanish rule in 1561, two nearby villages were burned to the ground. The soldiers of the Viceroy of Spain in Naples imprisoned 1,600 Waldensians in the Montalto castle, a Norman, then Angevine-Aragonese, fortress. The massacre reached its height at Montalto Uffugo on June 11 when the numerous murders already committed that day were capped by the outright slaughter of 88 Waldensians.
In the 13th century, the Waldensians had erected the San Rocco Church. But all the Montaltesi are primarily devoted to the Madonna della Serra, the town's patron saint. The Madonna statue is beautifully hand-carved from oak. She sits in a 13th-century shrine, otherwise known as the Duomo.
There are several other notable churches in Montalto. The Baroque Church and Convent of Our Lady of Mount Carmel are worth mentioning. They were founded in the 17th century by a Carmelite, Polibio Foscarini. In 1601, his brother Paolo Antonio Foscarini, a noted mathematician and theologian who supported Galileo's works, established in town the first university of Calabria known as the Accademia degli Inculti.
Carmine Cavaliere could read and write when he left his family in Montalto Uffugo to migrate to the US. It was the year 1905.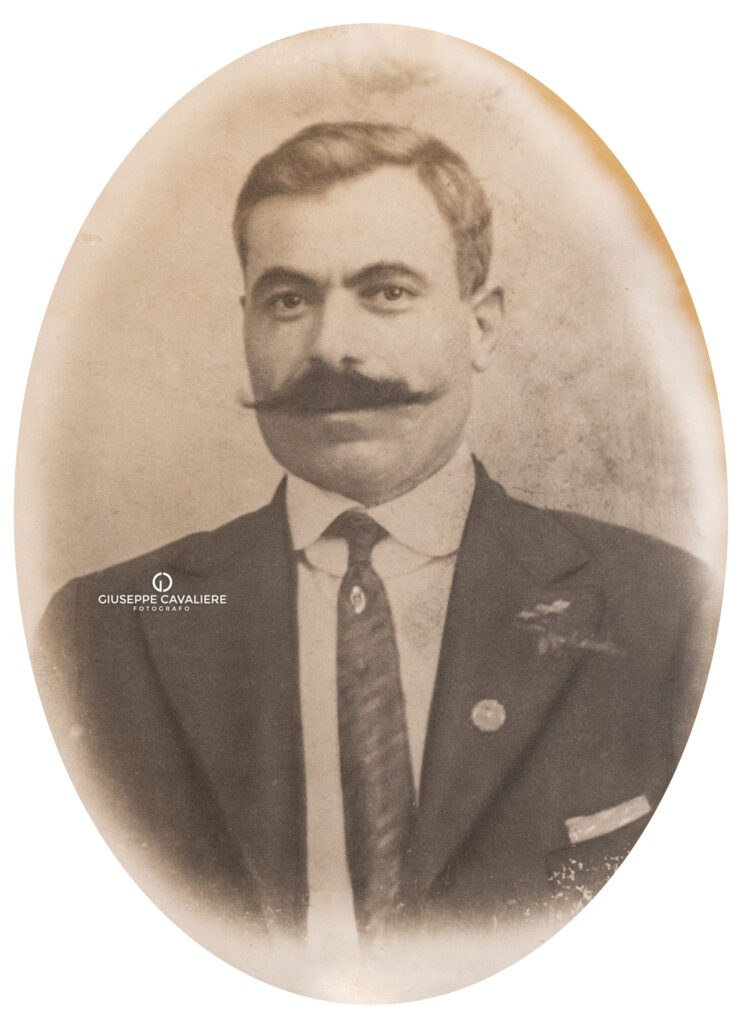 Carmine, born in 1878 in the nearby Zumpano, a village on the slopes of the Sila Grande, fled to the States twice in his life. "In Montalto, my grandfather had put down roots – his family was growing in number in the new house he had built with my grandmother," says Francesca Cavaliere, Carmine's granddaughter. Francesca is a translator specializing in German in Rome. One day her grandfather Carmine felt that he had to go and had the guts to leave. "Even going to Naples from Montalto Uffugo was quite difficult at that time," says Francesca. There were no train connections from the village. "That day of 1905, my granddad crossed the Apennine mountains for more than 20 km to get to the seaside town of Paola. The mountains were much quieter than they are today, and wolves often crossed the footsteps of men," she remarks. "It took a day's walk, maybe more. And if he used a cart or rode a horse, it would have taken at least 6 hours," she says. "He trod along the path Saint Francis of Paola did tread when going from Paola to Montalto. I am sure my grandfather in his heart asked the holy man for special protection over his family as he was leaving, and for himself too."
Carmine finally reached the port of Naples, and from there sailed to New York aboard the Cretic ocean liner. "Granddad touched ground on US soil on March 13, 1905. His younger brother was with him. Nonno was 27, and his brother 17. They had a few dollars in their pockets. They were heading to Middletown, Pennsylvania, where their cousin Santo Bernardo lived."
The long journey across the ocean was scary. "Violence aboard ships would add to the perils of the sea. The healthy would arrive sick," Francesca says. "There were thousands of emigrants on the Cretic ship that day, 1,000 passengers crammed together in the steerage, and my grandad was one of them."
"It took so much courage for him to venture to "La Merica," to that great unknown where people spoke a different language. But family prayers were sustaining my grandfather," she says.
In 1906 Carmine moved to Pittsburgh. What specific work he did for five years is unclear. "The stories my relatives told me did not give me the certainties I was looking for," she says. "Perhaps he was a miner, a bricklayer, or maybe a worker in a steel mill. All three things combined are possible in a 5-year stay in two different cities."
After those five years, Carmine returned in 1910 to Montalto Uffugo, "but in 1913, ten months after the birth of his fifth son –Giuseppe, my father- he decided to flee again," Francesca explains. "Nonno was departing for the US again for his five children's well-being. He wanted to give them the hope of a better future."
On that second herculean adventure, he was a passenger on the Stampalia that arrived in New York. He landed on October 25, 1913, after 12 days traveling in third class with 2,000 other migrants. Once he got off the ship, he had to undergo physical inspections and medical examinations.
"They measured his height — 5 feet, 6 inches read the ship manifest records", recalls Francesca. "They noted down that his eyes and hair were brown. In reality, my granddad had blue eyes! The immigration officer must have thought that color blue was inconsistent with the stereotype of Italians, especially southerners, that they are all dark!"
"They wrote down he had no deformities– he was healthy in body and mind. They only detected an identifying mark on the cheek."
"In the registry room, the officials asked him about his profession, destination, availability of money, possible criminal charges, and other information such as "are you an anarchist?".
What job do you do? "The farmworker," he replied. They meticulously noted down every detail at the immigration station on Ellis Island.
Carmine was finally allowed to disembark. This time, he was bound for Kenosha, Wisconsin. In Kenosha, he worked in a tannery. "Laying the skins flat to dry on hard-to-reach mezzanines was his task," says Francesca. The job involved exposure to the toxic materials used to tan hides. However, Carmine could put aside money for his family through that dangerous work. According to Francesca's research, her Nonno worked at the N. R. Allen & Sons Company, the only tannery in town at the time.
But on May 23, 1915, when Italy declared war on Austria-Hungary, entering WWI on the side of the Allies—Britain, France, and Russia— Carmine decided to return to serve his country.
"The love of his homeland, the desire to defend the Italian soil where all his family members were living grew stronger and stronger within." Carmine was a patriot: He quit the job in Kenosha and moved back to join the Italian army. "He was serving the Italian nation, the same country that had pushed him out of its womb and sent him to feed elsewhere," comments Francesca.
"The battlefields spared his life. And once back home in Montaldo, he enjoyed his 107 acres of land he could own thanks to the money he earned in the US, his wife's agricultural work in Calabria, and the inheritance of his parents", says Francesca.
"He saw two more children being born, and then the children of his children. He was happy until the day pneumonia took its toll on his health, causing his death in 1949."
Though penicillin was almost impossible to find in the region at the time, the miracle drug did help, but then Carmine had a fatal relapse. "Once he felt strong – penicillin had its prodigious effect on his muscular body not used to drugs –he wanted to be outdoors."
"He wanted to be out to oversee the work of his employees, in his fields that now belonged to his children. But it was a wintry day of chilly Tramontana wind."
Francesca recalls her father's eyes shining with tears when he told her, "When I saw your grandad standing in the freezing wind that day, I soon realized that all was lost."
Carmine Cavaliere belonged to a family of small landowners, but only thanks to the cash he earned in the US his rural landed estate could become more extensive.
His granddaughter Francesca always loves visiting Montalto, a hidden gem imbued with the heritage of its cultural past. And to her, Montalto means family.
"I love to walk among the land that belonged to my grandparents," she says. "From the top of the hill to the valley, my gaze becomes their gaze. And I feel their pride in having been able to give their family the unparalleled fruit of honest work."
Montalto gives her new eyes every time. "I am mesmerized by that sky so blue. It looks like a splash of color that has fallen from the brush of a distracted painter. And I am captivated by those roads that creep into the mountains like magical streams in enchanted places. Those hills and olive groves enamor me. Each olive tree stands like a guardian angel watching over people. "