On the 17th of January, Italians celebrate Sant'Antonio Abate, known in English as Saint Anthony of Egypt or Saint Anthony the Great. Anthony is a saint of the early Church and he is considered the first saint hermit, as well as one of the fathers of monasticism. In Italy, he is traditionally considered a santo contadino, that is, a saint connected with rural life and beliefs and that's why it is said that all animals, on the night of Sant'Antonio Abate, gain the faculty of speaking.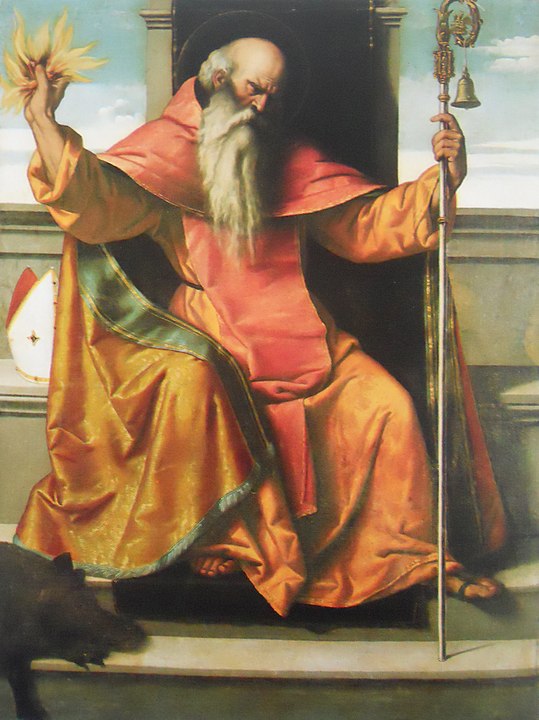 His cult developed first in the East and then reached the West during the early Middle Ages when relics of his arrived in Provence. Later, with the birth of the monastic order of the Antonians, his cult spread across the Alps, to Italy. The Antonians kept alive the idea of the saint as a healer, as they were strictly associated with the care of the ill and working in hospitals. Also the connection of Anthony with animals comes from the work of the Antonians, who used to farm pigs, whose fat was necessary for the making of a balm against shingles (known in Italian also as fuoco di Sant'Antonio). Anthony, so, started being represented with a pig. Soon, other animals became part of the saint's iconography and so he became the protector of all domestic animals: that's why he gives them the ability to speak people's language on the night of his festivity, and why, on the 17th of January, it is customary in Italy to have your pets blessed. Traditionally, the blessing takes place on the square in front of the church, where animals of all kinds and their humans wait for their blessing. While it was certainly more common in the times of our grandparents and great-grandparents, when animals were not solely life companions but also important work helpers, the practice is still widespread across the country, especially in more rural areas, even though big cities – Milan, Parma, and Rome, for instance – do it too.
The cult of Saint Anthony is also associated with fire. Il falò di Sant'Antonio is an ancient tradition that still happens in many parts of the country, always on the 17th of January. Needless to say, the use of fire is, in this case as in many others, associated with ancient pagan rituals where the hottest of the four elements symbolizes life burning and heat chasing away the cold of the winter.