Bridges are quite a wonder. We take them for granted, driving or biking or walking across with nary a thought of what a complex structure lies beneath us, supporting and safely transporting to the other side. Imagine, if you can, a world without bridges. Brooklyn wouldn't have its Manhattan, San Francisco wouldn't have its Marin County, and Florence would be one-less a fabulous landmark…not to mention that huge inconveniences we'd suffer. Practical and often works of art, these structures have literally bridged the way for ease of travel, commerce, and in the case of the Romans…conquering.
Early Romans certainly didn't invent bridges, but proper credit due would say they did more to perfect and refine large bridge engineering than any civilization thus far. In fact, a 1990s survey conducted by Italian scholar Vittorio Galliazzo documented 931 surviving (whole or partial) Roman bridges in 26 countries, all once a part of the vast Roman Empire. It does give pause as to why many of our modern bridges need replaced every 50 years or so.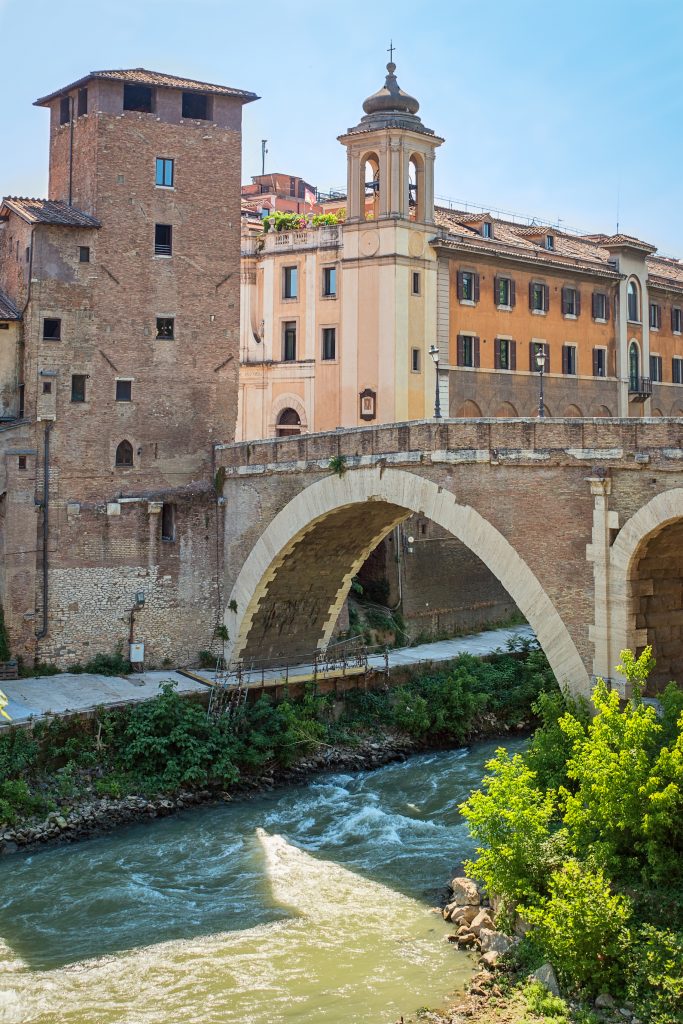 Roman emperors were under a lot of pressure to enlarge the Empire during their reign. Expanding roadways was a great tool for facilitating conquering while paving (quite literally) the way for better trade and commerce — and many a bridge over troubled waters had to be built in the process. Borrowing on Greek knowledge, along with their own accrued skills for large scale construction, guilds of engineers and thinkers formulated revolutionary techniques of which the results are still seen, and used, today.
Roman bridges such as Rome's Pons Fabricius, built in 62 AD, are still in use today. The secret to this longevity? Let's just say that arches did for Roman bridge construction what they've done for the contemporary hamburger industry. Roman arch design featured stone butted against stone, sans mortar, in an angled fashion to create tensile strength. This, in turn, produced a steady pressure able to support a tremendous load. The hollow of the arch also lessened the weight of the structure, as well as allowing passage for water flow and vessels.
Roman bridge construction also incorporated pozzolana, a type of concrete developed by the Romans that revolutionized construction. Remember the Pantheon? Pozzolana! The volcanic ash concrete also held up well under water, allowing Roman-built pilings to continue doing their uplifting job to this day. If you've ever sauntered across Florence's Ponte Vecchio, you have pozzolana to thank for the present-day opportunity.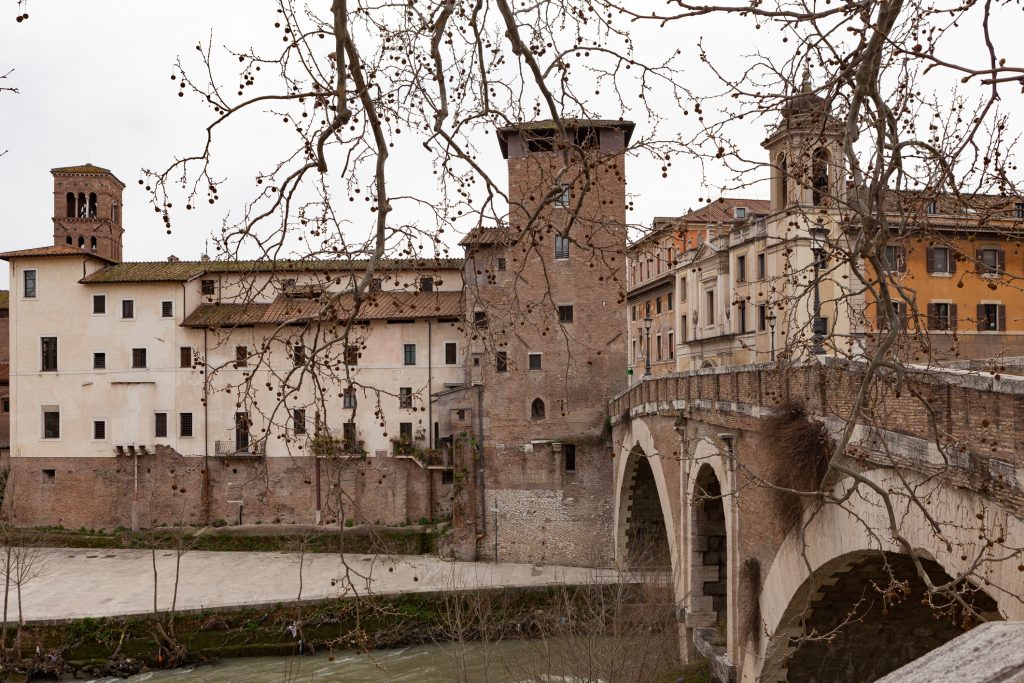 You might be wondering, though, how it was possible to set pilings of concrete and stone in water without the use of massive machinery or steel reinforcements. Roman ingenuity had an answer to that problem, as well: cofferdams. They might not have been the first society to use them — legend says that the Persians were hammering them into the Euphrates as far back as 539 BC – but Roman engineers certainly brought them back into construction fashion. Imagine a huge barrel looking structure of wooden piles (usually stripped trees) driven into the bottom of the river or stream, bound together and waterproofed with clay or tar. Water was pumped out, leaving a dry working surface. Once the bridge supports were in place, the plug was pulled and the piers stood proudly, awaiting their crowning of a bridge.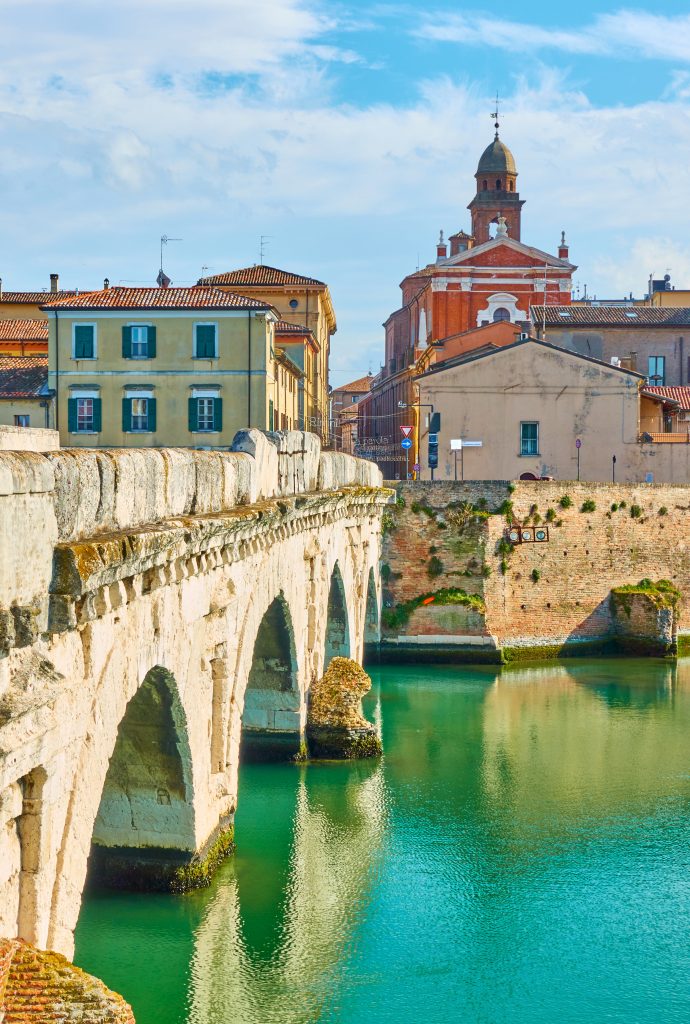 We might not be able to literally step back in time, but thanks to the Romans' mastery of bridge building, we are able to take a step, or even a car ride, onto history. Of course, not all in-use Roman bridges are found in Italy. Remember, the Roman Empire was pretty much most of the ancient Western and Mid-Eastern world. However, as you dream of your post-Covid Italian travels, you might want to earmark a few of these glorious structures of Roman ingeniousness.
Ponte di Tiberio still stands proudly over the Marecchia River in Rimini, its five impressive arches mirroring pleasing reflections as they have for the past 2000 years. Emperor Augustus decreed that the stalwart bridge be constructed in the year 14 AD, its purpose to ensure the Via Emilia could continue northward. However, Roman bridges weren't built in a day and by the time of its completion in 21 AD, Tiberius ruled. Still visible on the inner parapet is the inscription "Given by both emperors." Like a seasoned soldier, this bridge could spin many a tale of survival if its stones could talk. The German army blew up every bridge over the Marecchia except this one; the attached dynamite failed to detonate and the bridge survived. Innumerable floods, earthquakes, wars, and the ravages of time have left only scars here and there. Next time you're in Rimini, grab a gelato and take a stroll or a drive over this magnificent bridge.
Mentioned earlier, the ancient Pons Fabricius is still at the ready to escort pedestrians to and fro from Tiber Island to the mainland. Lucius Fabricius, a Roman road curator, headed up construction, and thus the bridge honors his name. However, Pons Fabricius took on a rather morbid nickname in the late 16th century – Ponte dei Quattro Capi (Bridge of the Four Heads). The bridge was in need of restoration. The four architects in charge squabbled endlessly on the how's and why's, but eventually the project was completed. Pope Sixtus V had his fill of the men's egos and ordered the four beheaded. In their honor, if we can call it that, a memorial statue of four heads was placed on the bridge. Most likely an urban legend, no written history exists to support this tale of lost heads. And yes, the worn statue is still there.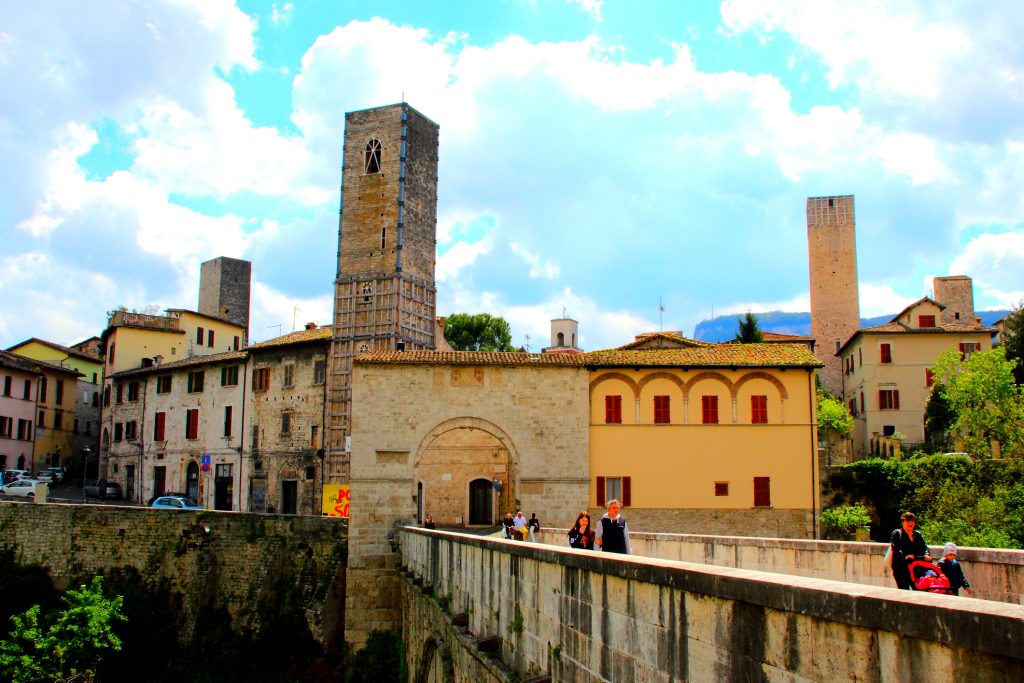 Although perhaps lesser known, Ascoli Piceno's Porta Solestà bridge is another impressive feat of bridge building still in service today. Spanning the Tronto River in southern Marche since the 1st century AD, local travertine gives the Porta Solestà a regal appearance. Remarkable then, and still remarkable today, for its single arch span of over 213 feet, the bridge also features a passable interior open once a year for experiencing. I spent time in Ascoli Piceno several years ago and walked daily across the bridge, sharing its 21-foot breadth with other pedestrians, bikes, and vehicles. Each passage awed me as I thought of all that had gone before over this same path.
There aren't too many ancient structures other than Roman bridges that one can at-will touch, pause upon, walk across. Don't miss the chance.